This post may contain affiliate links, which means we may receive a commission if you purchase through our links. Please
read our full disclosure here
.
Hi again! This week, I decided to use a suggestion I received in a comment – sort of. After my first post, a reader requested I use a colorful or patterned dress. But since I wanted to choose a versatile piece, I decided to use a skirt this time, rather than a dress. The skirt I picked is this one: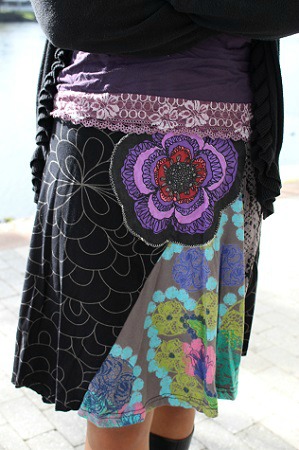 I happen to be really fond of this skirt, because it is really colorful and fun. I also like the fact that it's small at the waist, then flares out, so it's going to look great on just about every single body type, because it flatters the waist and makes you look super tiny, but also allows for curves.
A quick note before we get to the outfits: Although there have been posts on CF about mixing prints, I wanted these outfits to be more classic and less trendy, so I've tried to just keep the floral skirt as the focus pattern in each look. I know personally, mixed patterns aren't a trend that works for me, so I've tried to keep the looks as easy and classic as I can.
Outfit 1: Colorful Skirt for Class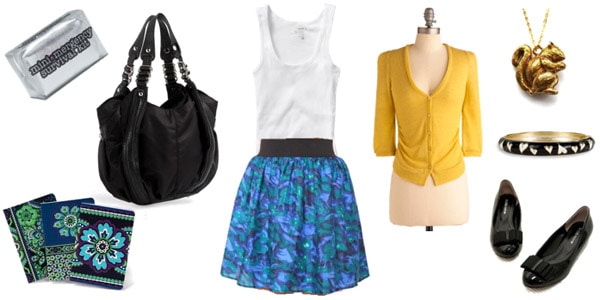 Survival Kit, Bag, Notebooks, Top, Sweater, Necklace, Bracelet, Shoes
This outfit is perfect for going to class, or to do group-work with classmates. The skirt is really easy and comfy, and because the weather has seemed to turn a bit chillier, I added a pretty cardigan to keep you warm and comfortable. (Tights, which I didn't include in the photo, would also be good if it's cold where you are. And obviously, you could add a jacket on top.)
I also included a nice big casual tote bag that you could conceivably roll the sweater up in, and still fit all the other things in your bag (for instance the notebooks and mini*mergency kit, which I provided as examples). I love the shoes because they're not only girly and fun, but the black patent leather makes them totally classic.
For this outfit, as well as the rest of the looks in this article, I aimed to pick one or two main bright colors and work with them. This way, you can still wear color, but don't risk looking like Rainbow Brite!
Outfit 2: Colorful Skirt for Date Night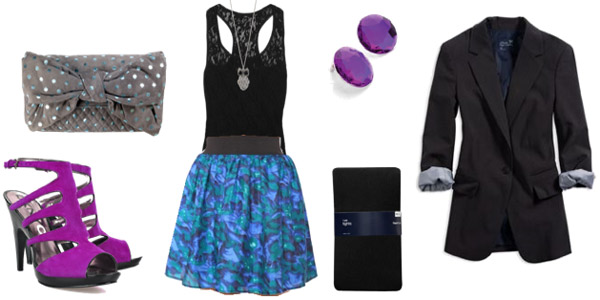 Shoes, Owl Necklace, Top, Earrings, Tights, Boyfriend Blazer, Bag
This outfit is, in my opinion, perfectly date-appropriate. Instead of trying to match the skirt exactly, I decided to add more color with pops of purple. Purple is really trendy for fall, and looks great against the cool blue. I also went a little trendy with the top – the lace detail makes it sexy for a date, but doesn't reveal too much. The classic boyfriend blazer will keep you warm and will let the colors be the focus of your look.
For accessories, while I would normally rock a larger bag (because I carry my entire life in my purse, even on dates), I chose this small clutch for its glam-factor. Next, I chose purple earrings and heels for a pop of color, and added tights to keep your legs warm. Finally, I added the necklace as a sweet and interesting little detail, something to draw the eye away from your skirt and up to your face.
Outfit 3: Colorful Skirt for Work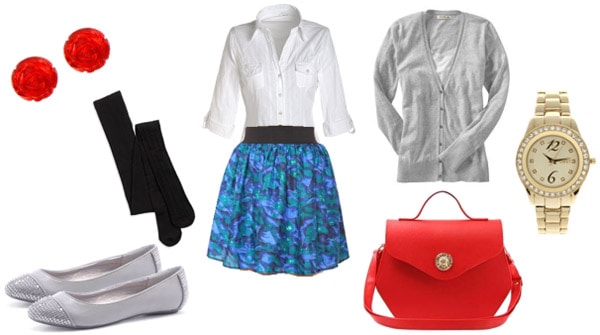 Earrings, Shoes, Top, Sweater, Bag, Tights, Watch
Finally, this outfit is bound for the office or potentially a meeting with teachers. I could even see myself teaching a class in this one!
First, I grabbed some red, to contrast with the blue, and again used it as a pop of color. Because I wanted this outfit to be office-appropriate, I kept the accessories fairly minimal (you could always lose the earrings if they're too much for you), and let the skirt, and the bright bag, be the focuses. I added an oxford shirt, which I would recommend tucking into the skirt, because it has a thick black waistband that is going to cinch your waist in nicely. Finally, I chose simple gray flats that echo the color of the cardigan, and a classic watch that would be perfect for any office setting.
Your thoughts?
So, what do you think? Do you have any items you'd like to see discussed in future? Let me know in the comments!