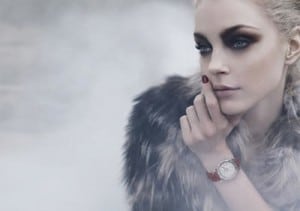 Fendi Ad Campaign Fall/Winter 2009-2010
Old Hollywood glamor never goes out of style and neither does the fur collar. While larger amounts of fur on jackets, boots, purses, vests may go in and out from time to time, the fur collar, or stole (more like a shawl or scarf) remains a classic and is always in style.
A quality vintage or faux fur accessory around the neck can do wonders for the look of a simple winter coat or blazer and add warmth, too!
Shopping
As soon as I typed in "fur collars" on Ebay.com, I happily found faux and vintage collars and stoles were not as expensive as one might expect. Ranging from $10 to $100 (and higher), I was pleasantly surprised to see the "buy it now" button going for under $30 on many authentic vintage and faux fur stoles.
For those who are opposed to wearing the real thing, and I totally understand where you are coming from, which is why I stress the purchase of vintage fur if you HAVE to have the real thing. If you don't want to wear real fur, there are wonderful faux fur options out there. Textile technology has come miles from where it use to be and wonderful faux fur can be purchased to achieve this classic look while still saving animals.
Faux Fur Options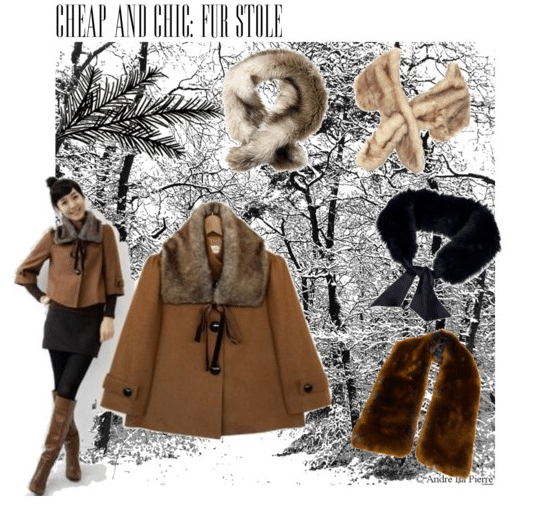 Coat and Faux Fur: yesstyle.com 1st Faux Fur: shop.hm.com 2nd Faux Fur: koodos.com 3rd Faux Fur: debenhams.com and the 4th Faux Fur: liberty.co.uk
Tips
One easy way to attach a lovely fur collar, real vintage or fake, is to sew a ribbon on each side and tie it in a bow like the black collar in the picture. (You may want to buy a leather needle for easier sewing.) If you have any questions on how to sew on a ribbon to fur, please feel free to ask!
Also when buying a vintage fur, remember to get it cleaned first from your local dry cleaners and ask about instructions on how to take care of your new investment to make it stand the test of time.
Your thoughts?
Do you think you'll be adding a fur collar or stole to your winter wardrobe? Are you a fan of this look? Let us know with a comment.