As of today, there are less than 10 shopping days left until Christmas! That means if you haven't done your holiday shopping yet, you'd better start now. If you're having trouble finding that perfect gift for your boyfriend, most fashionable friend, or group of girlfriends, look no further than the CF Spectacular Holiday Gift Guide!
I have suggestions for some fabulous gifts for everyone on your list. That's right – budget friendly presents that will wow everyone you shop for.
Holiday Gifts For Your Boyfriend
Boyfriends are tough to shop for, I'm not going to lie! The gift you get really depends on the individual guy, and it's not one-size-fits all. That said, here are some of my ideas if you're totally stumped: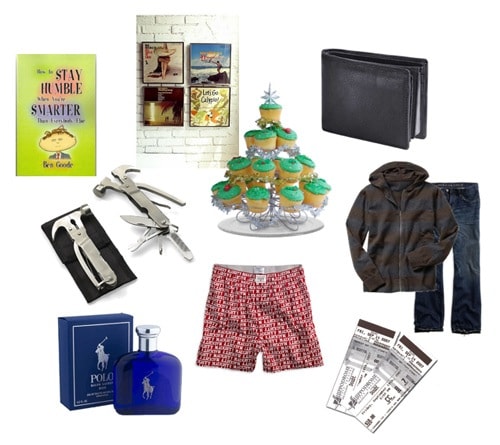 Wallet – A classic choice for the guy whose current wallet is falling apart. Get him a nice, simple black leather one, or have it monogrammed with his initials for a personal touch. Thoughtful and useful – the perfect combination. This basic leather wallet from Wilson's Leather is only $24, so it's a budget-friendly gift too!

Boxers – If you've been dating for a while, getting your boyfriend boxers is a cute and thoughtful gift. They probably shouldn't be your only gift if you're dating seriously, but he'll like getting underwear from you along with something else. Boxers are also wallet-friendly – the "Naughty Naughty" boxers pictured above are only $12.50 at American Eagle.

Make him food – The fastest way to a guy's heart is always through his stomach, and baking his favorite food is an easy way to give him a Christmas present he'll love. Does he love cupcakes? Bake him a bunch, frost them in holiday colors and put them in a box. It's an easy way to show you care and it costs almost nothing.

Cologne – Cologne has to be THE most classic boyfriend Christmas gift, and that's true for a reason – it's a great present for that special guy in your life! If your boyfriend doesn't already wear a cologne you like, buy him a new scent that you love. And if you already like his scent, consider buying him something new so he can change it up a little.

Concert or Sports Tickets – Another idea for an amazing xmas present is to get him tickets to see his favorite sports team play or tickets to his favorite band. Even better: it's something you can do together!

Album Frames – If he's a music lover with a lot of old vinyl records, get him some album frames! They're a great way for him to display all of the cool old album art and decorate his place with something other than band posters. They're only $15 each, too.

How to Stay Humble When You're Smarter Than Everybody Else – With a title like that, you know this book has to be good. If you're dating a guy who knows everything (or just thinks he does), this book is the perfect joke gift. But be sure that he has a sense of humor before you buy it – you don't want to insult anyone on Xmas.

Clothes – If your boyfriend can't always dress himself so well (every straight guy has that problem), buy him some clothes! He'll appreciate your opinion and everyone can always use new clothes.
Holiday Gifts For Your Fashion-Forward Friends
Fashionable friends are much easier to shop for than boyfriends, at least in my experience. Here are some ideas for gifts to get your most stylish girlfriend this Xmas.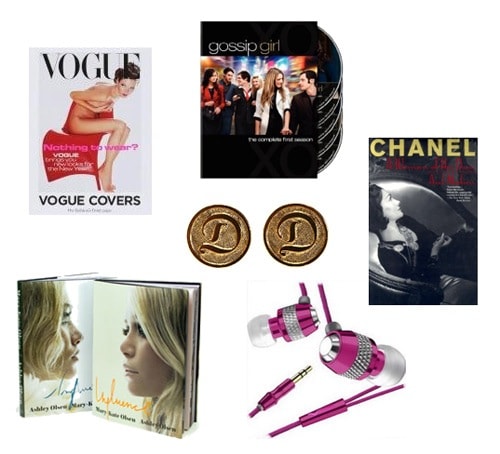 Vogue Covers: On Fashion's Front Page – A volume of all the best Vogue covers throughout the years – what stylish woman wouldn't want that book? Featuring tons of photos, it's a great look back at all the fashionistas who have inspired us all over the years. It's pricey at $57, but would make an amazing gift for your best friend.

Chanel and Her World – A book about one of the world's most celebrated fashion icons, a biography of Coco Chanel is a fantastic addition to any fashionistas book collection. This one clocks in price-wise at about $40, but again, it's worth it for the wow factor!

V-Moda Vibe Earbuds – Blush – V-Moda sent me a pair of these recently and I love them! They're a little on the pricy side, but they're so adorable and WAY more comfortable than your standard iPod earbuds. As a bonus, they sparkle in the sun. Really, what more could you ask for?

Gossip Girl – The Complete First Season – One of Xmas's most wanted DVD sets for a good reason. Amazing clothes? Check. Takes place in Manhattan? Check. Hot guys? Check. Tons of drama? Check. Get the whole first season on DVD for your friend and invite yourself over to re-watch all your favorite episodes.

Influence by Mary-Kate and Ashley Olsen – I wrote a review of this book recently and it's really an awesome gift for any fashion fan in your life. You don't even have to like the Olsens to enjoy the book. There are conversations with everyone from Karl Lagerfeld to Diane von Furstenberg, and they're really in-depth, interesting interviews. It's a great book and it's worth every penny.

Initial Stud Earrings – Every girl loves jewelry and everyone loves personalized gifts. These customized studs are adorable, and they have a great vintagey look. At only $16 each, you can pick up a pair for each of your most fashionable girlfriends.
Holiday Gifts For Your Girlfriends
When you're shopping for your girlfriends, you want to go for inexpensive items that will still pack a big punch. It's also fun to get them gifts that they can use together, like a DVD you can all watch or some party accessories. Here are some options: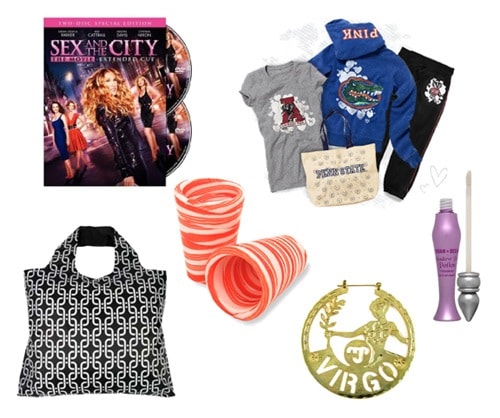 Sex and the City – The Movie (Special Edition) – The must-have DVD this Xmas has to be SATC The Movie! Have a party with all your girlfriends and watch the DVD together.

Candy Shot Glasses – A fun Christmas take on the classic shot glass. Buy these for your holiday parties (fill with Baileys & Kahlua or drink Nesquik out of them if you don't drink alcohol), or just as a gift for a girlfriend who loves to throw parties.

VS Collegiate Collection Clothes – Almost every college girl loves VS pink, and what could be better than VS pink clothing with your college's logo on it? Pick up some VS PINK gear for your girlfriends. The tees are fairly inexpensive, and you can get different ones for each girl.

Zodiac Earrings – These are such a cute gift idea for the astrology lover (or Beyonce fan – she's been spotted wearing these) on your list! Buy her a pair of these hoops in her astrological sign and she'll flip. Just don't tell her they only cost you $12!

Green shopping bags – Get your best friends a cute gift that will help the environment by picking up some adorable green shopping bags like this one by Envirosax. They're 100% reusable and will help prevent tons of plastic from being released into the environment. Cute AND environmentally responsible – what's not to love?

Eyeshadow Primer Potion – Okay, not your typical Xmas gift, but this stuff is amazing! If you've ever had your eyeshadow crease and your eye makeup never stays on all day, you need to pick up some primer potion. Every girl should own some and trust me… any beauty addict will LOVE this as a gift!
Holiday Gifts For Yourself
Hey, you need love too this Xmas! I'm a big believer in always buying yourself a Christmas present, because really, who knows you better than you? Here are some cute gift suggestions you might want to sneak under the tree addressed to you "from Santa."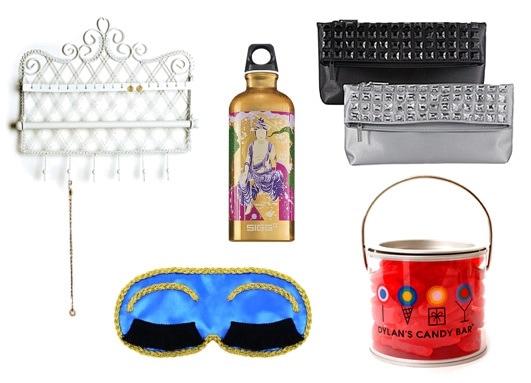 Sigg Bottle – Drinking lots of water is so important – for your skin, hair, nails, and overall health. But bottled water is bad for the environment and your health! Bring your own from home wherever you go with an adorable Sigg bottle. These bottles are better for you and the environment than plastic ones, so it's the healthy and ethical way to get your 8 glasses a day.

Holly Golightly Sleep Mask – If you're a fan of Breakfast at Tiffany's, this is a must-have item. And as a bonus, it can even help you sleep better! A must for any sleep-deprived college student at only $14.

Jewelry Organizer – How many times have you been in a hurry to get ready and had to dig through a drawer full of jewelry to find a matching earring? Save yourself the trouble next time by investing in a cute jewelry organizer like this one from organize.com for only $20. It's functional AND it's a cute decoration for your room, because after all, jewelry deserves to be seen.

A bunch of your favorite candy – Treat yourself to a sugary indulgence and forget about healthy food for a day! The holidays only come once a year, so have some fun. I'm considering buying myself this Swedish Fish paint can from Dylan's Candy Bar ($14.) What's your favorite candy?

A new makeup bag – If you're a beauty product addict like me, you probably go through your share of makeup bags. Treat yourself to a new one this year to hold all the beauty gifts you'll undoubtedly get from your friends & family. I'm loving a sparkly one from Sephora at only $12 – it could even double as an evening clutch!

A spa visit – Treat yourself to a day of beauty at your favorite salon or spa. Get a massage, have a facial, get your nails done, etc. Refuse to allow yourself to feel guilty about spending the money on yourself. You work hard and you deserve it! Even better, purchase another spa treatment for a friend so she can come along too.
What do you think?
Those are just some of my ideas for gifts you might want to get people you love. Remember that everyone is different and no gift is perfect for everybody.
If none of those gifts are right for you, think about people's personalities and what they love the most. Above all, gift giving is about showing how much you care, not spending tons of money. If you can't afford to buy, make the people you love something heartfelt, cook them dinner, or offer to help them out with something important. It's the thought that counts!
What do you think of my gift ideas? What are you planning to buy your boyfriend or best girlfriends? What about gifts for yourself – do you usually go that route or do you only buy for other people? Let me know in the comments!