One of the perks of writing a fashion blog is getting to test out hot new products and let you guys in on the best of the best.
Lots of marketers send me products to test out and review on CF because they all want to impress you guys. Of course I only write about the ones I love that I think you would too, and I'm pretty picky. Safe to say that most of the things I test don't end up making the site. But the select few below received my stamp of approval this month, and they're so fabulous I had to share 'em!
Here are my favorite hot products of the moment. I completely recommend each one – they're more than worthy of your hard-earned cash!


Ever since I saw Jenny rocking an adorable white gold bow necklace on Gossip Girl, I've been trying to find one of my own. While the Alex Woo necklace Jenny wore on the show costs $148, Emily Elizabeth Jewelry makes a super-similar necklace for less than $60!
The fab people at Emily Elizabeth were kind enough to send me the exact necklace I wanted (it's the one pictured center above, except in white gold), and I've been wearing it constantly ever since. I receive lots of compliments on it wherever I go, and it adds a dash of cuteness and fun to any outfit. Safe to say that I'm in love.
If bows aren't your style, Emily Elizabeth offers tons of equally adorable necklaces featuring everything from a good luck wishbone to a charm in the shape of a saltine cracker! All of the pieces are reasonably priced (most under $60) and are made of real gold – none of that stuff that turns your neck green! Celebrity fans of the line include Vanessa Hudgens and Miley Cyrus, and it's easy to see why they like it so much.

Clean & Clear Makeup Dissolving Cleansing Wipes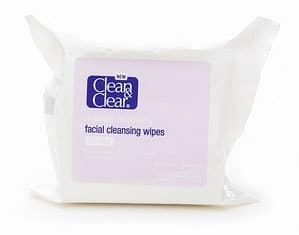 These are my newest skincare obsession! As someone who usually stays up super late working on a paper or cramming for an exam, I sometimes get so tired that I can barely make it into bed, let alone wash my face before I fall asleep. The Clean & Clear wipes are a lifesaver – they remove all your makeup, even waterproof eye makeup, and leave your skin fresh and moisturized.
Even better? You don't need water to use them. You can literally keep these right next to your bed, take off your makeup, toss the wipe, and pass out. Brilliant, no?
Also, I've been using these for about a week and am happy to say that they haven't made me break out at all. My skin has been really clean, and I haven't even noticed a difference between a regular cleanser and these. You could probably get away with using these every night if you wanted!
At only $5.99 for a pack, Clean & Clear Makeup Dissolving Wipes are a skincare time saver worth picking up!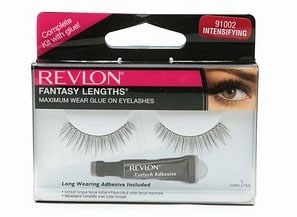 Having never even tried to wear fake eyelashes before (and I consider myself beauty-adventurous), you can imagine my surprise when a HUGE box of Revlon Fantasy Lengths False Eyelashes arrived at my door.
After many a mishap with the glue, I finally began to get the hang of wearing false lashes – and I love em! Don't get me wrong – there's definitely a steep learning curve with these, and it takes a lot of practice to get them right. While they aren't the kind of thing I could rock every day (who has time?), I can definitely see myself wearing them for a party or special event. They really do make your lashes look amazing.
If you want to test out some false eyelashes for yourself, stay tuned for more on these – I received so many boxes that I'm going to do a giveaway soon to share 'em with you guys! In the meantime, you can pick up a pair at Drugstore.com.
What are your favorite products right now?
You've seen my obsessions of the moment.. now I want to see yours! Leave a comment and let me know your fashion and beauty picks. Who knows, maybe I'll feature your fave on CF soon!