CF Shopping Bag is a new monthly feature which will showcase all the fun and fabulously stylish online products that we've spotted just for you!
Need chic ideas for the next holiday? We'll bring you all of the "best-of"s! Not sure what to look for on your next trip to the mall? We've got some great ideas to jump-start your inspiration! Think of this feature as your own personal stylist wheeling dozens of neat products for you to peruse conveniently in the comfort of your own home!
This month, we are doing a bit of looking back, as well as looking forward. Right now we are in between two big holidays: New Year's and Valentine's Day. Right around this time is when most people give up on their New Year's resolutions. It's also the time of year when everyone starts shopping for V-Day gifts.
So right now is the perfect time to show you some great products that fit two of the most popular New Year's Resolutions, as well as some really cute products that would make excellent Valentine's day gifts! Keep reading to check them out.
Exhibit A: Late Start on New Year's Resolutions
I'm a firm believer in indulging over the holidays, and let's face it, with classes starting and a new schedule, it can be difficult to find time to hit the gym, learn French, etc. until January is over. That's why I plan to start my resolutions on February 1st.
For those of you who are also believers in the New Year's grace period, or who haven't quite started practicing your resolutions yet, here are some great (and stylin') products that can help you get going!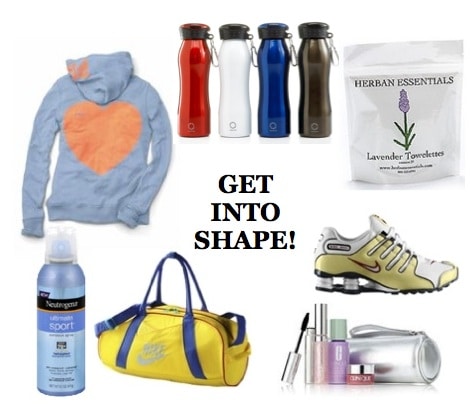 Product Information: Martha Stewart Water Bottles, Victoria's Secret PINK Zip Hoodie, Neutrogena Ultimate Sport Sunblock, Nike Retro Dufflebag, Clinique To-Go Skincare/Makeup Kit, Nike Shox Running Shoes, Herban Essentials Lavendar Towlettes
While we all know it's not essential to look your finest while at the gym, if you feel confident and comfortable, you might just exercise for longer…I know I live by that philosophy. Also, its definitely important to take care of your feet and joints, so don't be shy when it comes to investing in a pair of athletic shoes that are stylish AND will provide you support.
To get yourself gorgeous after your workout, take Clinque's to-go kit with you. It's perfect for throwing into your bag and freshening up at the gym. I also strongly recommend buying a sport sunblock if you exercise outdoors. Also, keep yourself gym germ-free by using some fabulous (and flowery) antibacterial wipes.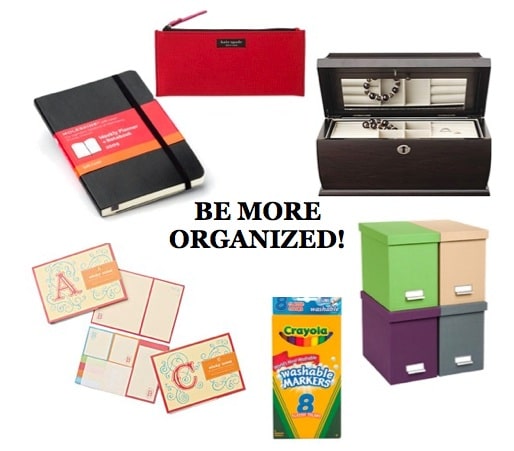 Product Information:Kate Spade Pencil Case (at Barnes and Noble), Moleskine Planners (at Barnes and Noble), JC Penney's Jewelry Box, Library Desktop File Boxes (at The Container Store), Crayola Thin Markers (at OfficeMax), Anthropologie Sticky Notes
Being organized can help you achieve many of your goals throughout the year, whether you want to improve your time management or just be more put together. As students, it's really important to have a way to keep everything organized, and as fashionable students it's really important to have statement pieces (even if they are in the form of monogrammed post-its).
These are just a handful of the really unique organizational tools out there. I love my Moleskine planner and fill it with sticky notes and color coding. Also, I asked for a jewelry box this past Christmas, and my mom just told me to go ahead and pick one out from the internet for her to buy. I found that the quality-to-price comparison was best at JC Penney. Even better, the jewelry box above can be a decorative item for your dresser top. For more stylish organization, see Zephyr's article on stylish planners!
Exhibit B: Valentine's Day Prep
Valentine's Day is the next upcoming holiday (but you probably already know this from the displays of candy and cards that have been up since the day after Christmas). It can be hard to filter through all the great Valentine's Day products out there, so now you don't have to! Here are some of our picks for Valentine's Day shopping.
The Champion V-day Buy and/or Gift…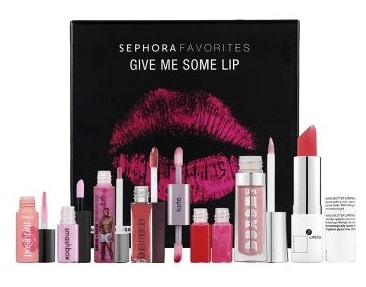 Give Me Some Lip (Valentine's Day Kit from Sephora)
This set is so cute and has a great (and very appropriate) Valentine's Day theme- reds and pinks. Sample all of the best of Sephora's pink and red products, all bundled in a limited edition kit. This is a great gift to give or to give to yourself! I love this kit because all of the products are from great brands, such as Smashbox, Urban Decay, and Benefit.
Includes:
– 0.07 oz Smashbox Lip Enhancing Gloss in Pout (true color/ sheer pastel pink)
– 0.08 oz Tarte Double Ended Lip Gloss in Danny / Sandy (sheer candy apple red & pink with sparkle)
– 0.08 oz Benefit Posietint in Poppy Pink (poppy pink)
– 0.1 oz Laura Mercier Lip Gloss in Rose (light red pink shimmer)
– 0.07 oz Bare Escentuals Buxom Lips in April (diamond/ glimmering icy pink)
– 0.09 oz Urban Decay Pocket Rocket in Doug (sheer medium pink with iridescent sparkle)
– 0.12 oz Korres Mango Butter Lipstick SPF 10 in Pink 14 (vibrant rose)
Other Great Valentine's Day Buys…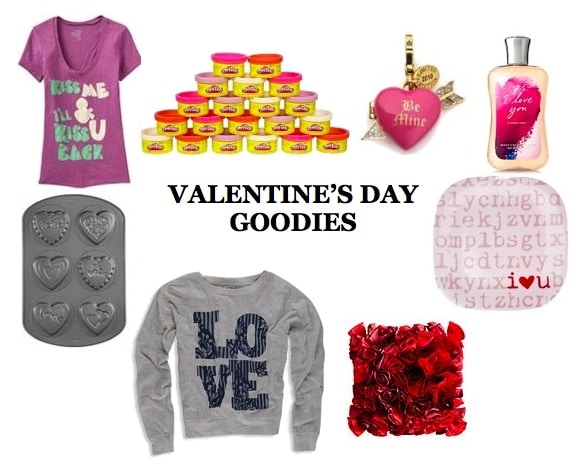 Product Information: Old Navy Valentine's T, Juicy Couture Limited Edition Charm, Crate and Barrel Cookie Tray, Play Doh Valentine's Edition (at Target), Target I Heart You Salad Plate , Bath and Body Works P.S. I love you Bubble Bath, Pier 1 Red Roses Pillow, Forever 21 Love Sweater
Play Doh is so cute and can be a great addition to Valentine's gift bags – who didn't love that stuff as a kid?! I also love the idea of having a romantic comedy night with your girlfriends and wearing a comfortable Valentine's themed tee, such as the one above from Old Navy. Also, don't forget about cute kitchen accessories if you are having people or your significant other over!
Time to Checkout
What do you think about this new feature? Are there any types of products you would like to see? Have you purchased anything to help you progress your New Year's goals? Have you started thinking about Valentine's Day yet? Let me know with a shoutout!