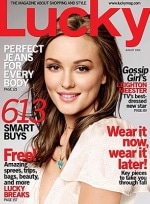 I'm happy to announce the winners of the CF & Lucky Contest!
Let me first start by saying that it was a tough choice for me to pick my favorite outfits – all your entries were great, and I'm not just saying that. I honestly really, really wanted to pick all of you to win. Unfortunately, I only have 3 Sephora gift cards to give away.
After thinking it over for a while and even asking a friend to help me choose, here were my three favorite looks:
Jenny – Loved the red shoes and long necklace. It was just an all-around great look that looked really wearable and comfy.
Kay – Great layering and I thought the knotted pearls added a little something extra to the outfit, which was already cute on its own!
Lauren M. – The new R&R jeans went well with the vintage pieces – I love mixing vintage with modern too!
If you were chosen as a winner, expect an email from me soon with all the details on how to get your prize.
If you didn't win this time, don't worry – you still have a chance to win the grand prize, an appearance in Lucky Magazine and the opportunity to style a photoshoot for Lucky Brand Jeans! And of course there will be many more contests here for you to enter in the future.
Thanks again to everyone who entered & congrats to the winners!