This post may contain affiliate links, which means we may receive a commission if you purchase through our links. Please
read our full disclosure here
.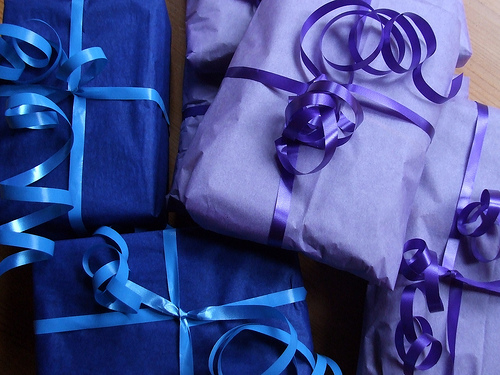 Between finishing final projects, studying for finals, and attempting to have a life, have you really looked at a calendar lately?! If you haven't you might be surprised to know that Mother's Day is May 8th!
If you still need to pick up something special for the moms in your life but don't want to settle for a gift card, you're in luck: Read on for 12 College Fashion-approved gift ideas for Mother's Day!
Bath & Body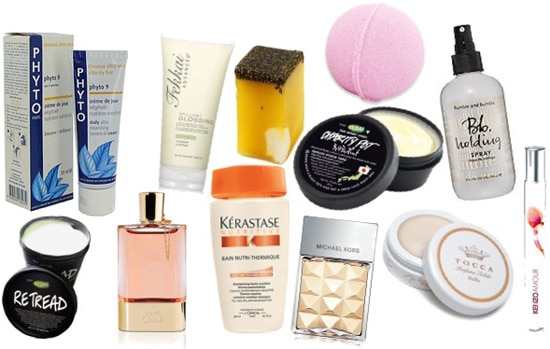 1. Hair Products.
Love your Keratase Oleo Masque and your Fekkai Glossing Cream? Share the love with Mom and splurge on a ritzy hair product or two! Products from high-end haircare lines will leave her feeling spoiled and pampered, and with a gorgeous 'do.
Products:Bumble & Bumble Holding Spray, Fekkai Glossing Cream, Phyto Daily Ultra Nourishing Treatment, Keratase Bain Nutri Thermique Shampoo.
2. LUSH Cosmetics.
If your mom is into eco-friendly items, has a soft side for being "green," and loves perfumed shower products, goodies from LUSH are the way to go! The company offers a huge variety of deliciously-scented products, from bath bombs to massage bars, as well as shampoo, moisturizer, and shower jellies. They've even created a special Mother's Day gift set! For more information about LUSH, check out our feature on the brand!
Products: Assorted LUSH products.
3. Perfume.
A classic Mother's Day favorite, picking up an extra bottle of your mama's favorite perfume is an always-appreciated gift and an easy way to go. Unsure about her scent preferences or want to get her something different? Pick up a Perfume Sampler! These kits provide miniature samples of multiple fragrances so Mom can find the perfect scent, and they come complete with a certificate that can be redeemed for a full-sized bottle of her new-found favorite. Want perfume on the cheap? Pick up travel-sized or roll-on versions of her scent! Check out Sephora for a wide offering of perfume rollerballs.
Products:Perfume sampler, KenzoAmour Travel Spray, Michael Kors perfume, Chloe "Love, Chloe" perfume.
Home Goods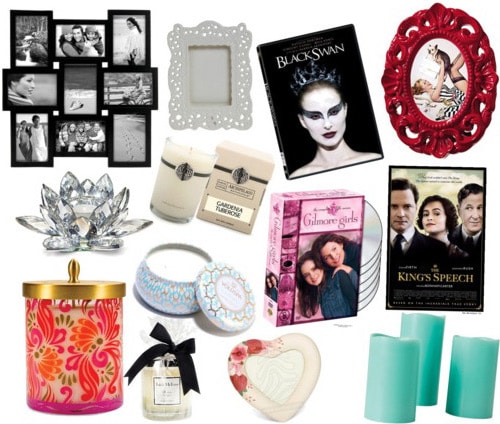 1. Candles.
Candles make easy, inexpensive last-minute gifts – you can get them anywhere and there are so many options! From choosing Mom's favorite colors, to aromatherapy scents, to cool candleholders to flameless varieties, picking out a luminary that's special and stylish should be no problem. Candles add a great blend of luxury and ambiance to any environment (when they're allowed, anyway!), perfect for the queen in your life!
Products:Archipelago Botanicals 'Gardenia Tuberose' candle, Voluspa Maison Blanc Candle, Crystal tea light holder, Trish McEvoy Orange Ginger Votive, assorted blue candles.
2. DVDs.
Is your mom a movie buff? Do you text back and forth during episodes of Gossip Girl and Grey's Anatomy? If so, DVDs may be the perfect gift! Whether you select one of her favorite films, a season of an older show she loves, or any program you think she'd like, DVDs are an easy and appreciated gift. Want to change it up? Buy movie ticket certificates and have a mother-daughter girl's day instead! There's nothing better than bonding over a giant bag of popcorn and twin diet cokes.
Products:Black Swan DVD, The King's Speech DVD, Gilmore Girls DVD Box Set.
3. Picture frames.
An adorable blend of home decor and DIY, a pretty picture frame complete with a family photo and a love note is potentially the easiest and most economical gift option of all! If you can find a photo, this idea works especially well for students who go to school far way from home — SO touching! Include a sweet card and you'll be good to go.
Products:Puzzle Collage Picture Frame, Red Baroque Frame, White Ornate Frame.
Clothing & Accessories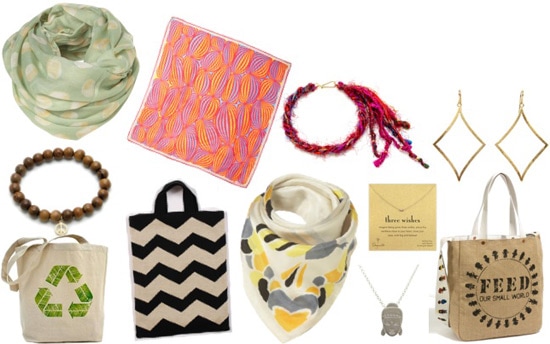 1. Scarf.
A great scarf is the ultimate universal accessory. Scarves are fun, flattering, and appropriate at any age. From super luxurious silk varieties to simple cotton blends, scarves can be worn in millions of ways and incorporated into just about any wardrobe. Find a scarf that is chic and complements your mom's look, then show her different ways to wear it! All of her friends will be envious of your excellent taste.
Products: Assorted Topshop and American Apparel scarves.
2. Jewelry.
What woman doesn't love jewelry?! Treat your mom to something sparkly (or shiny, or silver…etc.!) for Mother's Day! As always, whenever you're purchasing apparel as a gift, it's of the utmost importance to keep the receiver's personal style in mind (and maybe get a gift receipt)! For Mother's Day, choosing something tasteful and classic will likely ensure that you'll pick a piece that will become a favorite. From arty earrings to a handmade bracelet, to a monogrammed necklace, great jewelry is always fun to give and receive.
Products: Assorted Dogeared jewelry.
3. Tote bag.
Everyone needs a great tote bag, so if your mom doesn't have one, this is the perfect time to pick one up! Eco-friendly and attractive, totes are the perfect way for mom to carry her things while going to the gym, picking up groceries, or going shopping. They're also great for traveling! With so many options in terms of size and style, there's an eco-chic tote in just about every price range.
Products:Recycled Leaves Symbol Tote, Hansel from Basel Zig-Zag Tote, Disney 'Feed Our Small World' Tote.
Save Money & DIY!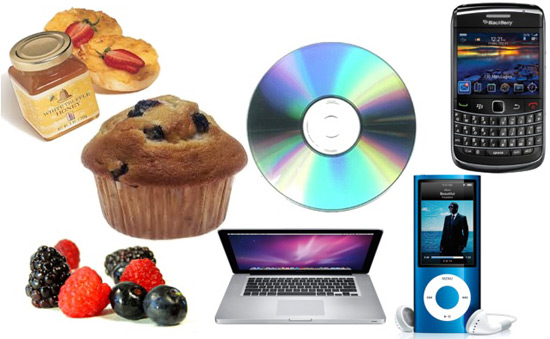 1. Baked goods.
Since our moms always cook for us, it only seems right that we give her a break at least once a year! So try your hand at making her favorite treats or meal, or go for classic comfort food like blueberry muffins or banana bread. Need inspiration? Check out this list of Mother's Day recipes and cooking tips!
2. Mix CD.
Is your taste in music similar to your mom's? Want to introduce her to some new artists? Burn her a mix! Blend the perfect disc of music you love, music you think she would like, and her all-time faves, write out a cute track listing, and decorate the CD case. She'll think of you every time she listens!
3. Tech lessons.
Ever wish your mom knew how to use an iPod, text, or take perfect photos with your complicated digital camera? She probably does, too! If you're a tech-savvy girl, offering to teach your mom how to use or set up the electronic device of her choice may be the perfect gift. Design a special "certificate," write up some simple directions, and pledge to spend some quality teaching time with your mama. Just be careful if you decide to teach her how to use Facebook!
What do you think?!
What are you getting your mom this Mother's Day? Have you picked something out already? Do you have any gift ideas to share? Leave a comment and let us know!