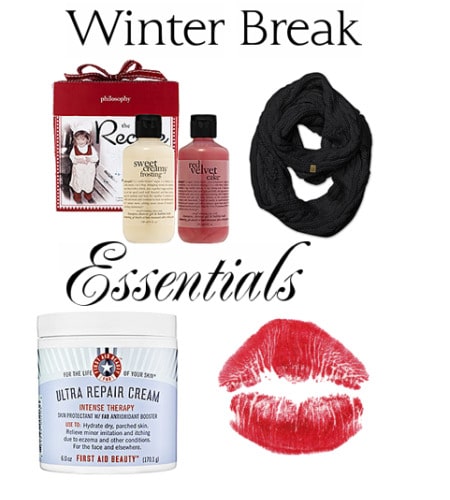 For most of us, those pesky finals are finally ending (or are already done!) and now we're on to the next challenge: how to pack for going home. Personally, picking out what to bring home is always a bit of a trial for me, as it's nearly impossible to know what you will be doing over the course of the next month. And, let's face it–we all want to look our best when we return to the world of high school gossip and ex-boyfriends!
To help you guys out on what to pack when heading home (or potential smart purchases for when you're home and have holiday money burning a hole in your wallet), here is a list of some products that will ensure you're the most stylish girl at all of those holiday parties at home.
Best Winter Skin Saver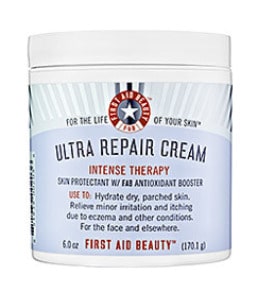 Product Information:Sephora.com
A perfect outfit, hair, and makeup pretty much mean nothing if they are concealing dry, flaky skin. I am a huge advocate of moisturizer year-round, but it is an absolute MUST in the winter.
I happen to have particularly dry skin that gets red and irritated every time the temperature drops, so I have been searching for years to find the perfect moisturizer that would keep my skin soft and pretty during the winter without being too thick or unpleasantly scented.
That's why I was thrilled to discover First Aid Beauty's Ultra Repair Cream online at Sephora this fall. While I was reluctant to splurge for the $28 moisturizer, I heard so many positive reviews that I couldn't resist, and from the first second I tried it, I was hooked. The tiniest bit of this cream goes a long way in making my skin look and feel the best it ever has in the winter, and I absolutely recommend it to anyone else who has thus far been dissatisfied with drug store purchases.
Though I understand the hesitation due to the price tag, I can safely say that though I moisturize my entire body at least once a day, there is still enough moisturizer in there to last me for months, making it a worthwhile purchase in comparison to buying a new, runny moisturizer of a lower quality every month.
Best Winter Accessory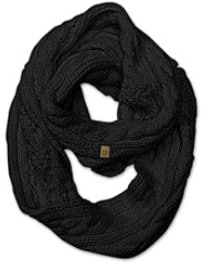 Product Information: Nordstrom.com
While I understand that this may be a bit redundant considering the hype surrounding these scarves all over the fashion blogosphere, I just had to get my word in about my so-far favorite winter accessory, the infinity (also called "circle") scarf.
Up until last year, I had never really worn scarves, as I simply did not like the way they looked on me (for some reason they always managed to make my outfit look "off"). However, walking to class in the windy winters of New York City sort of forced me to suck up my vanity and throw one on in order to not freeze.
My apathy towards scarves certainly made me skeptical when I saw everyone from fashion blogs to magazines to America's favorite stylish celebs promoting these oversized loop scarves. However, I decided to try one on in Urban Outfitters the other day and ended up truly amazed.
For some reason, these things are super flattering and give you the perfect just-thrown-on-but-put-together look when you add them to any outfit. And most importantly, they are super warm! I seriously do not know what I would have done without my scarf when New York decided to throw some extra-cold weather at me during finals week!
As with any scarf, the best part about these are the variety of colors, fabrics, and patterns you can purchase them in. I love the simplicity of the scarf above since it will surely go with any coat, but you can definitely find more scarves pretty much anywhere you shop this winter, including department stores such as Nordstrom and chain stores such as Urban Outfitters.
Best Holiday Beauty Look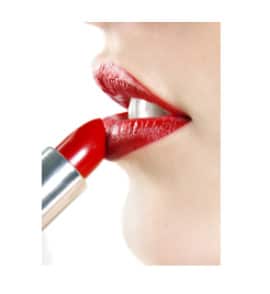 As we say goodbye to 2009, why not pay homage to one of its defining beauty trends: the strong lip color. From the fierce black lips gracing the runways to the neon colors we loved last spring, bold lips were back and better than ever this year.
Winter break tends to include at least one or two holiday parties, and I think there is no better way to take an outfit from "every day" to "holiday" than to jazz it up with a classic red pout. If you find the right shade, red lipsticks flatter almost anyone if they are applied correctly and worn as the center of attention of your look.
As a paler girl with blonde hair, I have found my favorite two red lipsticks to be Estee Lauder's Neiman Marcus Red (splurge) and Revlon's Fire & Ice (save). These bright reds are not for the faint of heart and definitely make a major statement, which I think is perfect for a fun holiday party.
Of course, not all CF readers will look good in the lipsticks I chose. Therefore, I suggest going to either a makeup counter at a department store or to the makeup artists at beauty stores like Sephora and asking them to help you find your perfect shade of red. After they help you choose a shade, you can decide whether you want to splurge on the lipstick or use your new-found knowledge to pick out a cheaper red from a drugstore. Either way, I do suggest the above brands, as I can attest to their smooth application and long-lasting color.
Best Cheap Holiday Gift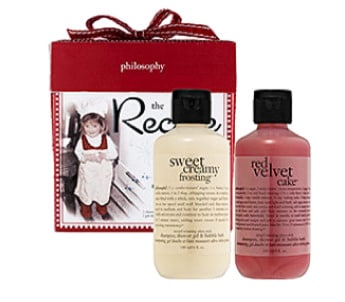 Product Information: Sephora.com
Though Meggy posted a wonderful Holiday Gift Guide on CF, if you're like me, finals have taken precedence over shopping for presents and you may now be finding yourself in the midst of the holidays without all of the gifts for friends and family you need!
One of the toughest things about buying gifts last-minute is if you have a set price-limit to conform to or need to buy a gift for someone you do not know much about (this is common if you have a Secret Santa or other type of gift exchange). You want to do more than just get a plain gift card but are not sure how to find a personalized, creative gift with limited funds.
That's why I was ecstatic to find the adorable Recipe Box from Philosophy. This set contains two of the brand's deliciously scented 3-in-1 bubble bath, hair, and body washes in Red Velvet Cake and Sweet Creamy Frosting (yum!), as well as some actual recipe cards with great holiday recipes on them!
The best part is that this set only costs $12 at Sephora, which is a great bargain that is perfect for a Secret Santa (or nondenominational "Secret Snowflake") type gift exchange. It is infinitely more fun and creative than any other cheap holiday gift set I have seen thus far!
What Do You Think?
Do you have any winter essentials that you can't go anywhere without? Have you tried any of the products I listed above? How to you stay stylish during your winter break? Let us know in the comments!