As college students, we are one of the most targeted age groups out there for advertisers. Everything from furniture to clothing to beauty products is specifically packaged and aimed at us, which would be so much better if most of us weren't living on such tight budgets!
Therefore, in this bi-weekly column I'll let you know about some products that I think are really worth spending your money on. I'll be looking at pieces that are essential for college students, great bargain finds, and things that I just love!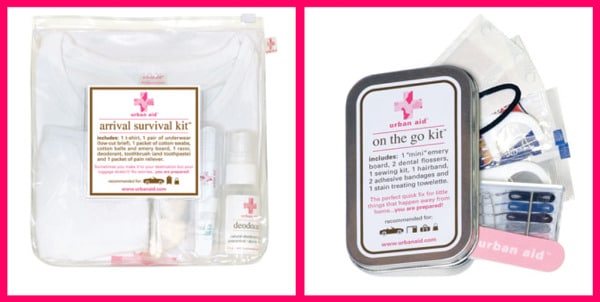 There's nothing like the feeling of picking out the perfect outfit on a Monday morning…only to have a button pop off your shirt during your first class. Or to spill coffee all over it. Or to realize you forgot to put on deodorant in your rush to leave that morning! Or… well, you know, the list goes on.
Unfortunately, we have all had and will continue to have "those days" when nothing seems to go right. That's why my fabulous finds for this week are the products from Urban Aid, a completely genius brand that will help you out on those disastrous days.
Why I Love Urban Aid Kits

Urban Aid is a company developed by women around our ages who realized how helpful it would be to have some aid in dealing with the trials of our day-to-day lives. They have kits for many of the "oops" situations we college girls may find ourselves in, such as clothing malfunctions, unexpected sleepovers, and even period problems!
These kits include a variety of little items that you've probably thought of buying or bringing before, but somehow never seem to have on hand when you need them! For example, their basic "On the Go Kit" in the picture above has an emery board, dental floss, a sewing kit, a hairband, two bandages, and a stain treating towelette. So useful!
As a bonus, these kits are cheap! That fully stocked "On the Go Kit" I described above is only $9.50, and the most expensive kit they sell is only $39.00 (which may seem expensive but is totally worth it, as this "Arrival Survival Kit" includes a tee shirt, underwear, deodorant, and other essentials in case your luggage ever gets lost while traveling). For the amount of super-useful products that come in each compact kit, the price is absolutely worth it.
My favorite kits include the original "On the Go Kit" described above, the "Travel Fix Kit" (which includes the perfect amount of items for a weekend getaway), and the "Oops Kits" (1 and 2), which are absolute lifesavers if you have some klutzy tendencies like me!
Besides stocking up on a couple of these kits for yourself, invest in some for super clever and personalized holiday gifts. Choose one of the travel-inspired kits for a friend who loves to go on trips or the "On the Go Kit: Sports" for an athletic friend. These kits are really easy to find, as the company's website lists all of the retailers selling these products. You can also buy the products right off the site!
What Do You Think?
Would you buy one of the Urban Aid kits? Which one do you think is most useful? Do you have any similar products that are perfect for college girls on the go? Have you ever tried one of these kits? Share your thoughts in the comments!
And if you have any products that you think deserve a spot in "CF Fabulous Finds," let me know! We may feature yours in the next edition.