I've always been a bit iffy about vertical stripes, since they usually remind me of Beetlejuice rather than a fashion-forward wardrobe choice. However, when I spied this vertical stripe blouse at Forever 21, I knew I had to feature it as a Fabulous Find.
This blue-and-white sleeveless button up has a modern look with a preppy twist, and at a mere $10.99, it definitely qualifies as a budget-friendly fashion find. Ready to see what the blouse looks like? Scroll down to check it out, as well as three chic ways to style it for summer:
The Blouse: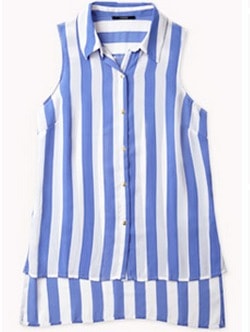 Sleeveless Striped Chiffon Shirt in Periwinkle/Cream — $10.99 at Forever 21
Outfit Inspiration
If you like this versatile and budget-friendly top, then you're going to love the outfits we put together for inspiration. Read on to find out three stylish ways to wear this week's Fabulous Find:
Outfit #1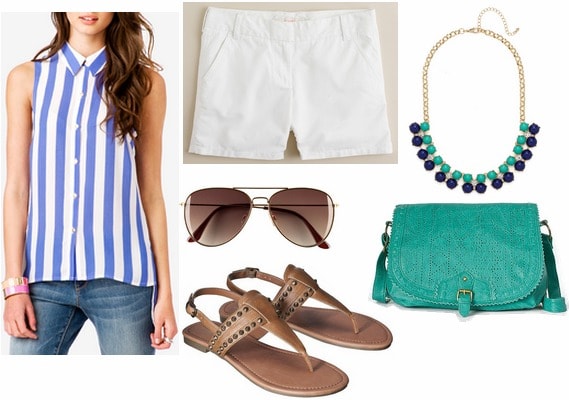 Product Info: Top- Forever 21, Shorts- J. Crew, Necklace- BaubleBar, Sunglasses- H&M, Bag- Buckle, Sandals- Target
Create a cute summer look by pairing our Fab Find with a pair of crisp white shorts. Brown slingback sandals lend a casual vibe, while aviator sunnies are a timeless choice. Go trendy by placing a statement necklace under the collar of the shirt, then grab a teal handbag, which picks up on the color of the necklace.
Outfit #2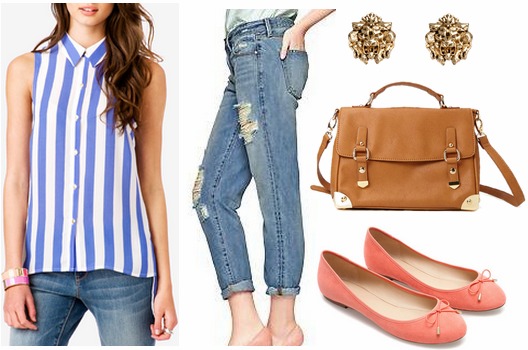 Product Info: Top- Forever 21, Jeans- Gap, Earrings- ASOS, Bag- Forever 21, Shoes- Zara
For a casual, yet stylish ensemble try wearing this blouse with a pair of loose-fitting boyfriend jeans. Create a polished vibe with classic accessories – these faux suede ballet flats add a pop of color, while this satchel bag gives the outfit a luxe touch. Lastly, accessorize with a pair of unique lion head-shaped stud earrings.
Outfit #3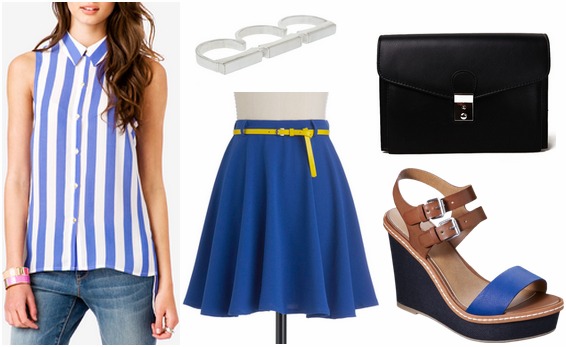 Product Info: Top- Forever 21, Ring- ASOS, Bag- Akira, Skirt- ModCloth, Shoes- Target
Dress up this blouse for nighttime by pairing it with a cobalt skirt and fun wedge sandals. Complement the look with sleek, yet edgy accessories like this black clutch and silver triple finger ring.
Your thoughts?
What do you think of this week's Fabulous Find? Would you buy this blouse from Forever 21? Which look is your favorite? How would you wear the top? Do you like vertical stripes? Remember to leave a comment below and tell us what you think!