This post may contain affiliate links, which means we may receive a commission if you purchase through our links. Please
read our full disclosure here
.
To start off your summer shopping right, I'm here to tell you about two awesome, relatively affordable lines I love: Maison Jules and RACHEL Rachel Roy. Both are primarily available at Macy's, but RACHEL can also be found on Roy's website and Lord & Taylor, while Maison Jules is also available on Amazon.
Both of these labels are super unique and fresh, incorporating trends with silhouettes and prints you rarely see elsewhere. Although most of their pieces fall under $150, since that's still too pricey for many of us, I've rounded up similar stuff under $50 at the end of this post. Read on to find out why I love these lines!
RACHEL Rachel Roy
Before we start off with why I love this label, I know what you're thinking. Rachel Roy? Don't you mean Becky?
Yeah, I know Ms. Roy has been making the headlines lately. But I've loved Rachel's line for a long time and in the interest of focusing on a woman's successful career instead of her personal life, I want to tell you why. If you must, call her Becky with the Good Line.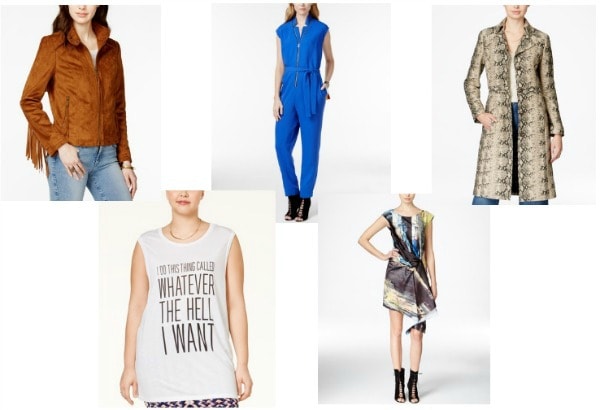 Products: Jacket, Tee, Jumpsuit, Dress, Coat.
The vibe: Edgy-cool with a femme twist, glam-meets-boho. Think sleek jumpsuits, bright colors, silky fabrics, bold printed dresses in fresh shapes, plus graphic tees and downtown-cool jackets.
Approximate price range: $50-200.
Why I love it: The clothes (many of which are also available in plus size!) look way more expensive than they are and are unlike anything I've seen elsewhere. Plus, they often feature really special details, like tassels or stud-shaped buttons. I love how they feel relaxed and dressed-up at the same time, and that there's something in the collection for every style.
Maison Jules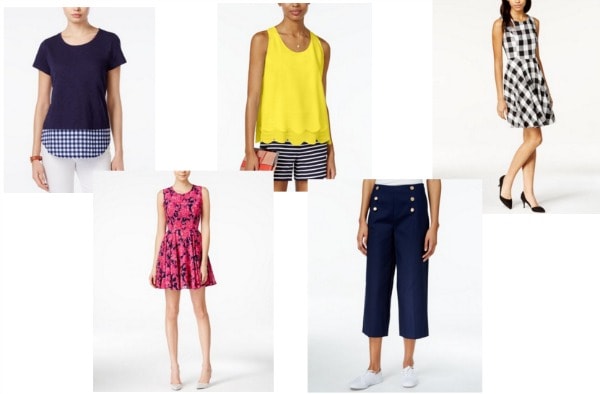 Product info: Tee, Floral dress, Tank, Pants, Gingham dress.
The vibe: Girly with an extra dash of fun! Think fit-and-flare dresses, gingham, go-everywhere blouses, a mix of stripes and florals, and the occasional preppy touch like an anchor print or nautical pair of pants.
Approximate price range: $20-100.
Why I love it: I am a girly-girl at heart, and I'm a sucker for a floral dress or swishy skirt. But I also love to be quirky and different, and Maison Jules combines both of these things. Plus, their clothes are super comfy and wearable for real life — I love their soft tees and flowy tanks. I have a similar one to the yellow one above but in a lemon print (wow, everything is coming up Beyonce in this post). They have an awesome mix of dresses, from mini to midi to maxi, and their prints are really creative. Even their basics have a fresh twist.
Looks for Less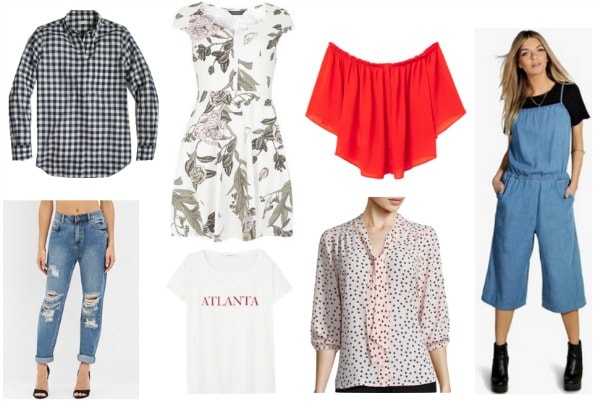 Products: Gingham shirt, Jeans, Dress, Graphic tee, Red top, Dot blouse, Jumpsuit.
These lines have pretty different vibes, but there's some overlap — girly pieces with a twist, trendy-but-not-too-trendy looks. In the set above, I've found pieces similar to the vibe of one or both lines, each under $50, in case this post has inspired you but you're looking for something a little easier on the wallet.
In general, when trying to get the vibe of these lines, look for:
Flowy blouses
Fit-and-flare dresses
Structured blazers
Off-the-shoulder tops
Anything denim
Jumpsuits and rompers
Polka dots, florals, gingham
Mixed-print pieces
Midi dresses
Quirky motifs like animals, food, or objects
Soft tees
What do you think?
Have you shopped either of these lines? What do you think of their vibes? What piece in this post are you lusting after the most? Let me know in the comments!