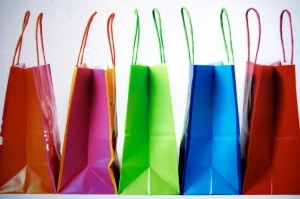 Hi everyone and happy Thanksgiving! I hope you all had a great turkey (or Tofurkey) day, but we all know the real Thanksgiving fun starts early tomorrow morning.
That's right, Black Friday, the biggest shopping day of the year is tomorrow. And Cyber Monday, the biggest ONLINE shopping day of the year, is Monday. Stores everywhere are lowering their prices, having special deals, and basically offering some crazy savings for a few days only!
In honor of every shopaholic's favorite holiday, here's a list of all the best online Black Friday and Cyber Monday deals. This year, avoid the stressed out shoppers and mile-long lines at the mall and shop in your PJ's!
I know I'll be shopping online instead of hitting the mall this year – what about you?
Whew, that was a long list. Keep checking back here for more Black Friday & Cyber Monday sales as I find out about them! As always, leave a comment if you know about any that I missed.
Happy shopping!