Product Info: Inflatable Fish*
Enjoying the dog days of summer, ladies? What? No? It's too hot, you say? Heat stroke overcometh you before you can so much as lift a hanger off a rack, you say?
Ah, the joys of shopping online in an air-conditioned apartment. For this post, I pulled together three summertime outfits, and each one comes entirely from a single retailer. It's one-stop shopping at it's finest.
Wait, it gets better. Whether you need something cute, casual, or sophisticated, these looks won't sweat you or your wallet, since every single one of the pieces featured here rings in atless than $25!
These outfits were put together to function as easy, fuss-free, and lightweight everyday looks to get you through the next few weeks of sweltering heatwaves in style. Simply scroll down to see them all:
1. Lunching Ladylike in ModCloth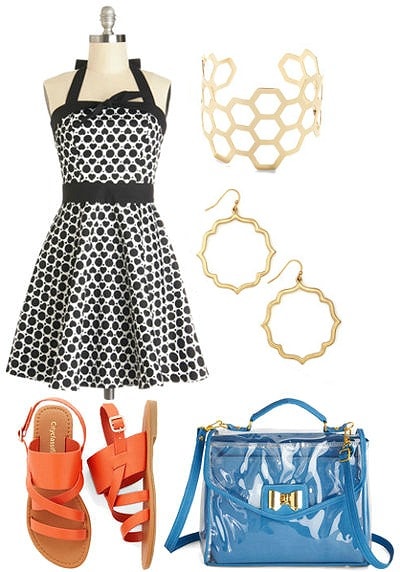 Product Info: Dress, Sandals, Bag, Earrings, Bracelet
ModCloth is known for their retro-inspired, universally flattering dresses, quirky prints, and whimsical pieces. Besides their über-cute offerings, I'm also a big fan of their free return policy, as well as their impeccable customer service. While some of their pieces can get a little pricy, that isn't the case with this look – all of the items above cost under $22!
Sundresses are so easy to slip on in the morning and will keep you comfortable throughout a hot day. This printed one is fitted through the bust and waist, giving it some shape, while the flared skirt, halter straps, and breezy cotton material are ideal for the summer heat.
A cross-body bag and sandals in bright, contrasting hues add interest, and the lightweight jewelry won't feel cumbersome or fussy.
2. Kickin'-it Casually in American Eagle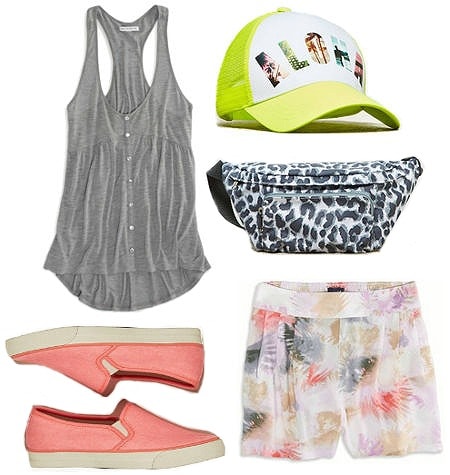 Product Info: Tank, Shoes, Shorts, Hat, Fanny Pack
American Eagle Outfitters, the mecca of casual-cool pieces and reinvented '80s accessories, is currently offering an extra 40% off their clearance items! Everything here is $20 or under, and the discount is applied when you add the items to your virtual shopping bag. I know, I know. You're so welcome.
The button-front tank and printed shorts are both form flattering and loosely fit. So much so that you could get away with using these pieces as a super cute cover-up outfit for the beach or pool.
When it's nearing surface-of-the-sun temps, I generally prefer hats to sunglasses for glare relief. Sunglasses can get sweaty and slippery very easily if you're spending a lot of time outdoors, and this baseball cap has the bonus of keeping the sun off your scalp and your hair out of the way. For footwear, I went with a pair of trendy slip-on sneakers in a pretty coral hue.
Say what you will about fanny packs, but they pack a lot of storage punch for their size, and there will be no sweaty straps slipping, sliding, and digging into your shoulders. Also, animal print. An animal print fanny pack. How could you not want one?
3. Strolling Sophisticated in H&M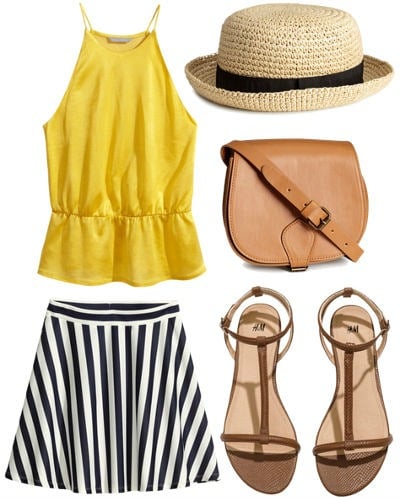 Product Info: Top, Skirt, Hat, Bag, Sandals
Temp and tide waits for no man, and so it goes with one's social life. While I wish we could just flop down next to a fan and never move again, our social calender is as busy as ever, and we need to dress for it. If you need to look pulled-together and presentable, this H&M outfit is a great option.
I'm truly impressed with the pricing of the items pictured above. I can see each piece working for a variety of looks, even in cooler seasons. Therefore, the fact that nothing here is over $18 is a great deal in terms of cost-per-wear.
The color of the high-neck top and pattern of the black-and-white skirt are summery and playful, but their cuts are sophisticated. A brimmed hat, small cross-body bag, and strappy sandals cover your shade, toting, and lightweight footwear needs in neutral tones.
Pairing a flared skirt with a peplum top is a bit unconventional shape-wise, but the top is loose and unstructured enough, and the accessories are classic and simple enough to pull the look together without making the two items look busy or disproportionate.
Your thoughts?
What do you think of these looks? Do they look like they'd work well for a girl on-the-go in the midst of a sweltering summer? Would you be comfortable in them? And how about those prices? Share your thoughts below, and happy shopping!
* This is Nibbles, the inflatable fish. He lives at ModCloth, but dreams of the day a fashionable CF reader adopts him. Nibbles is the ultimate summer accessory, and he enjoys shopping, blogging, and long flops on the beach. Take him home today for only $12, and a lifetime of priceless pool memories.