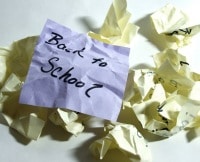 Photo by Avolore
It's that time of year again – summer is halfway over, we're gearing up for fall, and it's time for back to school shopping!
Whether you're shopping for your freshman year of college or just want some cute new clothes and accessories for yet another year, College Fashion is going to be your back-to-school fashion source over the next couple of weeks!
A few of the topics that I'm going to cover:
The right college bag for you – backpack, shoulder bag, tote, or something else? I'll be going over the pro's & con's of each, and offer you some stylish and affordable options!
Fall 2008 fashion trends! From the cutest jeans to the most popular colors, find out what was all over the runways and what's going to be hot this fall. I'll also give you examples of lots of budget friendly clothing to make your shopping a snap.
Shoes, shoes, and more shoes. Whether it's adorable & practical footwear for walking around campus, or cute & impractical heels for parties and events., you'll get to check out all the cutest and most affordable pairs for fall.
New stuff for your dorm room or apartment. If you're looking to redecorate this year, or just want to deck out your new room, you don't want to miss CF's list of the cutest and most inexpensive dorm decorations!
Check back here for these articles and more over the next few days. You don't want to miss them!