The next item on CF's Ultimate Back to School Shopping List is plenty of cute tops.
In case you missed it, I covered denim for fall a few days ago. Today's focus: which shirts to wear with your fabulous denim and other bottoms this season.
There are tons of trends that you're going to be seeing in stores this fall, so to begin, here's a rundown of the main trends when it comes to tops for fall 2009. Since there's so much to cover, I'll get into the specific categories (basic tops, nighttime tops, jackets, sweaters, etc.) with options you can buy online in posts to come over the next few days.
Fall 2009 Fashion: Color Trends & Runway Inspiration

Metallics
Metallic tops are going to be HOT for fall. Whether they're shiny gold, copper, or shimmering silver, any type of metallic top will be perfectly on-trend this season. Erin Fetherston did an adorable metallic jacket that would add flair to a casual outfit, while designers like Giambattista Valli and Isaac Mizrahi did super glitzy metallic tops – perfect paired with a blazer and jeans for a cute party look.
Runway Inspiration: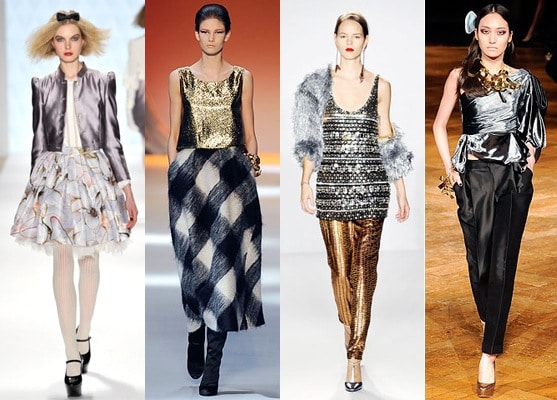 From left: Erin Fetherston, Giambattista Valli, Isaac Mizrahi, and Roksanda Ilincic

Hot Pink & Other Neon Hues
The 80's resurgence is still going strong, which means the ubiquitous neon trend is going to continue into fall. Bright shades of hot pink, cobalt blue, and yellow are all popular choices, but pretty much anything goes. Which neon color is your favorite?
Personally, I love the look of a technicolor top paired with black skinny jeans and a blazer, as in the Tibi look pictured below. Keeping all the pieces low-key and simple allows a bright color to really stand out. Over accessorizing is a no-no when you're wearing neon because it's the quickest way to look tacky. Keep your look simple but fun and you'll have the neon trend down.
Runway Inspiration: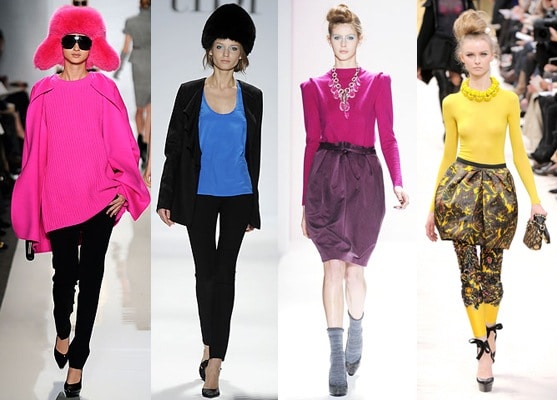 From left: Michael Kors, Tibi, Rebecca Taylor, and Louis Vuitton

Typical Muted "Fall" Colors
As always, shades of deep purple, navy blue, brown, burnt orange, and army green are popular color choices for fall. Muted tones just seem to say "autumn", and will therefore be readily available at all the stores this season.
For fall '09, fashion houses like Chloé and Nanette Lepore mixed fall's muted shades with black leather – whether in the form of a handbag, leather pants, or boots. The overall look was toned down and earthy yet oh-so-chic.
Runway Inspiration: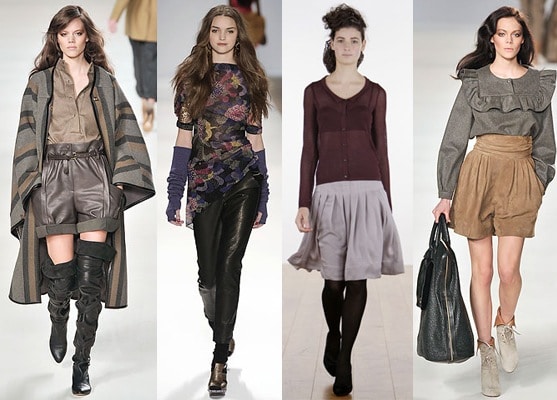 From left: Chloé, Nanette Lepore, Rochas, and Chloé

Basic Black and Grey
The fall 2009 runways were coated in dark shades of black and grey. In one sense, it's a nod to the recession, but it also reflects the rocker chic influence that's been so popular in fashion lately. No matter the trend's origins, you can't go wrong with black and grey for fall. They're not only some of the most versatile colors that go with everything, but they're universally flattering on all skin tones.
Runway Inspiration: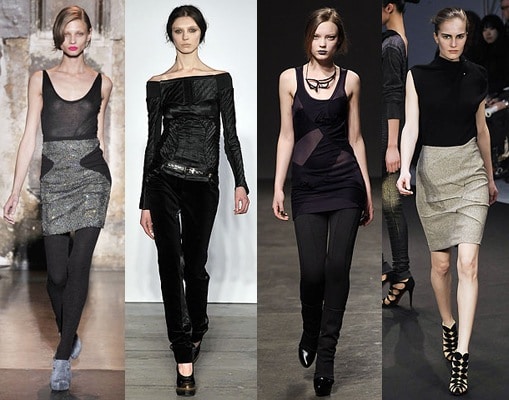 From left: Antonio Berardi, Proenza Schouler, Doo.Ri, and Roland Mouret
Fall 2009 Fashion: Top Trends & Runway Inspiration
Color trends aside, designers worked en masse with numerous other themes this season. If you're in the market for some new fall tops, here are a few styles you can expect to see in stores everywhere.

Embellishment
Expect to see sparkles, metallic accents, and other adornments all over the place for fall. Whether it's a pullover dripping with sequins a la Marc Jacobs or a sparkling cardigan a la Nanette Lepore, anything shimmery or otherwise light-catching will add polish to your basic outfits for day or night.
Runway Inspiration: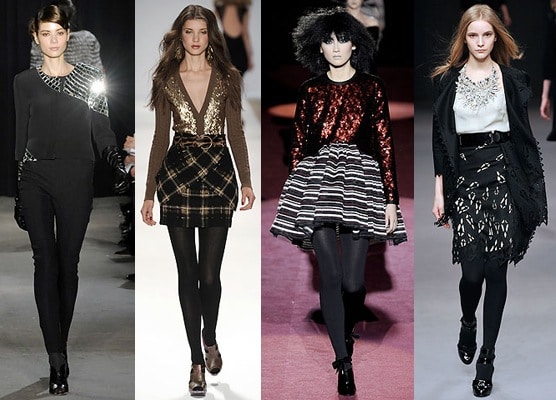 From left: Thakoon, Nanette Lepore, Marc Jacobs, and Jaeger London

Serious Shoulders
Tops and jackets with strong, raised-up shoulders were all over the Fall 2009 runways. It's a dramatic nod to the shoulder pads of the 80's, minus all (or at least most of) the tackyness.
To get in on this trend, look for tops and blouses with a boxy structure – shoulder pads don't necessarily need to be involved. Pair a structured top with skinny jeans or an ultra-feminine skirt for balance, and make sure to add lots of attitude – it's essential if you want to pull this trend off.
Runway Inspiration: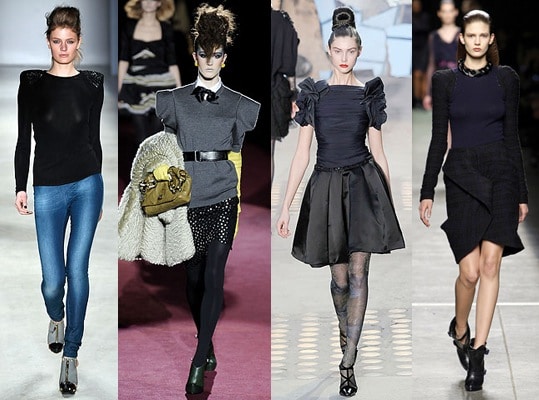 From left: Twenty8Twelve, Marc Jacobs, Christian Lacroix, and Givenchy

Asymmetrical Tops
One-shoulder and asymmetrical tops made my summer 2009 must-haves list earlier this summer, so I'm psyched to say the trend is here to stay for fall '09. Sleeveless one-shoulder tops in dark colors are party-perfect paired with skinny jeans and heels, while a single-sleeved sweater a la Michael Kors (pictured below) adds unexpected edge to a casual daytime outfit.
Runway Inspiration: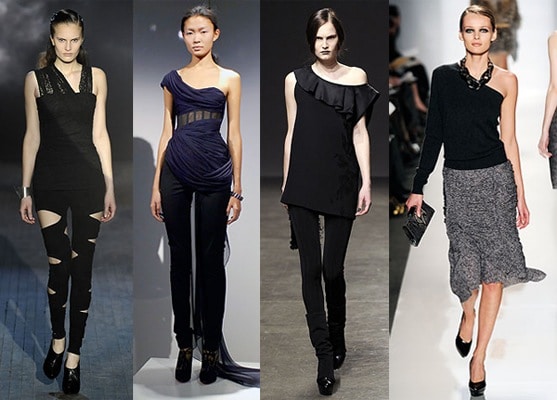 From left: Alexander Wang, Marchesa, Doo.Ri, and Michael Kors

Draping
Drapey tank tops were everywhere on the fall 2009 runways as well, and for good reason – they're the perfect thing to pair with skinny jeans or a tight pencil skirt for balance. Drapey tanks and tops also work well with structured shorts on warm fall days. Yes, they're that versatile.
If you're feeling this trend right now, good news – you don't have to wait for fall to start wearing it. Draped tanks are ideal during the summer (they keep you cool and look super chic), so why not try it out now?
Runway Inspiration: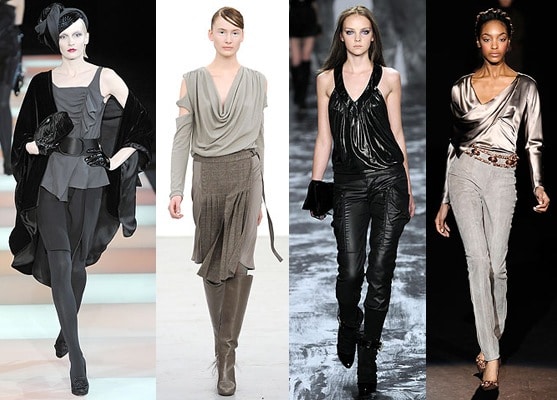 From left: Giorgio Armani, Veronique Branquinho, Miss Sixty, and Carolina Herrera

Rips, Shreds & Cutouts
Prepare to show some skin if you want to tackle this smoking trend for fall! Designers like Alexander Wang took otherwise basic tops and cut them to pieces this season for a look that's sexy but not overly so. This would be an easy trend to DIY if you're short on cash, but if you're not so crafty, there will be plenty of cutout tops available in stores this season.
One tip for wearing the cutout trend: keep the bottom half of your outfit on the modest side if you wear a cutout top: think knee-length skirts or jeans. When you show skin up top, it's best to cover up elsewhere for balance.
Runway Inspiration: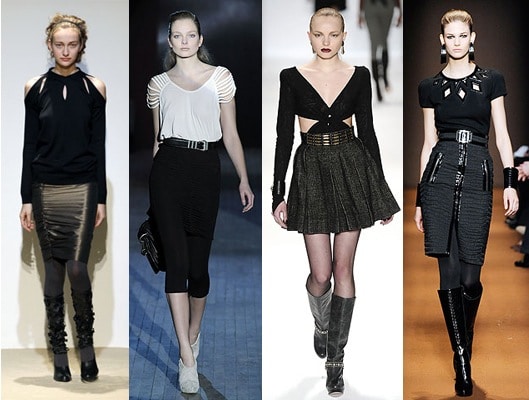 From left: Io Ipse Idem, Alexander Wang, Charlotte Ronson, and Andrew Gn

The Exposed Bra
You read right, visible bras were an actual Fall '09 runway trend. I know many of you were opposed to them when I asked Would You Wear… a Visible Bra?, but I thought I'd feature them because they are nonetheless a trend. If you're into this look, there are many ways to wear it without looking trashy or showing too much skin – seriously! I'll have more on this in an article to come, but for now here's some runway inspiration to get you going.
Runway Inspiration: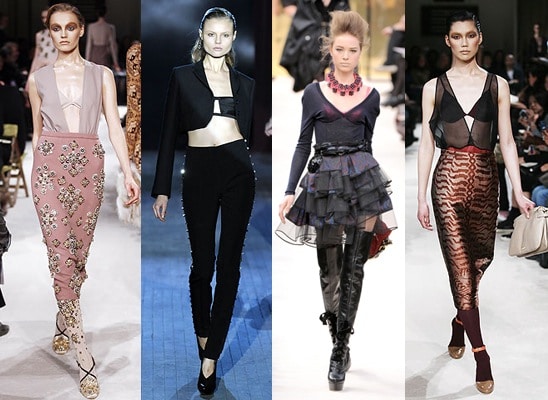 From left: Miu Miu, Alexander Wang, Louis Vuitton, and Miu Miu
Shopping These Fall Trends
Now that you've seen all the trendiest tops for fall 2009 and hopefully have some new sources of fashion inspiration, are you ready to shop? If so, check back tomorrow for cute and affordable tops that won't break the bank, plus tips on how to wear them for all different occasions.
In the meantime, I want to know what you think! Which of these fall trends is your favorite? Which are you most excited to wear this fall, and which trend is just not you? Leave your thoughts in the comments!