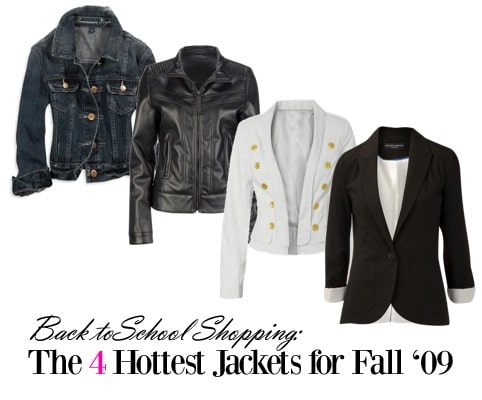 Over the past few weeks, we've been going over all the hot trends for fall as part of CF's back to school shopping list. While tops and jeans are important, a great jacket is perhaps the most essential fall piece every girl needs in her wardrobe.
Not only do jackets keep us warm on cool fall days, but they're also important for wardrobe versatility and layering. Feeling like you wear the same thing every day? One new jacket can add tons of new looks to your rotation. Jackets are also the perfect way to cover up any perceived body "problem areas" – a well-cut blazer, for example, can cinch you in at the waist, making you look thinner and perfectly proportioned.
Here's a list of the 4 hottest trends this season when it comes to jackets. Which one is your favorite?
1. The Denim Jacket

Product Information (from left): Light Vintage Destroyed Jacket – American Eagle, Blue Acid Wash Biker Jacket – Miss Selfridge, Dark Tinted Denim Jacket – American Eagle
Classic, classic, classic. The denim jacket has always been a fall staple, but this season, it's actually trendy too (whether that's a good thing is debatable). Either way, stores everywhere are carrying different incarnations of the denim jacket, in every possible shade from acid wash to ultra-dark.
This season, almost any type of denim jacket goes, so long as you keep it simple. While super-studded and shredded varieties are popping up in stores, a standard denim jacket is the smartest investment for a girl on a budget. It will certainly last you more than one season.
So what do you wear a denim jacket with? Almost everything.
Right now I love them layered over pretty floral dresses for a little bit of a '90's throwback, or worn with black skinny pants and a loose tee for a perfect effortlessly casual outfit. But the possibilities are endless!
2. The Motorcycle Jacket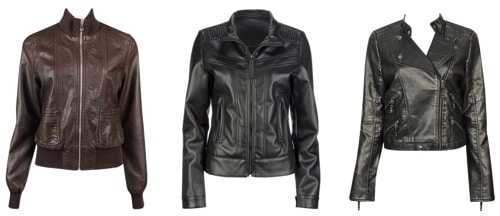 Product Information (from left): Brown Faux Leather Motorcycle Jacket – Forever 21, Full Tilt Coltrane Women's Jacket – Tilly's, Black Faux Leather Motorcycle Jacket – Forever 21
Yup, for yet another season the motorcycle jacket trend is still going strong.
Motorcycle jackets were HOT last year, so if you bought one for fall '08, keep it around! It's still very wearable in '09.
I'm a fan of faux leather jackets not only because they aren't made from animals, but also because they're less expensive than real leather options. Of course, if you do like real leather, there are also affordable vintage pieces out there. Because they're used, they'll likely have that perfectly soft, broken-in feel so many high-end leather goods try to emulate. Best of both worlds if you ask me!
3. The Embellished Military Jacket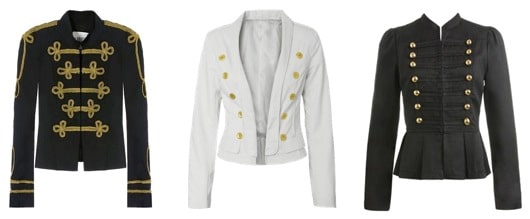 Product Information (from left): BB Dakota Battalion Jacket – chickdowntown.com, Vero Moda Military Jacket – oli.co.uk, Military Button Front Jacket – Arden B.
The embellished military jacket is a little bit more flashy & trendy than the denim and motorcycle jackets, but it's so much fun that it's a trend worth trying.
This season's military jacket is PERFECT for a night out – the extra embellishment means you can keep your top simple and still stand out. Another quick tip for wearing this jacket: you're definitely going to make a statement when you wear one of these, so confidence is key.
4. The Boyfriend Blazer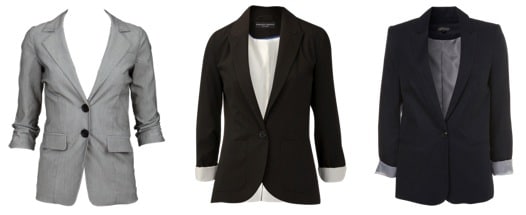 Product Information (from left): Boyfriend Blazer – Charlotte Russe, Black Boyfriend Jacket – Dorothy Perkins, Slouchy Boyfriend Blazer – TopShop
Perhaps the most important jacket every girl should own this season, the boyfriend blazer is incredibly versatile: it works well layered over dresses, pretty tanks and shorts, or dressy tops and skinny jeans. It adds an instant coolness to any look and is SO easy for anyone to pull off.
The important thing to look for when shopping for a boyfriend jacket is FIT. If the jacket is too large, you'll swim in it, and if it's too tight, it'll be uncomfortable and unflattering. Be willing to spend a little more for a fit that's just right – you'll have this piece for a while so you want it to be perfect.
If you have long arms or are otherwise tough to fit, I recommend finding a jacket that's a little too large and having a tailor take it in. It's worth the extra money to get a jacket that's perfect for you.
What do you think?
So now that you know what jackets to look for this fall, I want to know: which jacket is your favorite? Do you own any of the four types of jackets, or are you planning to buy any this fall? Also, how would you wear this season's jackets?
Leave your thoughts in a comment!