This post may contain affiliate links, which means we may receive a commission if you purchase through our links. Please
read our full disclosure here
.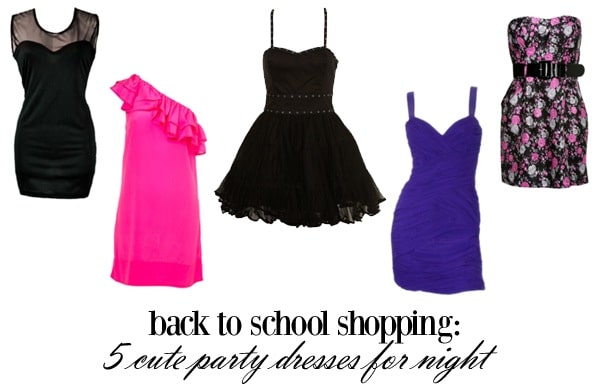 We talked about cute fall dresses to wear during the day last week, so today I want to show you guys some cute party dresses for going out at night.
Whether you're throwing a fabulous cocktail party for you and your best girlfriends, going out on a date with a cute boy, making an appearance at an off-campus party, or possibly all three in one night (ah, college) you really can't go wrong with a cute dress.
Dresses are super versatile and therefore perfect for the college girl on a budget. There are a million ways to style a dress for a night out – whether you pair it with sky-high heels or metallic flats, a gorgeous clutch or simple handbag, no jewelry or some standout earrings, you're guaranteed to make a splash.
Here are 5 cute dresses you'll want to be seen in this fall:
1. An Asymmetrical Neon Dress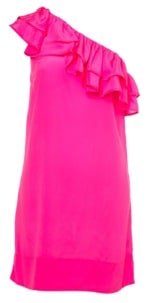 One-Shoulder Frill Dress – TopShop
This dress is so right-now it's almost insane. It's as if TopShop threw all the fall trends into a blender and pureed them on high to create the trendiest dress known to man. The "one-shoulder frill dress" combines 4, count 'em, 4 fall trends: neon, asymmetrical shoulders, ruffles, and minidresses.
While it may not be an investment piece, and it's certainly not for the faint of heart, this dress is one thing: fun! It's perfect for a night out with your girlfriends or anytime you want to let loose and wear something unabashedly pretty & girly.
Oh, and be prepared to be the center of attention: you'll definitely be noticed in this dress.
How to wear it:
When your dress commands this much attention, keep your accessories simple: too much bling will only look trashy.
It's best to stick to shoes & accessories in dark colors like black, dark grey, or navy blue, and keep jewelry to a few choice pieces (think a fabulous cuff or chunky cocktail ring). This will help balance out the hot pink to keep the look modern and fashion-forward.
2. A Body-Conscious Sweetheart Dress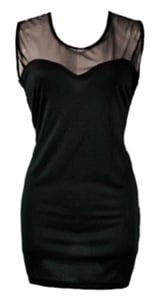 Sweetheart Two-Toned Mini Dress – American Apparel
The 80's revival is upon us, and that means the "body con" trend is one to watch for fall.
The always fabulous Alexander Wang had the fashion world abuzz about his Mesh Inset Dress recently, causing, of course, a proliferation of knockoffs.
The above dress is just that: American Apparel's more affordable version of Alexander Wang's dress. It's a sleek, shiny, and ultra form-fitting, with a sweetheart neckline and mesh detail at the top. Perfect for layering under fall jackets or wearing alone to show off your curves.
How to wear it:
The body con dress is easy to wear because it's essentially a blank canvas for layers and accessories. Because it's so sleek, it layers extremely well: you could wear it under a boyfriend blazer, over colorful tights, or under a sweater as a pencil skirt. The possibilities are endless!
That said, this dress can definitely be worn alone if you have the confidence to pull it off! Try it with super-high platforms for that Alexander Wang model look, or pretty flats and bangles for a low-maintenance party outfit.
3. A Winter Floral Dress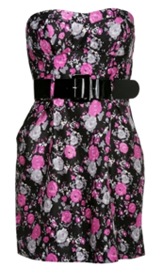 Belted Floral Dress – Charlotte Russe
Florals aren't just for summer anymore! Despite what your mom might have told you, it's totally okay to wear a floral dress in fall or winter if you choose the right print and pay attention to color.
How to find a fall/winter-appropriate floral? Ditch July's overly tropical Hawaiian flower prints and look for prints that are more painterly in darker, more subtle colors.
The black, grey, and pink printed option above is a great choice for fall: it's festive yet subdued, not to mention easy on the wallet at only $26.99 (thanks Charlotte Russe). The removable belt (love that!) draws attention to your waist and creates that coveted hourglass shape on any body.
How to wear it:
A floral dress is easy to pull off in fall. Once you've found the right one that's not too summery, layer it up! Wear it over dark tights and sky-high heels for an ultrachic look, or throw on a boyfriend blazer and some pyramid bracelets to break up the girlyness with rocker edge.
4. A Bandage Dress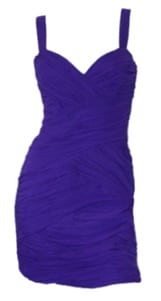 Adrina Dress – Truese.com.au
Hervé Léger can be credited with this trend. The ultra-hot bandage dress look is a favorite of models and celebs alike because it's super sexy yet still completely chic.
If Hervé is out of your price range, don't worry – there are plenty of affordable bandage dresses out there! The above dress is from an Australian fashion line called Truese, a little-known brand I'm obsessed with right now.
Just FYI, if the above dress isn't your taste, Truese has TONS of other cute dress options, some pretty expensive, and some priced a bit lower around $100. Obviously those prices are high for the average college girl, but if you find a dress you love, it could make a great investment piece. Take a look at their options at Truese.com.au.
How to wear it:
Like the body con dress I talked about earlier, the bandage dress is easy to cover with layers. But don't hide under a baggy cardigan: the point of this dress is to show off your amazing figure!
I recommend keeping your look simple when you rock a bandage dress: some great shoes and a little bit of jewelry is all you really need. The bandage dress is one of those pieces that speaks for itself, so let it (and your killer confidence) be the focus of your look.
5. A Studded Dress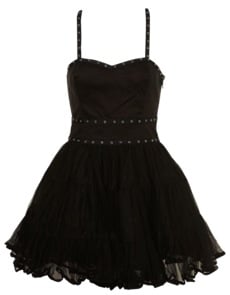 Tutu Stud Dress – TopShop
Studs, as we all know, are a HUGE trend for fall, and a studded dress is a fun way to try out the trend without going full-on punk rocker.
The above dress is from TopShop and I love it because it's a perfect mix of girly and tough – it would work equally well with motorcycle boots or pretty platform heels, depending on your personal style. It's also black which means it goes with everything and will last more than a few seasons. Even better, the waist is nipped in for a flattering look on most body types… gotta love that!
How to wear it:
A studded dress is the perfect nighttime look for fall '09: it's glamorous, but not overly so, and it'll give you a hint of the rockstar aesthetic without looking costumey.
How you wear it is really up to you: you could go with the badass rocker theme and throw on some fierce bracelets & neon boots, or you could make this dress more ladylike with understated jewelry and simple high-heeled pumps. Finish with plenty of confidence and the attitude to pull it off!
What do you think?
No matter which dresses you buy this fall or how you choose to wear them, always stay true to your personal style and rock your look with plenty of confidence. Otherwise, the dress will end up wearing you! (Never a good look.)
Now that you've seen a few of my picks, I want to hear what you think!
Do you like to wear dresses to parties? If so, what do you wear them with? Which of these fall dresses is your fave? How would you wear the dresses I featured? Let me know in the comments section!