This post may contain affiliate links, which means we may receive a commission if you purchase through our links. Please
read our full disclosure here
.

Continuing CF's Ultimate Back to School Shopping List, today we're going to talk cute tops for daytime.
In yesterday's article, Top Trends for Fall 2009, we went over the hottest trends you'll be seeing in stores when it comes to tops. Today the focus is on shopping, with some cute and inexpensive tops that will take you from the classroom to the dorm to work and back, plus two different ways to wear each option.
Here are 5 cute tops for daytime, some trendy and some classic, all under $50, along with ways to wear them.
Since most of us are on a budget, this of course isn't a list of things you have to run out and buy for fall – it's simply a look at what's hot right now and how you can incorporate that into your wardrobe this season. For a truly budget friendly take on this list, shop your own closet! You may already have similar items in your wardrobe.
1. The Perfect Basic Tee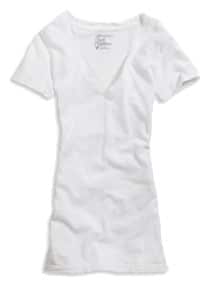 V-Neck Tee – $15.50 at American Eagle
I don't know about you, but I can't think of a top more versatile or essential for daytime than the slouchy basic tee. It keeps you cool when it's hot out, layers perfectly under everything, never looks too dressy and can be worn a million different ways. Even better, if you're shopping on a budget, you can't get more budget friendly than the slouchy basic tee shirt.
Outfit Idea #1:
Pair your basic tee with denim shorts layered over lace bike shorts for an ultra trendy look. Add gladiator sandals and a statement necklace to finish.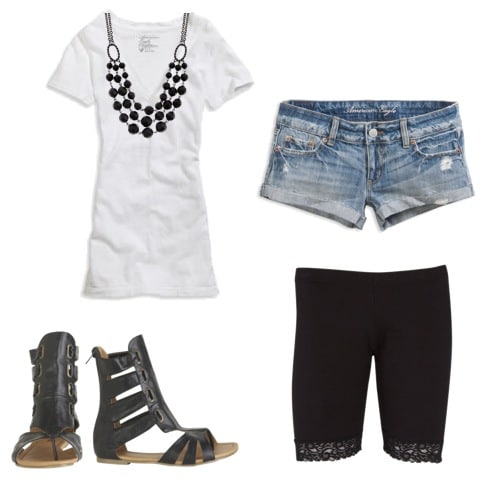 Product Information: Denim Shorts – American Eagle, Necklace – 1928.com, Sandals – Wet Seal, Lace Bike Shorts – Charlotte Russe
Outfit Idea #2:
A basic slouchy tee also looks great partially tucked into skinny jeans with a belt. Just tuck the front of the shirt in to show off your cute belt, and add a few pretty accessories for a look that's cute and casual for everyday.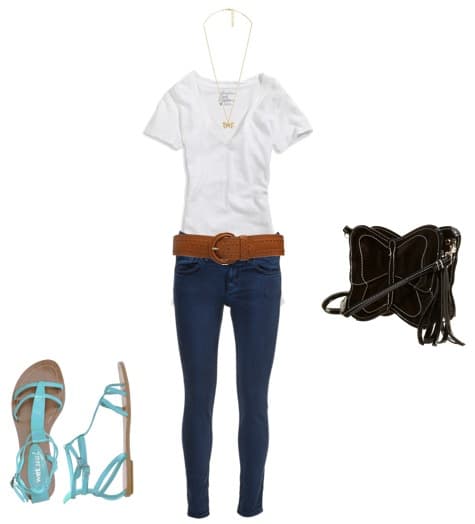 Product Information: Sandals – Wet Seal, Skinny Jeans – TopShop, Belt – Wet Seal, Necklace – Forever 21, Butterfly Purse – TopShop
2. The Draped Tank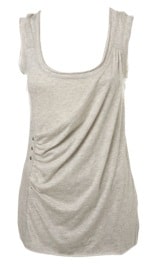 Petites Grey Drape Vest – $30 at Miss Selfridge
As you know if you read yesterday's article, draping is a huge fall 2009 fashion trend. For a trendy look that's the perfect transition between summer and fall, look no further than the draped tank. It works during the day to add polish and interest to any outfit, and it's also the perfect party shirt for night.
Outfit Idea #1:
Wear a draped tank with denim shorts and black tights during the fall. Cute brown boots add contrast, and fun accessories are just that – fun.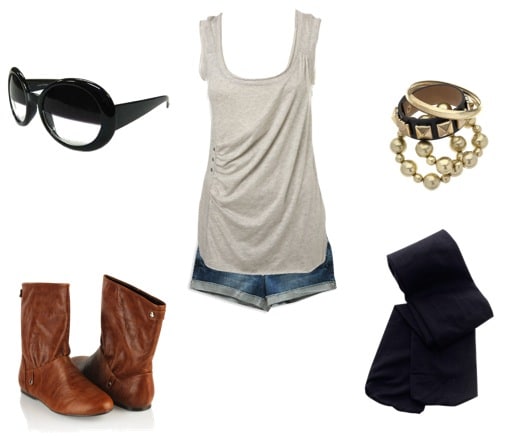 Product Information: Faux Chanel Sunglasses – Girlprops, Boots and Shorts – Forever 21, Bracelets – TopShop, Tights – Charlotte Russe
Outfit Idea #2:
For a look that's trendy and polished, pair the draped tank with a blazer, slouchy boyfriend jeans, and statement studded booties. Finish it off with a colorful bag like this cobalt one from Aldo.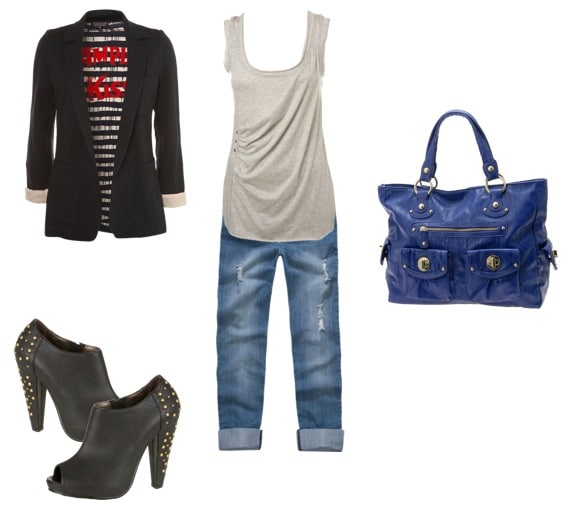 Product Information: Blazer – TopShop, Studded Booties – Charlotte Russe, Boyfriend Jeans – Tilly's, Purse – Aldo
3. The Striped Shirt

Stripe Cotton Lycra Tunic – $34 at TopShop
The breton striped shirt, or sailor shirt for those unfamiliar with fashion lingo, is a piece that's both timeless and current at the exact same time. Celebs like Olivia Palermo and Alexa Chung have been wearing their breton shirts everywhere lately, helping to resurrect this fashion classic.
I love the sailor shirt for fall because it works with almost anything during the day. For maximum versatility, invest in a tunic version of the shirt – that way you can wear it tucked in, as a dress, or slouchy over jeans. It's all about options.
Outfit Idea #1:
For an easy look to wear to class, try wearing a striped shirt with a simple cardigan, skinny jeans, and pretty flats. Add colorful accessories if you want, or keep the whole look neutral to let the shirt shine.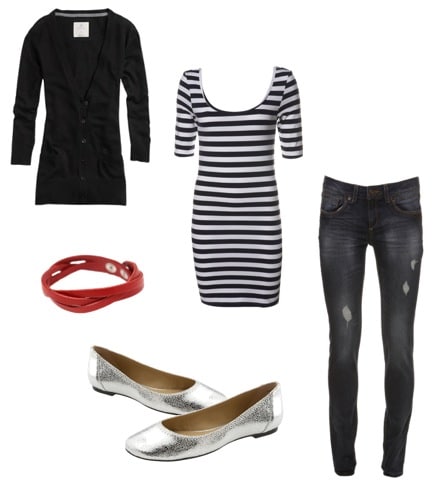 Product Information: Cardigan – American Eagle, Bracelet – ModCloth, Metallic Flats – BP 'Frankie' at Nordstrom, Skinny Jeans – TopShop
Outfit Idea #2:
The striped shirt can be ultrachic when worn with black and other neutrals. In the outfit below, I paired the shirt with black shorts, a grey cardigan, and this season's favorite footwear – the flat oxford in shiny black patent. Simple accessories keep the look chic without going over the top.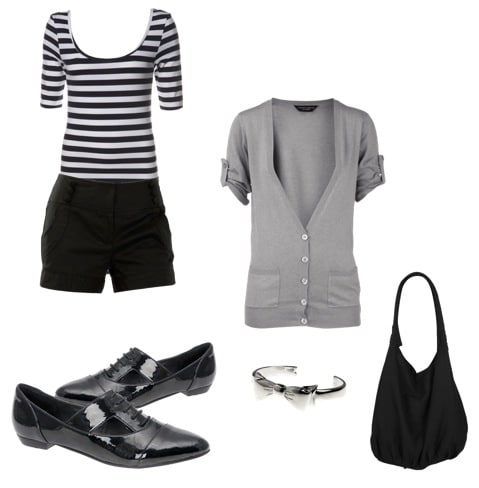 Product Information: Shorts and Cardigan – Dorothy Perkins, Oxfords – Aldo, Bracelet – Aerie by American Eagle, Purse – Forever 21
4. The Boyfriend Shirt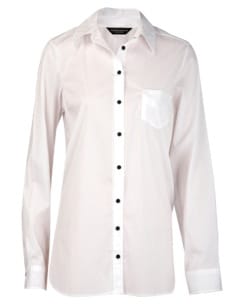 White Oversize Mens Shirt – $42 at Dorothy Perkins
Menswear-inspired fashion is hot right now, so along with the boyfriend jean and the boyfriend blazer, the boyfriend shirt is equally trendy for fall. What's this trend all about? Basically, the boyfriend shirt is just that – a button down shirt that looks like it could have been borrowed from a guy. Of course, if you don't want to go out and buy one, you can just borrow a shirt from a guy. There are tons of options in stores, though as well if you're not inclined to steal from the boys.
Outfit Idea #1:
Unbutton the boyfriend shirt and wear it like a cardigan over shorts and a flowy tank. Add slouchy boots for some bad girl edge, and studded bracelets for an extra dose of rocker chic.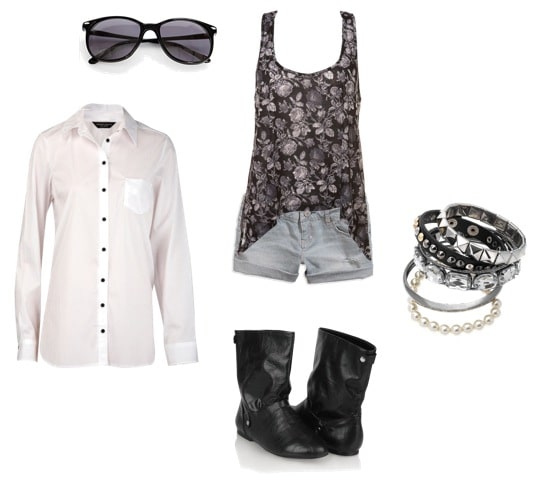 Product Information: Sunglasses – LANA at American Apparel, Tank – TopShop, Shorts – American Eagle, Boots – Forever 21, Bracelets – Dorothy Perkins
Outfit Idea #2:
If long enough, the boyfriend shirt can also double as a dress when worn over a long tank and leggings. In this outfit, I added pink Doc Martens for a splash of color. A standout ring is a fun conversation piece, while a chain bag adds a chic touch.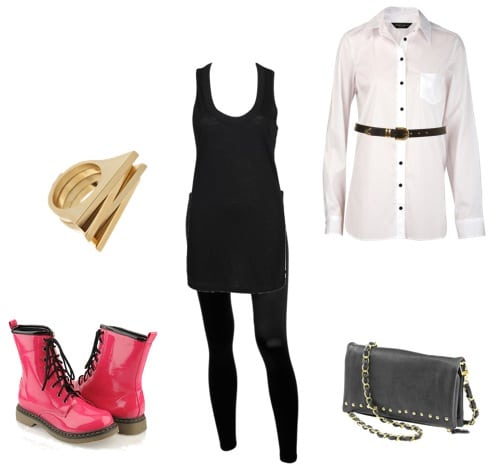 Product Information: Ring and Purse – ModCloth, Tank and Boots – Forever 21, Leggings – Charlotte Russe, Belt – TopShop
5. The Plaid Shirt
Elisa Plaid Shirt – $40 at dELiA*s
They were all over the cities and college campuses last season, and plaid shirts aren't going anywhere this fall either. Love them or hate them, plaid button down shirts are here to stay for the time being. Personally, I like plaid shirts and think they can work in numerous outfits. Here are some of my ideas for how to wear the plaid shirt above:
Outfit Idea #1:
I like plaid shirts worn unbuttoned over simple tanks. In this outfit, I added a bib style necklace to draw attention toward the face and add interest, but you could keep it simple without the jewelry if you wanted. Finish this look off with skinny jeans and some simple flats, and you have the perfect outfit for a crisp fall day on campus.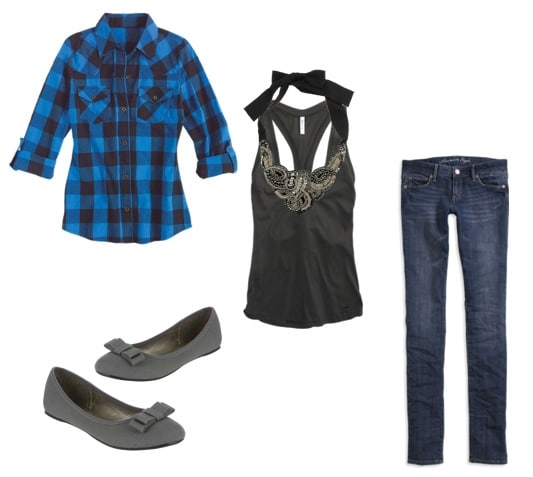 Product Information: Tank – Rvca at Pacsun.com, Necklace – Forever 21, Flats – Charlotte Russe, Skinny Jeans – Pacsun.com
Outfit Idea #2:
While it's still warm out, wear your plaid shirt with shorts and a tank. Again, I like plaid shirts unbuttoned, but if you like them buttoned up, that's cool too! Throw on some bangles and your favorite gladiator sandals for that effortlessly stylish look.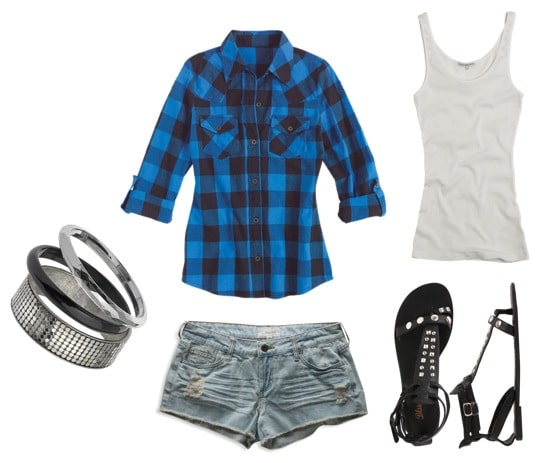 Product Information: Bracelets – Miss Selfridge, Shorts – Forever 21, Tank – James Perse, Gladiator Sandals – Wet Seal
Your Thoughts?
Those are just some of my ideas.. I'm sure you guys can come up with tons of other fabulous ways to wear these cute daytime tops this fall. Each piece is extremely versatile, so there's no end to what you can come up with!
Which outfit is your favorite? Which tops do you already own and which do you plan to get for fall? How would you wear them? Let me know what you think.