This post may contain affiliate links, which means we may receive a commission if you purchase through our links. Please
read our full disclosure here
.
Over the past few weeks, we've been going over all the must-have pieces for fall 2009. Now that you've seen jeans, tops, and jackets for fall, what back to school fashion list would be complete without a few cute dresses?
I know what you may be thinking: Dresses? For fall? Really?
Yes really! Dresses are SO easy to wear into fall. All you need are a few fashion tricks to make them work. Dresses are perfect for fall because they can be worn for day or night (perfect when your schedule is packed) and they make getting ready a snap: just throw one on and 90% of your outfit is all set. Easier than wearing jeans!
Here are 3 cute, budget-friendly dresses for fall, along with outfit ideas to get your inspiration going.
1. The Floral Summer Dress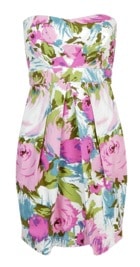 Floral Brushed Dress – Forever 21
Okay, I know it's a "back to school shopping" article, but who says you can't shop in your own closet? You know you have one of these dresses already – that pretty floral number you wore all summer long but don't know what to do with come fall.
Fear not! You don't need to pack that dress away 'til Spring! There are tons of easy ways to wear your summer dresses in September and beyond – all you need is some creativity and a few choice transition pieces. An example outfit is pictured below.
Outfit Inspiration:
For an easy way to make a pretty summer dress more casual for fall, wear a strapless option layered over a white tee – it's unexpected, fun, and very right-now. Add a boyfriend blazer on top and finish with slouchy ankle boots and a great bag.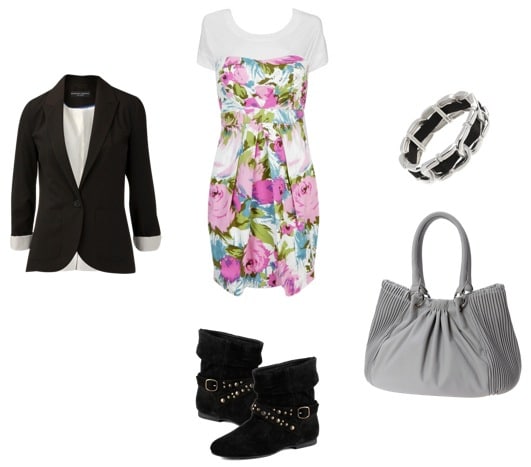 Product Information: Boyfriend Blazer and Studded Boots – Dorothy Perkins, Bracelet – Miss Selfridge, Tee – Forever 21, Tote – Aldo
2. The T-Shirt Dress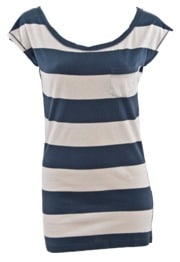 Striped T-Shirt Dress – republic.co.uk
A basic t-shirt dress is a simple basic that can be worn in a variety of ways. It's one of those truly versatile pieces that will last you more than a few seasons: wear it alone with sandals in summer, over skinny jeans as a tunic in winter, or with tights and a cardigan in spring or fall. So many choices: how do you wear yours?
Outfit Inspiration:
This look is super basic, but the accessories give it a little something extra. You could always add more jewelry or a more colorful cardigan to make it stand out even more.
This look is all about layering: a simple tee shirt dress works well over simple black tights, and a basic long cardigan adds warmth and texture. Purple flats add interest and practically scream fall, while a tan handbag ties all the other colors together. I finished this look off with a long gold necklace to add sparkle and play up the gold accents on the flats.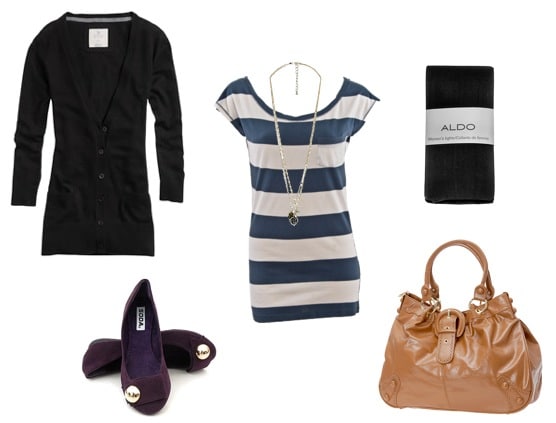 Product Information: Cardigan – American Eagle, Flats – Soda at CutesyGirl, Charm Necklace – Forever 21, Black Tights and "Montegalda" Handbag – Aldo
3. The Lacy Dress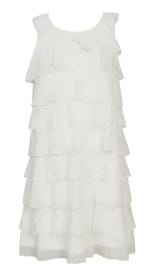 Chiffon Lace Tiered Dress – Forever 21
Ladylike, demure, cute, pretty: all adjectives that would normally describe a lacy dress. But styled right, the exact same piece can also convey a casual elegance and stylistic risk-taking. It's all in the accessories. Oh, and the attitude. But you knew that right?
Outfit Inspiration:
This look brings a summery white lace dress into September – it would be perfect for wearing to class because it's a casual, comfy, and so easy to throw on in the five minutes you have to get ready.
This outfit is so simple to recreate: To start, belt your lacy dress at the waist to add some edge. Then wear your dress over black tights and under a comfy denim jacket to give it a cool, casual vibe. Finish off with some comfortable flats and a roomy tote for a look that's put-together but not overly so.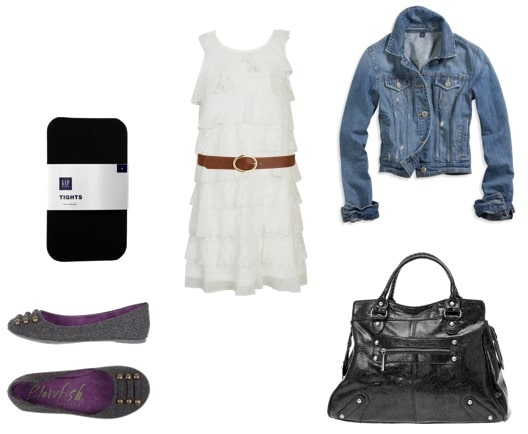 Product Information: Black Opaque Tights – Gap.com, Flats – Blowfish at dELiA*s, Belt – Dorothy Perkins, Denim Jacket – American Eagle, Tote – Aldo
Honorable Mention:
To complete this list, I wanted to mention other types of dresses you might want to stock up on for fall.
I didn't feature them prominently in this article, though, because they're difficult to find for cheap online. I recommend checking stores like H&M and American Apparel for these basic pieces.

The Basic Jersey Dress
Of all the fabrics used to construct dresses, cotton jersey is one of my favorites. It's comfortable, versatile, hardly ever wrinkles, has enough weight to drape fabulously but is light enough to keep you cool through the hot summer months. A jersey dress is one example of an item every woman needs in her closet.
Where to buy a jersey dress? H&M has tons of well-cut options, and I've also spotted a few cute & inexpensive ones recently at Express. Buy one in a color that works with most of your wardrobe, and layer your favorite fall jacket on top with tights underneath for a fabulous fall look.

The Sweater Dress
Sweater dresses are a great choice for fall because they keep you warm without sacrificing style. Wear them bare legged with boots on a warmer day, or with tights and a jacket when it gets cooler outside. For extra style points, look for a sweater dress with rips a la Alexander Wang or DIY your own!
Your Thoughts?
These are just some of my ideas for cute fall dresses – feel free to substitute your own finds and of course wear them the way YOU want!
You've seen how I would style these dresses, now I want to know how you would wear them! Which dress is your favorite for fall? What would you wear it with? Do you have any tips for wearing dresses in the fall? Leave your thoughts in the comments section!