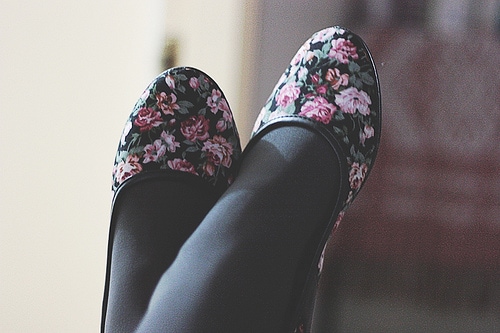 There are several things you learn the hard way when you go off to college: the cafeteria closes early, some teachers lock their doors the second class starts, and high heels are so cute for a night on the town – but only if you're going to one place and taking a taxi there!
To help ease your troubles, we have compiled a list of essential clothes, shoes, and accessories for the Fall 2013 semester. We've rounded up the best and most wallet-friendly items from around the 'net that will not only look great, but are also absolute must-haves for college-aged women.
All of the items below should be your go-to items this semester because they are versatile and functional. Even if this is your second, third, or fourth year on campus, here are 12 trendy, yet practical pieces to add to your wardrobe:
1. The Stylish Flat Boot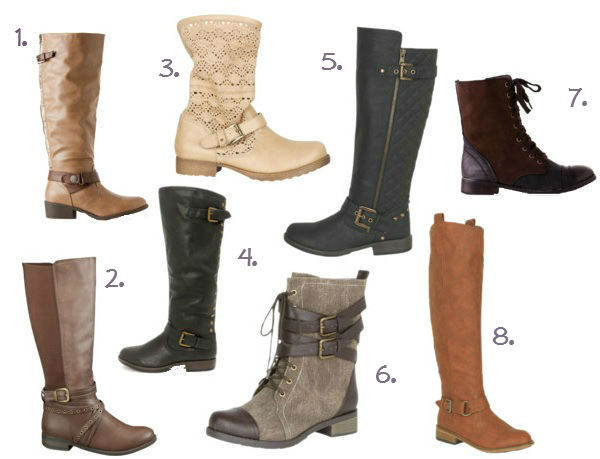 Product Information: 1 – Francesca's, 2 – Maurice's, 3 – Delia's, 4 – Lulu's, 5 –Alloy, 6 – Alloy, 7 – Francesca's, 8 – Alloy
It cannot be stressed enough how important a great pair of flat boots is to your college wardrobe. A cute, well-fitting pair is incredibly comfortable – even if you're hauling heavy textbooks and portfolios all the way across campus. They look great when paired with jeans, dresses, and skirts. A taller riding boot will be a more classic piece to keep around, while a shorter, combat-style boot has a ultra-trendy vibe.
2. The Go-Anywhere Dress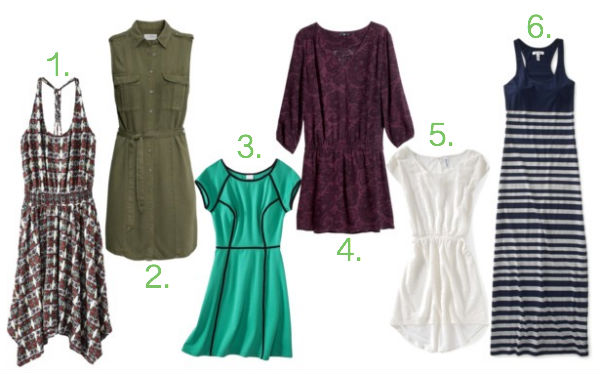 Product Information: 1 – Target, 2 – H&M, 3 – Target, 4 – H&M, 5 – Aeropostale, 6 – Aeropostale
The best-kept secret of looking great in college? An insanely comfortable knit dress that looks like a million bucks. A lot of students are tempted to reach for their sweatpants or pajamas for morning classes (something we definitely don't love). There is no excuse to wear sleepwear in public when you have a comfortable dress that also looks fabulous. Invest in a few great styles that can be dressed up with a blazer, dressed down with a sweater or jean jacket, or worn alone.
3. Fun Hair Bands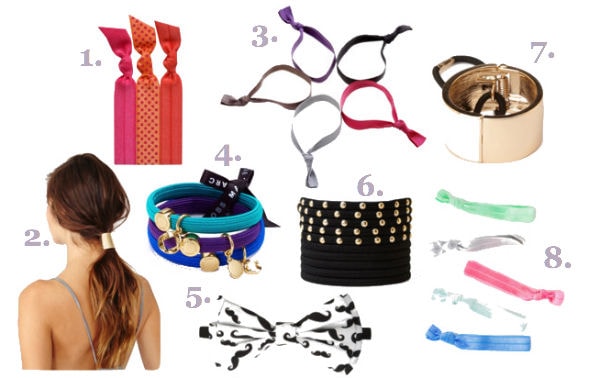 Product Information: 1 – Nordstrom, 2 – Nasty Gal, 3 – Target, 4 – Bloomingdale's, 5 – Hot Topic, 6 – Forever 21, 7 – Forever 21, 8 – Francesca's
Plain and simple: if you've got long hair, you are going to need to pull it back. Instead of doing this with boring ties, invest in a few cheap and colorful twistbands or bows. Everybody will love them, especially you!
4. A Great Pair of Jeans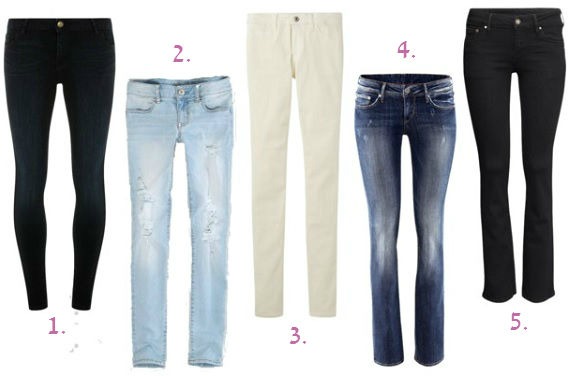 Product Information: 1 – Dorothy Perkins, 2 – American Eagle, 3 – UNIQLO, 4 – H&M, 5 – H&M
When it comes to staples, classic denimjeans are about as traditional as it gets. We all have fun colored jeans, torn-to-shreds jeans, and funky printed ones. But the most important style to have is the basic jean. Whether it's bootcut, skinny, or even a flare, a well-fitted pair of jeans in a flattering wash is a necessity. Buy the right pair, and they will last you all through college!
5. The Backpack or Oversized Tote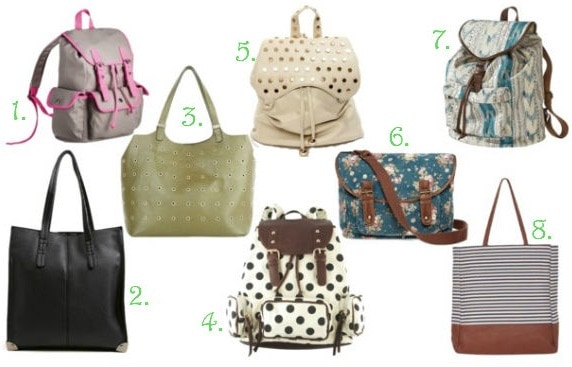 Product Information: 1 – Target, 2 – Nasty Gal, 3 – Alloy, 4 – Delia's, 5 – Lulu's, 6 – JC Penney, 7 – Target, 8 – Alloy
No bones about it – you've got to have a cute, yet functional bag of some variety to carry your books in. Just because you've got to tote around pounds of luggage to class each day doesn't mean you have to go with a boring option that has zero personality. A striped tote, a messenger bag, or a patterned backpack will do the trick in all of the right ways.
6. A Wristwatch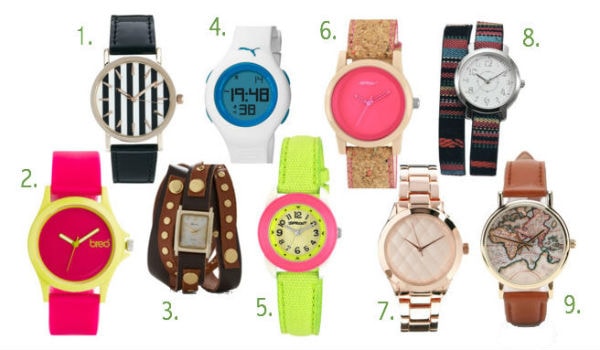 Product Information: 1 – ASOS, 2 – ASOS, 3 – Modcloth, 4 – Nordstrom, 5 – Nordstrom, 6 – Nordstrom, 7 – ASOS, 8 – Target, 9 – Urban Outfitters
Hate to break it to you, but not all classes have wall clocks. And, of course, a lot of teachers prohibit phones in class, so you have to keep up with the time somehow. You will end up using a wristwatch more than you imagine, and life will not be the same when you forget it. These picks above will keep you on track and fashion-forward, whether you want to go the traditional route or opt for something fun and colorful.
7. The Going-Out Top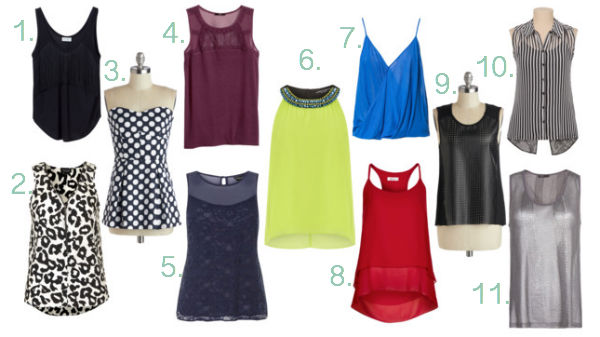 Product Information: 1 –Zara, 2 – Topshop, 3 – Modcloth, 4 – H&M, 5 – Dorothy Perkins, 6 – Dorothy Perkins, 7 – Zara, 8 – Topshop, 9 – Modcloth, 10 – Maurice's, 11 – Mango
You will need a variety of going-out tops if you're headed to college. Even if you aren't the party type, you'll end up at more formal school functions where you need something nicer than a t-shirt to throw on. If you pair it with a dressy pair of jeans and some heels, you're good to go. These tops can also be paired with a blazer or cardigan to create a chic work or internship outfit.
8. Bright Running Shoes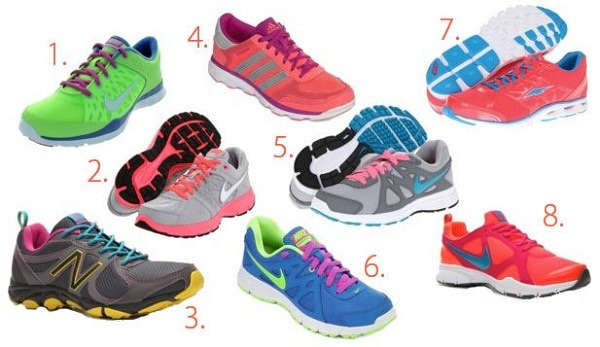 Product Information: 1 – Amazon, 2 – Zappos, 3 – DSW, 4 – JC Penney, 5 – Zappos, 6 – JC Penney, 7 – Zappos, 8 – DSW
When you're working two internships, a part time job, and have a full course load, it can be difficult to find the motivation to exercise. But, when you have adorable workout clothes, it's just easier to get excited about going for a run. Grab a pair of well-supported, brightly-colored running shoes this semester and you'll be a gym rat in no time.
9. The Cross-Body Bag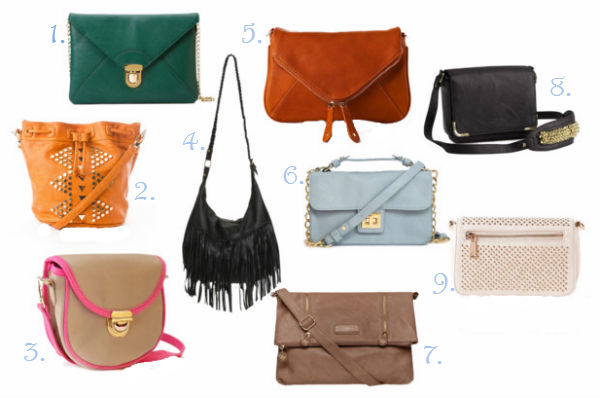 Product Information: 1- Forever 21, 2 – Francesca's, 3 – Forever 21, 4 – Wet Seal, 5 – Francesca's, 6 – Forever 21, 7 – Dorothy Perkins, 8 – H&M, 9 – Francesca's
There are times when you need both hands, like shopping, dancing, attending a music festival, or even cheering on your favorite team. Sometimes, you don't want to have to worry about your bag, so invest in a cute cross-body satchel to grab and go. They're the perfect blend of fashion and function.
10. A Fabulous Scarf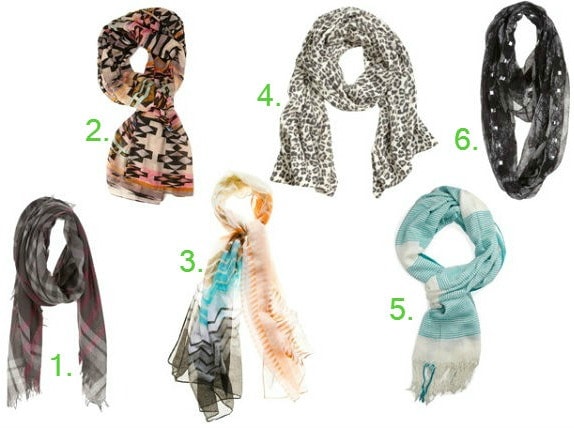 Product Information: 1 – Maurice's, 2 – Forever 21, 3 – Francesca's, 4 – H&M, 5 – Forever 21, 6 – Maurice's
The easiest way to change up an outfit is to add a scarf. You'll be recycling outfits like crazy during the next few years and to keep your looks from getting stale, add a scarf with a pop of color or funky pattern.
11. A Muted & Sassy Nail Polish Color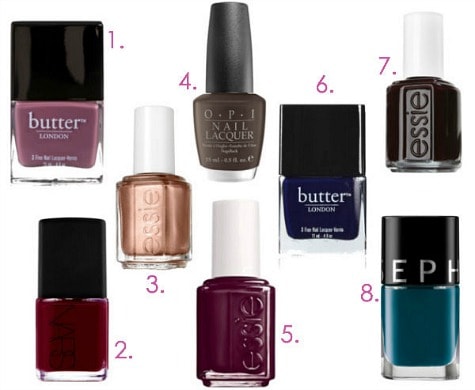 Product Information: 1 – Butter London, 2 – NARS, 3 – Essie, 4 – OPI, 5 – Essie, 6 – Butter London, 7 – Essie, 8 – Sephora
There is just something super chic about slick, vampy nail polish colors. It can be easy to get bored with darks during the colder months, so we recommend being creative. Reach for a sparkly navy, a sultry red, or a shimmering copper to add some flair to your wardrobe.
12. A Go-To Pair of Flats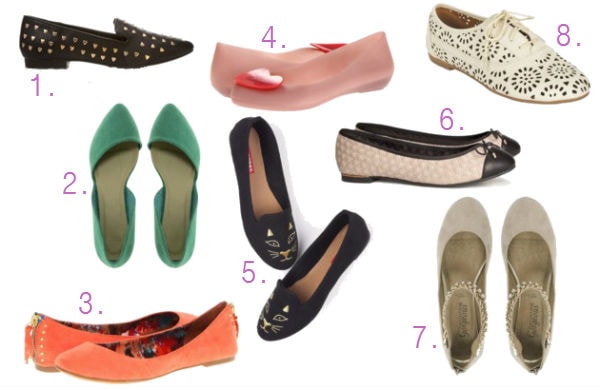 Product Information: 1 – Forever 21, 2 – ASOS, 3 – Zappos, 4 – Zappos, 5 – Delia's, 6 – H&M, 7 – ASOS, 8 – Delia's
The bottom line is that you will live in a great pair of flats. Whether you prefer oxfords or chain-straps, embellished, or solid-colored ballet flats, you will need a pair. They'll take you from class to work in style look fab with nearly everything.
Now we want to know what your staples are this Fall!
What pieces are on your shopping list before you head to college? What staples do you swear-by for first time college students? Which items above are your favorite? Let's discuss, so leave us a comment below!