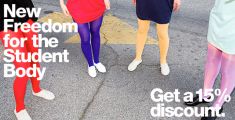 Just heard about a great new promotion from probably one of my favorite stores EVER. The best part? It's for college students only!
Amazing basics retailer American Apparel is offering 15% off all purchases with a valid student ID between now and September 24th.
To get in on this hot promotion, just visit the website, type in your name, location, email and student ID, and American Apparel will send you a coupon good for 15% off shopping online.
I'm personally going to use my 15% off to stock up on some cute basics for layering this fall. How about you? If you end up using this coupon, definitely leave me a comment or email and let me know what you bought!