How many outfits have I bookmarked on ModCloth over the years? I honestly could not even begin to count. It's so easy to churn through adorable piece after adorable piece, wanting to buy it all!
Now, how many of those items have I actually bought from ModCloth? One. Because I had a gift card.
The online-only, retro-inspired retailer is stylistically unique, full of super cute pieces catering to a variety of sizes. They also have a precious home section full of quirky-cool finds. Yes, online shopping at ModCloth is a great time. That is, until you notice the digital price tag on that dress you're eyeing.
I love everything Modcloth sells, but it feels like every item I want is upwards of $80 or $90. Oftentimes pieces are well into the triple digits! Maybe future me will have a big fancy job and bankroll to match, but right now I'm on a college girl's budget! I can't justify spending over $100 on a nice dress when I could buy something at Forever 21 for $15 and get by.
For all you penny-pinching ModCloth lovers, there is hope. If you're willing to do some digging, there are plenty of options on the site that won't blow your grocery budget for the month!
Here are 10 items on ModCloth that you can actually afford.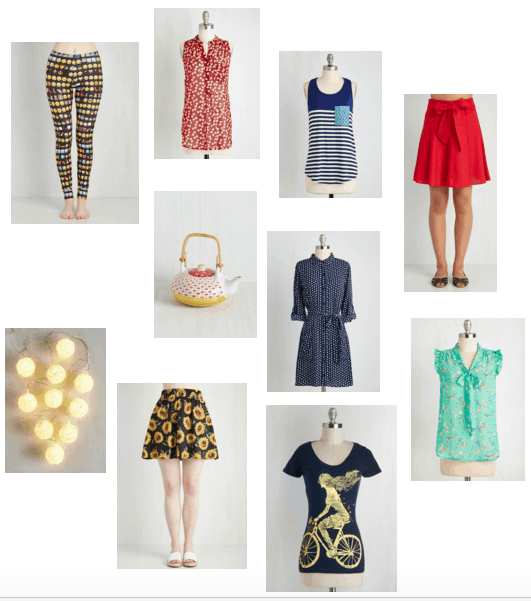 L-R Top: 1. These emoji leggings are so unique and will add the perfect pop of color to your outfit. 2. This bow-ka-dot top is the perfect twist on an old classic (yes, I did come up with that name on my own). 3. In case anyone is already planning their Fourth of July outfit, this boxy tank is an extra-chic way to look patriotic. 4. This bow-front skirt is such a classic ModCloth piece, and the color is fabulous!
L-R Mid: 1. Electric kettles may be convenient, but they can't match the style power of a good, old-fashioned tea pot. 2. With a waist-defining silhouette and a timeless style, this navy dress is easy to rock, no matter the occasion.
L-R Bottom: 1. If your dorm or apartment allows light strings, these globes are a unique alternative to traditional Christmas lights and could work with almost any aesthetic. 2. You can't be sad in a skirt as sunny as this one. You just can't. 3. This graphic tee combines laid-back comfort and the artistic vision of ModCloth. 4. A vibrant blouse like this would steal the show at work or in class! Adorable!
Your thoughts?
Do you own anything from ModCloth? What do you think of my selections? Let me know!