This post may contain affiliate links, which means we may receive a commission if you purchase through our links. Please
read our full disclosure here
.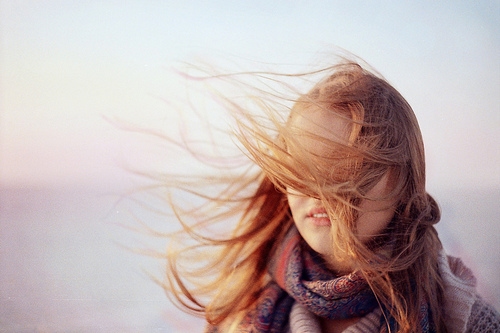 Scarves. I'm from Minnesota, so when I hear the word "scarf," the first three adjectives that come to mind are "warm," "knit," and "thick." From November to March, I never leave the house without one. After all, scarves were invented to keep us warm in the winter!
These days, however, scarves aren't just limited to the colder months. In fact, in recent years, scarves have evolved into year-round accessory essentials. Infinity, silk, knit, lace – the options are endless. Here at CF, we believe that scarves are an awesome way to accessorize your look and get more wear out of your closet. Below, we list our three "essential" scarf styles.
Cold Weather Knits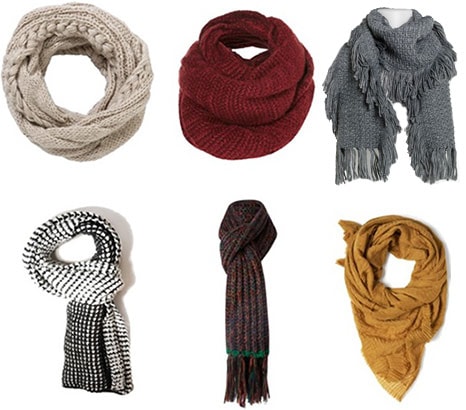 Top row (L-R): 1, 2, 3, Bottom row (L-R): 4, 5, 6
When you're looking for cold weather scarves, it's important to consider three factors: size, material, and shape.
I recommend a thick infinity scarf (like #2) on cold winter days – the shape will protect your neck from harsh winds and you can bury your face into it when battling the elements. For less extreme weather, look for a knit or a pashmina. Also, consider how wide the scarf is and how much skin you'll be able to cover. Finally, think about your usual outerwear. What color is your winter coat? Fall coat? Make sure you can coordinate!
Everyday Staples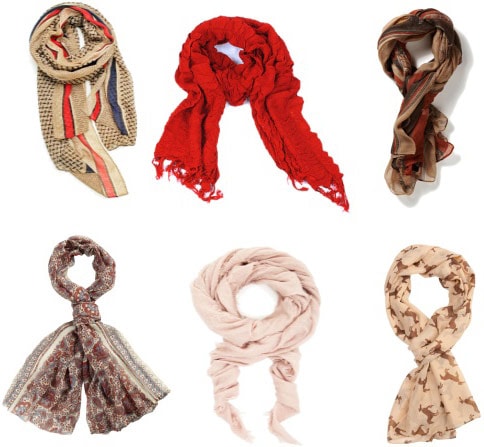 Top row (L-R): 1, 2, 3, Bottom row (L-R): 4, 5, 6
Unlike cold weather scarves, these six options are more everyday-friendly – wear them to class, to work, or to study for a cool, chic, and collected look.
Scarves are a great way to showcase your individual personality; wear pops of color to convey your boundless energy or throw on an equestrian-inspired print to let people know that you are an on-trend kind of girl. Play around with colors, prints, and fabrics to find something that screams "you!" My personal favorite combo? Jeans, boots, tee, cardigan, and a printed scarf. I can't get enough of that classic (and super easy!) look!
Pretty & Silky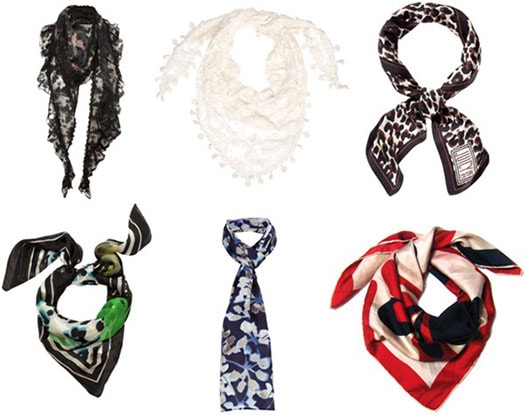 Top row (L-R): 1, 2, 3, Bottom row (L-R): 4, 5, 6
Finally, scarves can be serious collectors items. (Hi, Hermes! We will own you someday!) You can use these timeless, delicate pieces to step up your office or special occasion look. Lace and silk scarves are classic and can make for beautiful necklace alternatives. In addition, the square shape of many silk scarves means they can be folded and tied into a variety of shapes.
When looking for these pieces, see if you have any family heirlooms lying around; I was recently given two silk scarves that my great-grandmother had purchased in China when she was young! These classic pieces will never go out of style.
Your turn!
Who said that scarves were just for the winter? These essential scarves will work for any season, temperature, occasion, or event! They are a great way to add some color or texture to your look and will remain wardrobe staples for years to come.
Now, as always, we want to hear from you! Do you wear scarves? Do you have a go-to scarf that you throw on daily? What do you think about scarves instead of necklaces? What other accessory essentials are in your closet? Make sure to leave your thoughts in a comment!