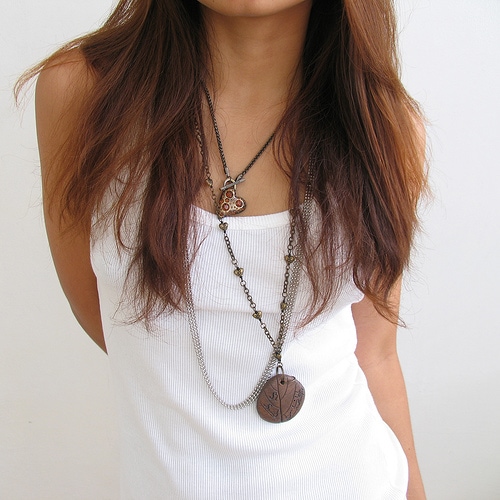 As we mentioned earlier today in our back-to-school trend guide, fall is just around the corner! This is my favorite time of year – the colors get darker, the fabrics get cozier, and my notebooks look positively pristine. I love running around the mall or cruising through Target in search of items that will start my school year off just right.
However, this time of year can also be very expensive. Because of this, shopping for school requires some serious forethought. Before I leave to wreak havoc on my wallet, I make a list of what I want, what I need, and what I'd like to invest in this season. I research wardrobe essentials and fall trends to make sure that I'm buying things I'm going to love… and that includes the right accessories.
Today, I want to focus on shopping for the essentials, specifically, essential necklaces. Jewelry has the power to broaden our closets and transform an entire outfit. From long pendants to wear-everyday pieces, these necklaces will make your wardrobe bigger, better, and just that much more beautiful! The best part? They're all budget-friendly, at under $50 each (with most costing much less than that).
Statement Necklaces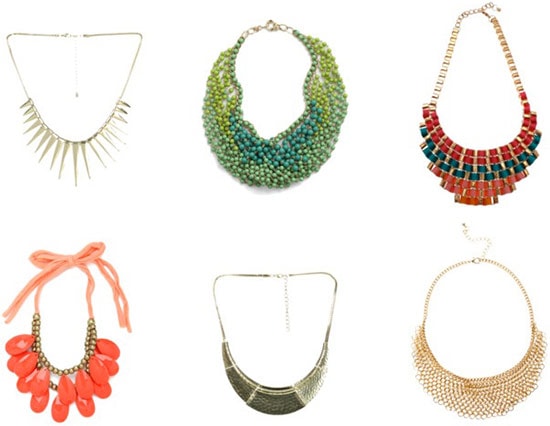 Product Information (L-R, top to bottom): 1, 2, 3, 4, 5, 6
My personal favorite necklace type, statement necklaces are the perfect way to add color to an outfit, create an eye-catching look, or to transition a day outfit to night. On the weekends, I'm rarely seen without a piece of eye candy on my neck; even a simple solid-color shirt looks nighttime-worthy with a fancy necklace!
When picking out your staple statement necklace(s), keep the colors of your wardrobe in mind. For example, I wear a lot of neutrals (whites, blacks, grays, etc.) so I tend to gravitate towards more colorful necklaces. It's also important to consider your personal style. Do you like edgy or classic jewelry? Gemstones? Something bulky? Flat? Statement necklaces come in all shapes and sizes, so find one that suits your personality just right!
Long Necklaces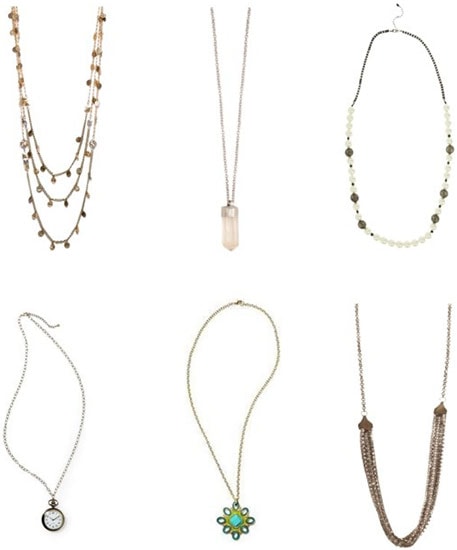 Product Information (L-R, top to bottom): 1, 2, 3, 4, 5, 6
Statement necklaces are short and, as such, typically end up as a major focal point of an outfit. Longer necklaces, however, are more subtle, and make great additions to any look. Unlike statement necklaces, they do not immediately draw the eye, but rather enhance the colors or styles of our particular clothing choices. For these reasons, long necklaces are also very easy to re-wear!
One or two essential long necklaces can be great last-minute additions to a look. Whatever your personal style, there is a necklace out there for you. Like pendants? Flowers? Shine? Rope? Beads? Layers? Keep an eye out for something that really screams "you"! When you're in a hurry, throw on one of your staples and you'll be set.
Everyday Essentials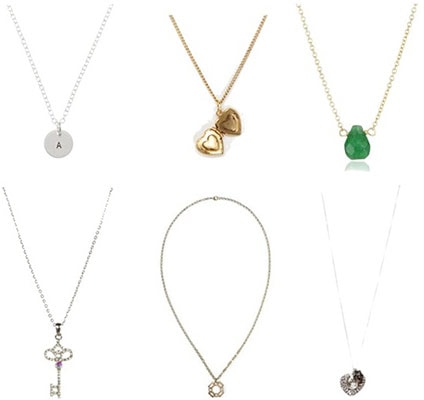 Product Information (L-R, top to bottom): 1, 2, 3, 4, 5, 6
Sometimes we don't have the energy to change our necklace daily. Because we can't always guarantee the time or energy to put together a fantastic look, it's nice to have one wear-everywhere necklace. Often, these include small pendants, meaningful gifts, or family jewelry. Some girls have lockets; some have tokens of their faith. Others have tiny diamonds or precious initials.
Everyday essential necklaces are usually a piece of jewelry that woman, if they can afford to, tend to splurge on. After all, this is a necklace that you'll be wearing daily! It may mean something special. But remember, a large price tag is not a requirement for an everyday necklace! You can find all sorts of classic jewelry at stores like Forever 21, H&M, Urban Outfitters, and even Target. Or, ask your family and see if your mom has an old locket that she wouldn't mind you wearing. Be creative!
Your turn!
As I get ready to back-to-school shop, I'll be making sure that I've got the essential necklaces in my jewelry box. Statement, long, and everyday, these necklaces will take you from outfit to outfit and lessen the stresses of accessorizing a look.
Now we want to hear from you! Do you have staple necklaces in your closet? Do you have a piece of jewelry that you wear everyday? What do you think of the statement necklace trend? How would you wear these pieces? Make sure to leave your thoughts in a comment!