This post may contain affiliate links, which means we may receive a commission if you purchase through our links. Please
read our full disclosure here
.
Three more weeks left of hard work, and then it's SUMMER!
I can't even begin to list all the things I'm excited about doing this summer, so let me state two obvious ones: 1. Being done with this semester's workload, and 2. Summer fashion, of course.
After all the hard work we've done this semester, we deserve to reward ourselves. And how better to do that than with an amazing sartorial find that we will wear all summer long? I've rounded up seven awesome options, each under $60. So hit "send" on that last paper and then click "add to cart."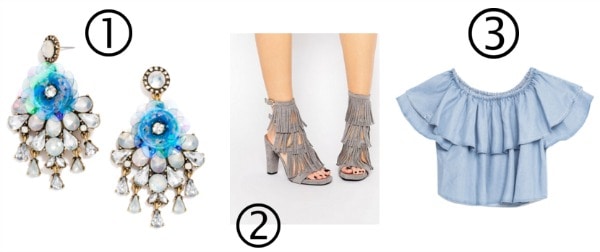 1. There's no better way to treat yourself (ok, maybe other than chocolate) than with a great piece of statement jewelry. I'm obsessed with these Baublebar chandeliers, which will be equally amazing with your going-out dress or jumpsuit as they will be with faded daisy dukes.
2. Okay, little secret: of all the items in this post, these ASOS heels are the ones I will most likely snag for myself. I'm drooling over the idea of them paired with a floral slipdress and a blazer. With the fringe and the sturdy construction, they turn a simple outfit into a high-fashion one and add cool contrast to more feminine silhouettes. The ankle straps and thick heel will make them easier to walk in, so you can bet I'll rock them on summer nights out. Oh, and they'll be my boyfriend jeans' new significant others come fall.
3. The off-the-shoulder trend is huge for summer 2016. This top from Zara is so easy, you're going to want to rock it every day. Talk about effortless chic.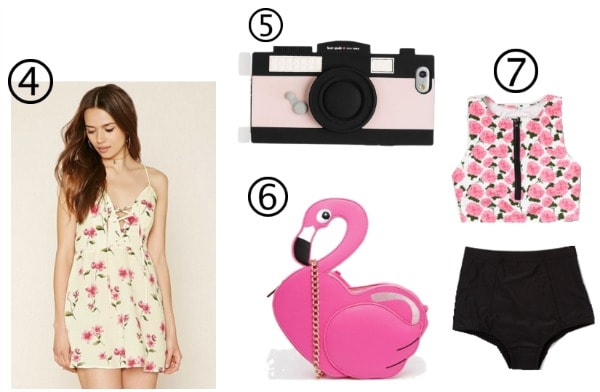 4. A perfect floral dress is a summer must, and this adorable one from Forever 21 is just $22. Plus, with the slip-like silhouette and the lace-up detail, it's super on-trend. This baby can go everywhere — to the beach over your bikini, to a BBQ under a jean jacket, on a date when paired with metallic sandals and big earrings. I'm in love.
5. Want to reward yourself with something that will make you smile every. Single. Day? Invest in a super-cute phone case. This Kate Spade one is worth the splurge — it's a total conversation starter and will remind your friends to say "cheese" in all your Snapchats and Instagram-worthy pics.
6. When I really feel like I deserve a treat, I go for the last thing on earth I need but something that I truly love: a new purse. This flamingo-shaped bag is too cute for words. It's bigger than most quirky-shaped crossbodies I've seen, so it will make your outfit AND actually be able to hold your stuff.
7. Finally, what better way to sustain yourself till summer than with daydreams of rocking a cute new bikini? I love the unique shape and cute floral print of this one from Modcloth. It can be sweet and modest or more revealing if you unzip the cool zipper detail a bit, and it will totally stand out from the beach crowd.
What do you think?
Do you want to snag any of these summer finds? What pieces are you lusting after right now? How do you reward yourself post-finals? Let me know in the comments.