I love, love, love Halloween.
I don a costume every year, but I know that in college pulling one together can be a challenge, as can finding many places to wear it. And even if you rock a costume to a party or two, you may not want to don one to classes all day on actual Halloween (which is on a Monday this year–ugh).
But you can still get in the Halloween spirit, even when you're not wearing a costume. Several of your fave brands and stores are making seasonal, themed items that are actually stylish. (Target has a lot.) I've rounded up seven great ones to ensure you'll look boo-tiful all Halloweekend long.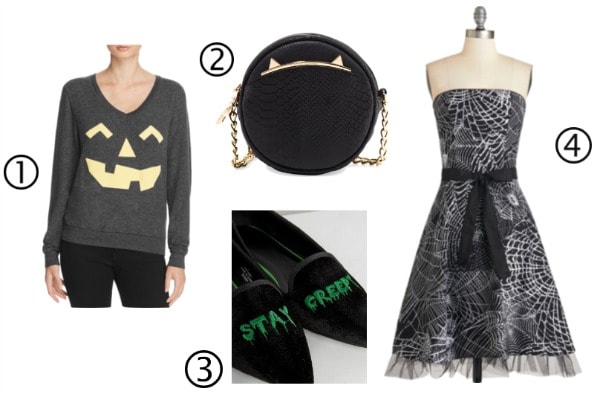 1. This Wildfox sweatshirt is a cozy classic. Pair it with jeans, leggings, or a cute skirt for day, then switch into a costume (or don't) for night.
2. How cute is this Betsey Johnson kitty crossbody? You can actually wear it all year round, but it's especially great for toting your must-haves to a Halloween party.
3. These ASOS flats are cheeky, trendy, and fun! No costume? No problem. Pair them with black pants and a blazer for a party, or wear them all month long with skinnies and a tee.
4. There's only one word for this Modcloth dress: Wicked! And that's coming from someone who is terrified of spiders. But this frock even has me caught up in its web — the tie waist and the tulle make it formal and elegant. Add black pumps and some silver jewelry and twirl the night away at your school's Halloween dance.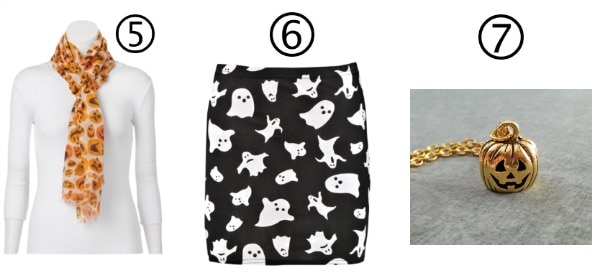 5. This pumpkin scarf is the perfect finishing touch to any casual outfit leading up to Halloween. (I'd especially love it with a striped tee). Plus, it's only $10!
6. I'm obsessed with this Boohoo mini (also just 10 bucks). Tuck in a fave tee or blouse, add some ankle booties, and prepare for so many compliments, it'll be scary.
7. This pretty pumpkin pendant from Etsy deserves to be worn all October long. It'll add a quirky, personal touch to every outfit, and no one will have any doubts about what your fave holiday is. Happy haunting!
What do you think?
How do you dress up for Halloween — costume, themed clothes, both, neither? What are your plans for the holiday this year? Would you rock any of these items? Let me know in the comments!