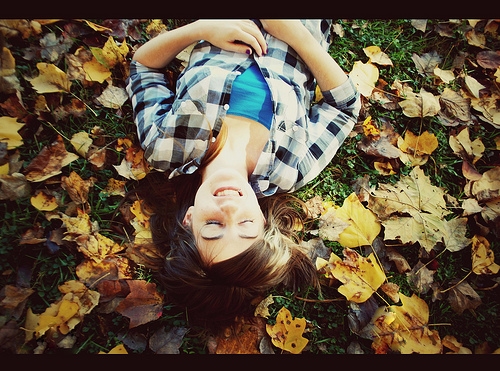 We're already a few weeks into September, which means that fall is just around the corner — yay! The change of season also calls for a wardrobe update if you want to keep up with all that's new this season. However, if learning about the multitude of hot fall trends makes your head spin and your wallet hurt, you've come to the right place.
We've picked our top six trendy, budget-friendly and completely versatile Fall 2011 must-haves to help you stay stylish throughout fall and into winter. Whether you buy just one or all six of these items, you can rest easy knowing that you'll look up-to-date without having to buy a whole new wardrobe.
Want to see our top picks for Fall 2011? Scroll on down:
1. A Cozy Pullover Sweater
Since it's slowly but surely getting cooler outside, it will soon be time to break out some cozy cold-weather clothes, and this season, there's no better choice for fall than a comfy pullover sweater. Wear one with some jeans for a cool and casual look or pair it with a skirt for a stylish vibe.
There are lots of options here when it comes to color, style and fit, so it should be easy to find a sweater that matches your personal aesthetic. Need some options to get the ball rolling? Check out our picks below: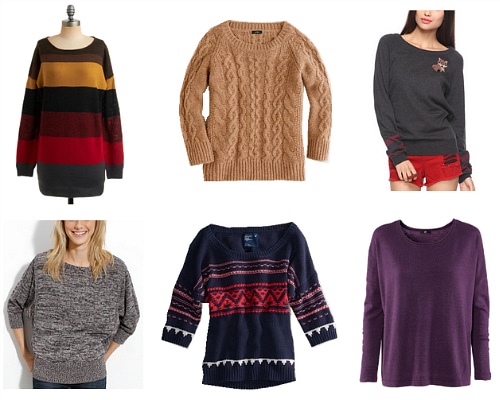 Product Info: Sparks Between Us Sweater- ModCloth, Fisherman Sweater- J. Crew, Collegiate Fox Sweater- Forever 21, Dolman Sweater- Nordstrom, Fair Isle Sweater- American Eagle Outfitters, Purple Sweater- H&M
2. Flared Jeans
As we mentioned in our denim guide, flares are this season's most popular and versatile denim style. These jeans have a distinct '70s vibe, but are also super easy to wear. Just style them as you would any other pair of jeans and you'll be good to go!
If you want to update your denim collection this fall, check out these budget-friendly flared jeans: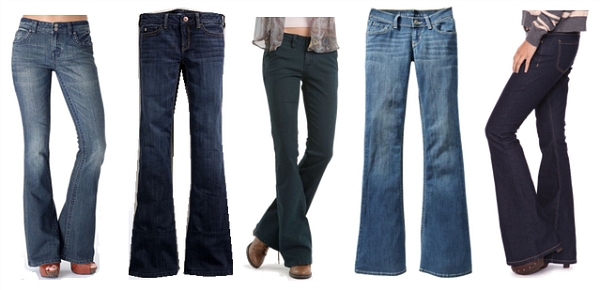 Product Info: Revolt Stretch Flares- Alloy, Hipster Flare- American Eagle Outfitters, Skinny Flares- PacSun, Mini Flare Jeans- Old Navy, Dark Blue Flares- Forever 21
3. A Collar Necklace
If you buy one new piece of jewelry this season, make it a collar necklace. Just like the name suggests, these bold necklaces give the illusion of an ornate collar and are available in tons of unique styles. Since all kinds of collars are going to be super-trendy this season, this is an easy (and totally detachable!) way to try this trend.
These statement necklaces are the perfect way to dress up a basic tee or to add some edge to your favorite LBD. Sound like your kind of jewelry? Here are some of our favorites:
Product Info: Pearl Section Necklace- Topshop, Pleated Leather Necklace- ASOS, Silver Necklace- Forever 21, Life's Real Riches Necklace- ModCloth, Crocodile Print Collar- Topshop, Wood Necklace- JCPenney
4. Over-the-Knee Socks
These tall stockings will help transition your favorite summer dresses, shorts, skirts and rompers into fall. They'll also give you some extra coverage and keep your legs toasty when it starts to get chilly. We think these socks look chic with flats, oxfords and heels, but we especially love the way over-the-knee socks look when paired with tall boots.
Not sure how to style over-the-knee socks? Check out Jessica's "Ask CF" article on over-the-knee socks for fall-appropriate outfit ideas, then sneak a peek at a few of our favorite pairs below: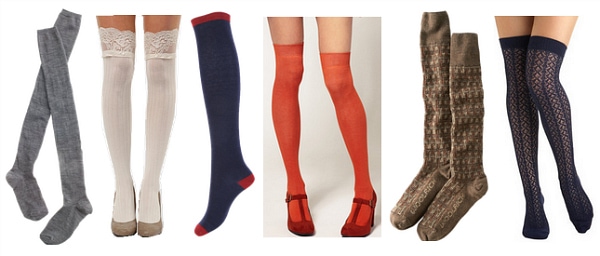 Product Info: Gray Ribbed Socks- Madewell, Lace Top Socks- Urban Outfitters, Contrast Socks- Forever 21, Rust Over-the-Knee Socks- ASOS, Buffalo Plaid Socks- Woolrich, A Leg Up Socks in Blueberry- ModCloth
5. Anything Polka-Dotted
Polka dots seem like they are a perpetually popular seasonal print (say that five times fast!), and this fall is no exception. This pretty print is both whimsical and feminine — it definitely makes a fun statement! As with other trends, if you aren't ready to full-on rock this print, try a polka dotted accessory for a more subtle look.
Ready to add some of this cheerful print to your wardrobe? Here are just a few of the great polka dot pieces we found: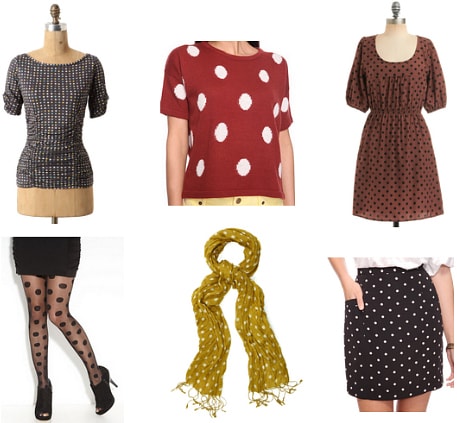 Product Info: Made to Measure Tee- Anthropologie, Polka Dot Knit Top- Forever 21, Chocolate Chocolate Chip Dress- ModCloth, Dotted Sheer Tights- Nordstrom, Crinkle Scarf- Monsoon, Polka Dot Skirt- Forever 21
6. A Midi Skirt
While maxi skirts ruled throughout the summer, demure and ladylike midi skirts are going to be popular for fall. While these skirts have an interesting and even somewhat tumultuous past, we're pretty excited that midi skirts are trendy again. Wear them with flats and a pretty blouse for a dainty and feminine outfit or with an oversized sweater and wedged booties for a more juxtaposed look.
There are midi skirts available in pretty much every color, pattern and material out there, but check out our top picks: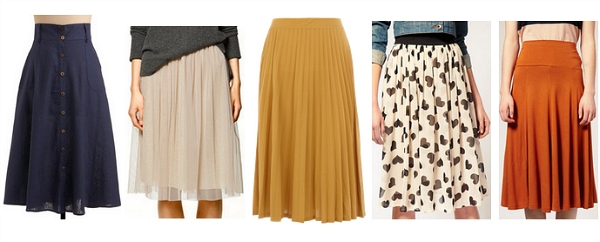 Product Info: Stay Classy Skirt- ModCloth, Tulle Skirt- Zara, Ochre Pleated Midi- Dorothy Perkins, Heart Print Midi Skirt- ASOS, Jersey Full Midi Skirt- ASOS
What do you think?
How are you planning to update your wardrobe for fall? What do you think of these items? Which is your favorite? Do you already own any of them? Remember to let us know what you think by leaving a comment below!