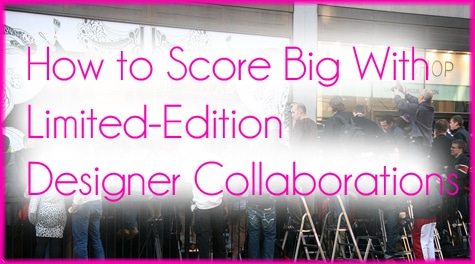 There's little I love more than designer collaborations with my favorite stores. You guys know what I'm talking about- when big name designers like Matthew Williamson, Christopher Kane and Zac Posen pair up with mass-retailers like H&M, TopShop and Target. The clothes produced are usually well-designed, super cute and seriously affordable: perfect for college girls!
Of course, there's always the dark side of designer collabs- the small quantity of items produced! Many of you (including myself) have probably salivated over a dress or pair of shoes or purse, only to find out they're sold out everywhere. Fortunately, this problem can be avoided! Here are five tips to help you score big with designer collaborations:
1. Before the Collection Hits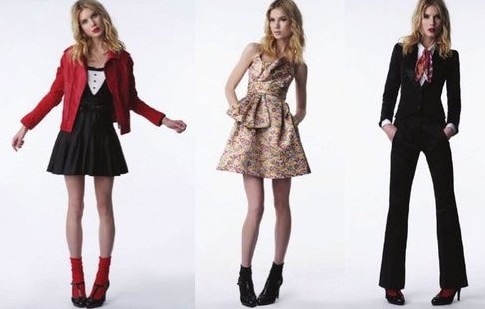 Gauge the hype.
Not all collaborations are made equal: some will generate much more hype than others. For example, the Roberto Cavalli for H&M collection was sold out worldwide in a mere two hours- but Jean Paul Gaultier's line for Target is still available online and in stores.
So how do you figure out how much hype is surrounding a particular line? Do your research. Look at blogs (College Fashion, obviously, but also Fashionista, New York Magazine's The Cut, Refinery29 and Nylon Blogs also usually profile the best collections.) Even a plain Google search will show you how excited (or not) people are about the collection. How does this help you? Well, for a popular collection, you might want to get there on the day of- on the other hand, you can probably wait longer to buy from a less hyped collection.
Check out the lookbook.
When you're researching a designer collaboration, always check out the lookbook – these are images of the entire collection put online. With a few quick glances, you'll be able to see what you like and dislike. Of course, many items look very different in person, but you'll at least see what you immediately lean towards and want to look for most. Beware, though- some accessories and shoes aren't in the actual collection. Before you walk into that store, you should at least know what you basically like & dislike and how major the collection is.
2. In-Store
Get there early.
If you live in a fashionable city, you can bet there will be other girls who want the same items you do. If the collection you're going to see is one that has lots of hype (think any H&M collaboration), you might even have to wait in line for hours before the store opens! However, it's a pretty good idea to get there around opening time. Most of the people who stock-pile items to sell on eBay are going to be there then too, and they are the ones who will most likely sell the collection out. If you get there at the same time (or before!) they do, then you won't have to worry about them!
Go far away.
If you live in a fashionable city, the odds of people going to your local H&M/Target are pretty high, right? So if you're really set on getting an item, try to go to one of these stores somewhere a little more unfashionable and out of the way- somewhere you don't think as many people will go to. Jazzi of JazziMcG did this last December, and found the entire Rodarte for Target collection practically untouched at an out-of-the-way Target. It might be an extra hour of driving, but it can definitely be worth it.
I know some of you may be wondering – what about buying online? Although I write about online shopping, I'd advise you NOT to buy these collections online. You'll be in for a few hours of refreshing, as not all stores put their merchandise up exactly at midnight. Unless you live much too far away to drive or don't care much about the collection, just avoid the website and go in person!
3. After the Collection Launches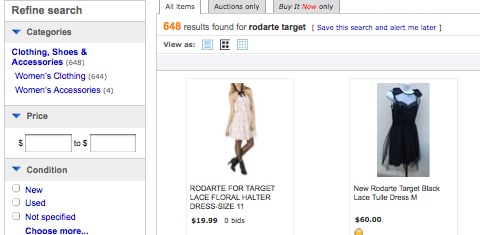 Wait before you eBay!
So you didn't get the item you wanted in store? Don't panic. Whatever you do, DO NOT EBAY RIGHT AFTER. In the days following a designer collaboration launch, sellers are banking on the hype- so they can justify selling items at 2x or 3x the price. So look on eBay 3 weeks to 1 month after the collection hits at the earliest. Yes, items will still be slightly more expensive then they were in the store, but they'll be much more reasonable once the hype has died down!
What do you guys think?
How do you guys shop for designer collaborations? Do you have any strategies? What's the best item you've picked up? Tell me everything and more in the comments!