This post may contain affiliate links, which means we may receive a commission if you purchase through our links. Please
read our full disclosure here
.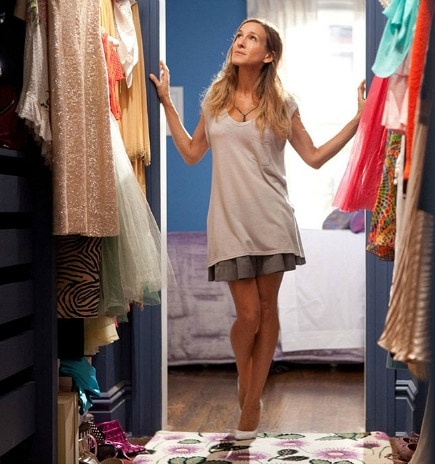 Photo Credit: ELLE
Happy 2015, fashionistas!
I feel like my style evolves every year, because of both the ever-changing trends and my own personal taste changing. Recently, I've also felt that every year brings a wilder, more daring fashion vibe. It's becoming trendier and trendier to push the envelope (more on that in my next post).
But regardless of trends, you deserve to start the year with some awesome, bold pieces that scream YOU and take your look to a new level. I've got five suggestions to inspire and kickstart your 2015 shopping spree.
1. Bold, Blingy Earrings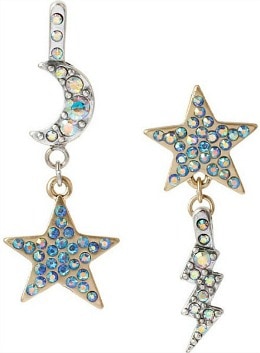 Earrings: Betsey Johnson, $40
I'm just gonna go ahead and declare 2015 the year of the earring. 2014 brought all sorts of bold earring trends: major danglers, single earrings, and ear jackets. In 2015, play with them all and find a few statement pairs that will wake up every outfit, whether it's casual or dressy (Nasty Gal also has some great options).
I love these Betsey Johnson earrings because they are really quirky (since they're mismatched) but also very edgy and cool. The silver tone and the reflective rhinestones will match basically any outfit. They're the only jewelry you need with a party dress or jeans and a blazer.
2. Pastel Coat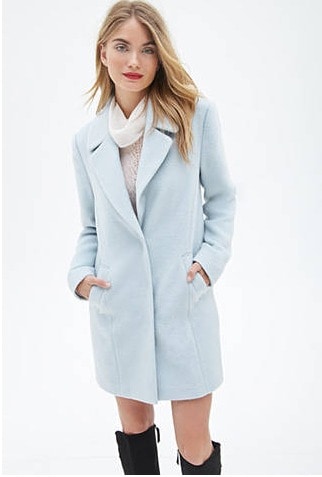 Coat: Forever 21, $47.80
I've spent all of 2014 lusting after the candy-colored coats I've seen on runways and fashion bloggers, and in 2015 our favorite fast-fashion retailers have caught on to the trend, making this effortlessly chic outerwear option available to all. The one above is a fave of mine that also comes in pale pink, and Forever 21 has a huge inventory of other styles and shades.
I love how outfit-making these coats are. Usually, a coat is something with which weather requires you to cover your fabulous ensemble, but in mid-temps a fleecy, tailored style in a fresh color or print can be your outfit. Throw one of these toppers on with a blouse and boyfriend jeans and you've got a look that'd make street style photogs go wild.
3. Fringe Bag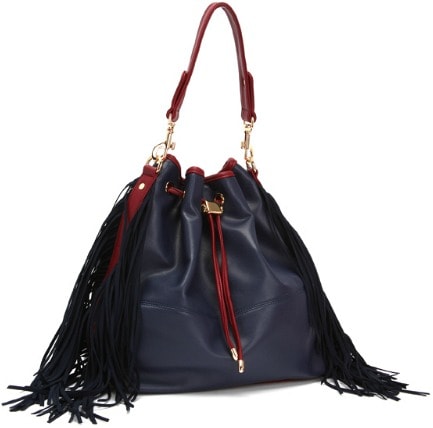 Bag: Deux Lux, $115
Fringe is set to be one of 2015's biggest trends. A bag is a great way to incorporate it into your look, and this one is so luxe. The colorblocking is super on-trend as well – it even includes a little shot of the Pantone Color of the Year (if you're looking for something a little more versatile, this bag also comes in brown, nude, black and gray).
A fringe bag has a very specific boho/indie vibe, and it plays better with some outfits than others. I love mixing it with a polished blazer and a tee, or as a chic accent to your fave floral dress. However, it may look out of place with really feminine pieces (like a Peter Pan collar top), or overly costumey with your breeziest maxi.
It'll take some trial and error, but the key to pulling off a fringed accent is getting the Goldilocks-just-right amount of contrast with the rest of your look and keeping your other accessories minimal.
4. Fashion-Forward Dress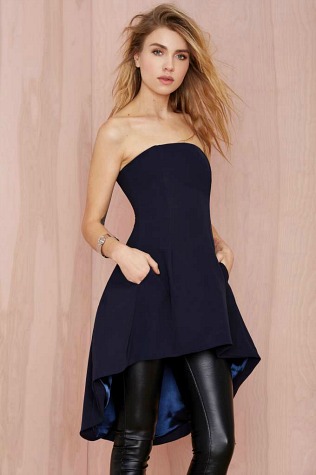 Dress: Nasty Gal, $88
There are so many super-cool, directional dresses in stores right now. One great-fitting, totally wild, unique dress (with mixed materials, bold embellishment, funky structure, or all the above) will make you feel like a fashion rockstar for all of 2015 and beyond.
Of course, finding the right one for you will take some searching. I love the one above because it is so simple and can and should be styled a zillion different ways. Wear it with pumps and a statement necklace. Throw it over skinny pants or leggings like the model does here. Try it with patterned tights or a solid tee underneath. Go wild with jewelry. Add a bright jacket or cardi. Pair it with heels or booties or wedges or oxfords or sandals or sneakers. Belt it. The possibilities are endless.
Nasty Gal has a ton more great, crazy dresses like this one. I'd also suggest looking at Three Floor, BCBG, For Love and Lemons, and ASOS to find your dream statement dress.
5. Statement Kicks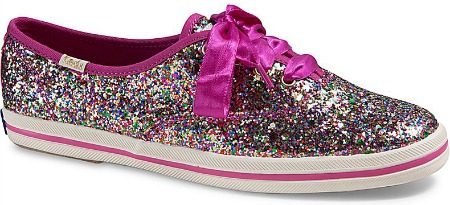 Sneakers: Keds x Kate Spade, $80
I'm not sure if I'm on board with the whole gymwear-as-fashion trend (or "athleisure" as they say). However, I've long been a proponent of subbing cute sneakers for flats with dresses and jeans. If a fun, glittery pair like these won't wake up your wardrobe, I don't know what will.
These sneakers will match basically everything in your wardrobe and add polish and interest to even your simplest going-to-class looks. They're also a comfy substitute for pumps with a dressy frock for a party. My ultimate 2015 fashion dare for you? Pair 'em with the dress above. Perfection.
What do you think?
What trends are you excited about this year? Would you rock any of the pieces above? How would you style them? Can you see them working with what you already have in your closet? Let me know in the comments!