Unless you're unfathomably lucky, you probably didn't get every. last. thing. on your wish list this holiday season. Even if you had gotten everything, winter break shopping trips likely would have left you wanting just a little more. Lucky for us all, post-holiday sales are so sweet that we can afford to spend a little of our Christmas cash to buy something special for the most important girl in our lives–ourselves!
Here are five great gifts to give to yourself this season. Why not? You deserve it.
1. Comfort Clothes
Though we at CF don't advocate wearing your sweats outside of your dorm, they are definitely a college girl essential for lazy days, lounging around, or studying.
I love a great pair of yoga pants and an oversized v-neck, but there are tons of options if you're looking for comfort clothes from printed pajamas to sets of cute undies, to super-soft slippers. Super-pricey gift sets left over from the holidays are on sale, so if you want something cute and cozy, now is the time to buy!
Hot Picks

Product Information: Aerie f.i.t. Hoodie, American Eagle. Juicy Couture Silk-Satin babydoll and briefs set, Net-a-Porter.com. Pink Flannel PJ Pants, Victoria's Secret. Tavi's Style Rookie T-Shirt, Style Rookie.
2. Cute Stuff for Your Room
It's always fun to add to your dorm or apartment after winter break–it changes things up, and helps you start the new semester in style.
Why not print out some of your favorite Facebook pictures and put them in pretty frames? Or cut up old issues of your favorite magazine and make a giant collage? Wall decals are also a great way to add some personality to your space–if you can't paint your walls, look no further than these cool vinyl stickers to add some color to your room. Beaded tapestries and embroidered throw pillows are also great for style and personality. When it comes to decorating your room, the possibilities are endless and come at every price point.
Hot Picks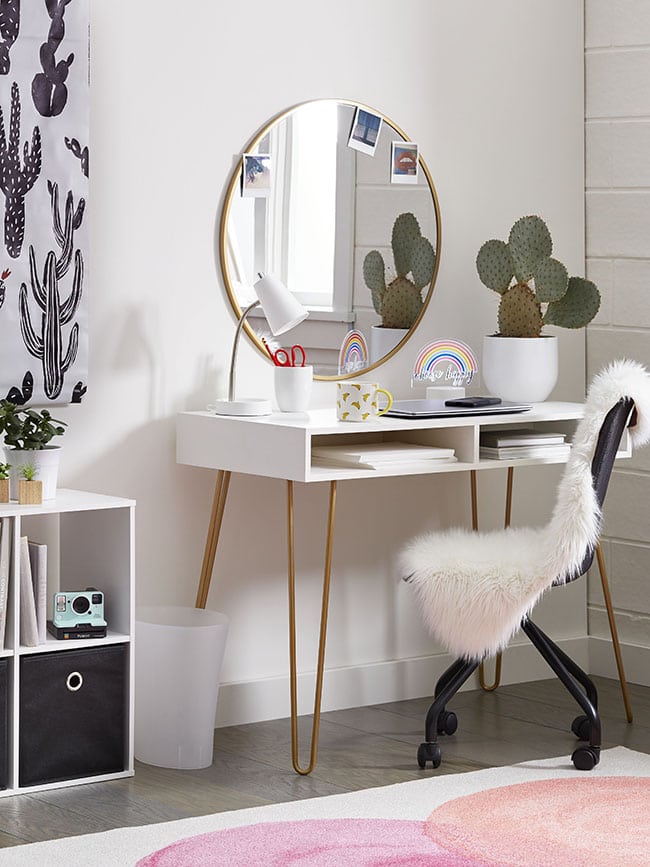 Product Information: Titan Mirror, Zara Home. Butch and Harold Sticker Picture Frames, Amazon.com. Beaded Chandelier Pendant Light, Wake Up Frankie. Two's Company Hand Painted Bone Picture Frame, MultiChic.com.
3. A Hot Pair of Shoes
Although I'm admittedly not a shoe lover, one of my favorite presents to myself this year was an amazing pair of studded, sky-high Sam Edelman heels. They're totally ridiculous, and totally fabulous…Shoes that will make me feel ah-maz-ing whenever I wear them.
If you're into shoes, follow my lead and pick yourself up a pair! Shoe trends this season include over-the-knee boots, chunky heels, serious height, and booties. Whatever your choice, an amazing pair of shoes can totally make your look–and your day!
Hot Picks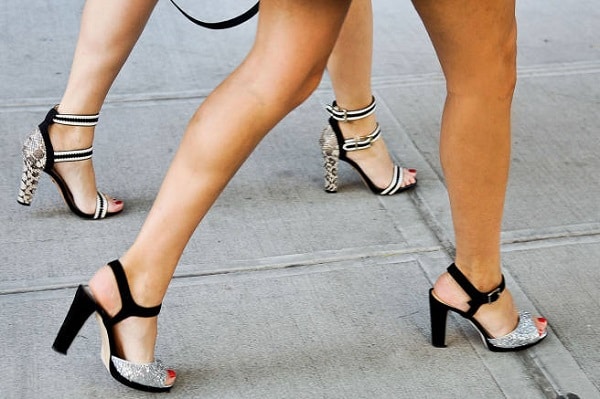 Product Information: Juicy Couture Tara Moccassins, Ssense.com. Steven by Steve Madden Blend 1- Leopard Flats, Heels.com. Steve Madden Blondee Over the Knee Boots, Zappos. Mickolick Peep Toe Pumps, Aldo.
4. Beauty Products
Since cosmetics are super personal purchases, it only makes sense that you stock up now before returning to campus. Check out Zephyr's post on Cult Beauty Products or Elizabeth's on Underrated Products to get you started if you're in need of ideas!
My winter beauty essentials include super moisturizing lotion, cream blush, Michael Kors Leg Shine, and a great deep conditioner. Occasionally, I'll splurge on a pretty winter scent, too. Winter is the perfect time to pamper yourself, so feel free to go a little crazy.
Hot Picks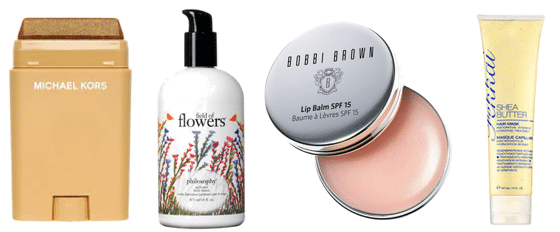 Product Information: Michael Kors Leg Shine, Sephora. Field of Flowers Ultra-Rich Body Lotion, Philosophy. Bobbi Brown Lip Balm SPF 15, Nordstrom. Frederic Fekkai Hair Mask with Shea Butter, Sephora.
5. A Great Scarf
As a Minnesota girl, I'll likely be rocking my rotating collection of scarves until March (sad, but true)! If you're somewhere chilly, right now is a great time to purchase a great winter scarf.
Whether you choose to go trendy with an infinity scarf, wild with prints, or shocking with a bright color, you can really never have too many options! Scarves can be a great focal point for any outfit, and are totally practical as they not only combine fashion and function, but also can be worn in many ways. If you've been eyeing a scarf, go out and get it! It's a purchase that will keep you both cozy and cute!
Hot Picks
Product Information: Crafted Loop Tassel Scarf, Republic.co.uk. Duppatta Pom Pom Scarf, Calpyso-Celle.com. Necklush Jewelry Print Scarf, Moxsie. Roxy So Beautiful Scarf, The Buckle.
What do you think?
Did you get any of my picks as presents this year? Do you ever splurge on something for yourself post-holiday? If so, what do you get? Let me know with your comments–I can't wait to hear your responses!