Depending on your favorite fast fashion brand, illusion mesh is sexy, utilitarian, puzzling — even tasteful enough for professional events. If you're like me and always scrambling to get dressed before a night out, try adding this filmy detail for instant oomph.
Luckily, mesh detail is also amiable to different degrees of exposure, which makes incorporating this texture into your going-out looks all the more effortless. I've put together four looks below (#4 features plus-size pieces), ranging from trial basis to pro, to help you with some ideas. While I built each outfit around black mesh pieces for the most versatility, feel free to branch out into other colors.
And don't worry if you're on a budget — each of these looks rings in at under $100 each.
Look #1 – $92.77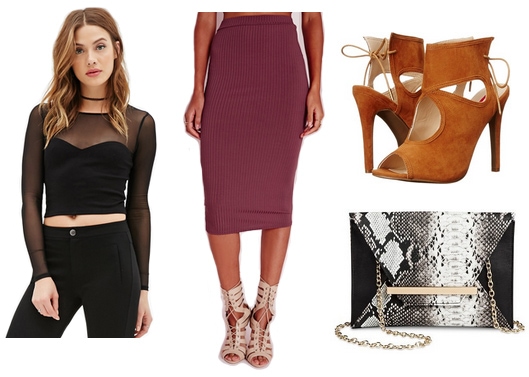 Products: Top, Skirt, Heels, Crossbody
Mesh-overlay tops are among the easiest mesh pieces to add to your wardrobe. Wear this one like a regular crop top and pair it with a berry ribbed midi skirt for extra coverage. Suede cognac heels and a snakeskin print crossbody serve up some textural richness to top off the look.
Look #2 – $100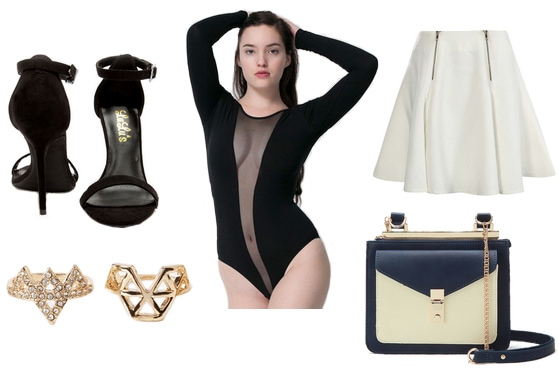 Products: Bodysuit, Skirt, Crossbody, Heels, Rings
Next on the agenda: Mesh bodysuits. You've probably seen this American Apparel one making the rounds and for good reason. The mesh breaks up your basic bodysuit without sacrificing coverage on chilly nights. Throw on a zipper-detail skirt, simple black heels, and a structured crossbody. Slip on geometric cage rings before you head out.
Look #3 – $99.16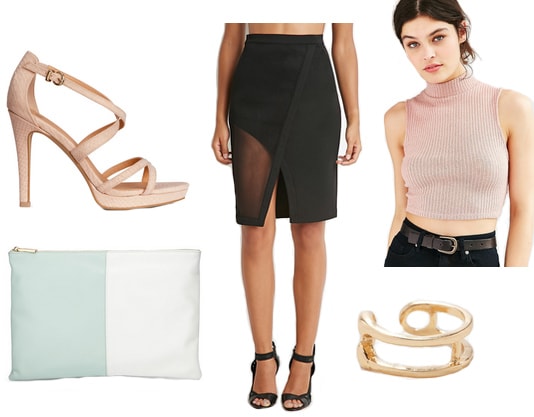 Products: Skirt, Tank top, Heels, Clutch, Ring
Stepping away from the dark tones for a moment, try on a mesh wrap skirt with a dusty rose crop top and beige heels. Tote your essentials for the night in a mint colorblock clutch. Keep the accessories simple with an openwork gold band.
Look #4 – $96.25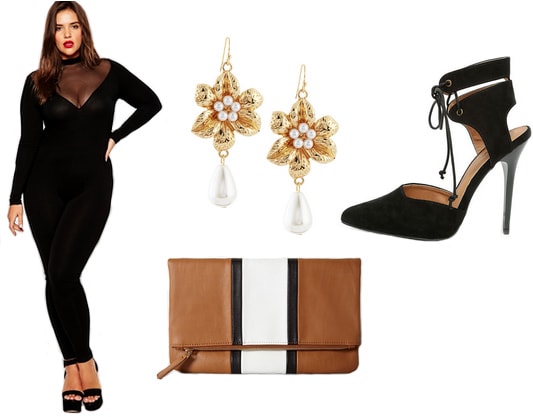 Products: Bodysuit, Earrings, Clutch, Heels
Save this look for a major night out, be it a friend's birthday or to celebrate a killer job interview. Or, wear this if your confidence is approaching peak levels and you're ready to push your look further. Wear this mesh panel bodysuit as a standalone piece with lace-up heels, gold drop earrings, and a foldover striped clutch. If you're not feeling the full bodysuit look, layer on a moto jacket or black blazer. The bodysuit is sleek enough to add a skirt over as well.
What do you think?
What did you think of these looks? Would you try any of them? What other pieces are your go-tos for going out?