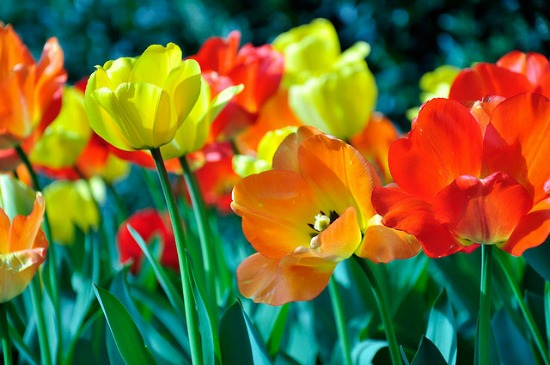 Now that spring has started to grace parts of the country, with a few sunny days here and there, it's time to start thinking about cleaning out your closet and transitioning from heavy winter layers to lighter spring pieces.
Whether you're planning your spring break fashion strategy or looking to infuse some spring fashion trends into your everyday outfits, a little retail therapy can give you a boost of motivation to power through those last few days of winter and get ready for warmer days ahead.
To help you out, we've found 30 spring fashion finds under $30, so you can replenish your wardrobe and still afford to buy your groceries. Scroll down to see them all:
Spring Dresses:
These spring dresses (many of them on sale right now!) will add a fresh dose of color into your wardrobe. Wear them layered under a cardigan or jean jacket or dress them up with a colorful statement necklace.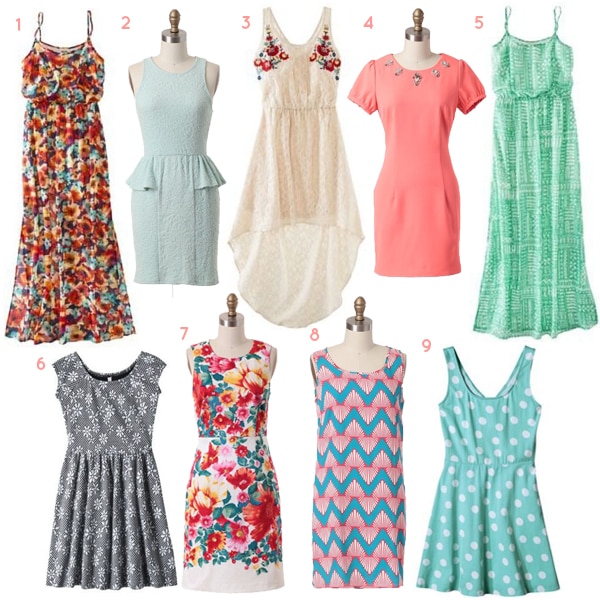 Product Information: 1. Floral Maxi Dress 2. Mint Dress 3. Lace Dress 4. Coral Dress 5. Mint Maxi Dress 6. Gray Dress, 7. Floral Dress 8. Chevron Shift Dress 9. Polka Dot Dress
Separates and Swimwear:
Pick up a new swimsuit in a pretty pastel shade or shop for some fab separates to mix-and-match with items that are already in your closet. No matter what catches your eye, these spring pieces are all sure to be within your budget.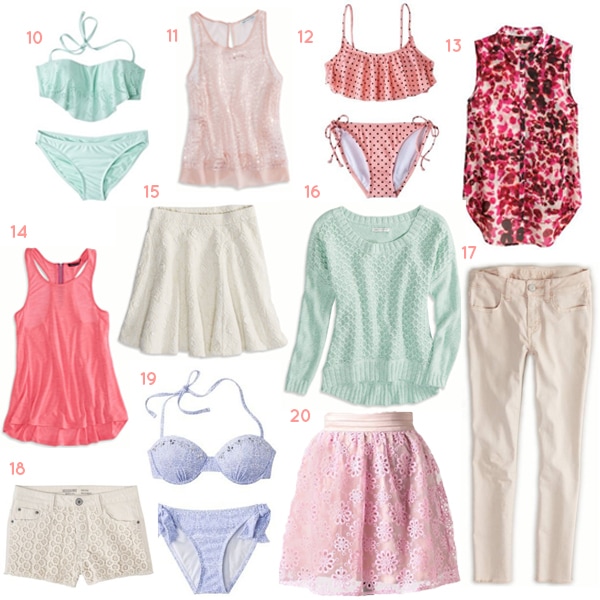 Product Information: 10. Mint Bikini 11. Pink Sequined Tank 12. Pink Bikini 13. Pink Blouse 14. Pink Tank 15. Skirt 16. Sweater 17. Blush Jeans 18. Lace Shorts 19. Purple Bikini 20. Pink Lace Skirt
Shoes and Accessories:
No outfit is complete without the perfect accessory. Top off your look with a sparkly necklace or a lightweight scarf and don't forget to grab the perfect pair of spring flats or sandals.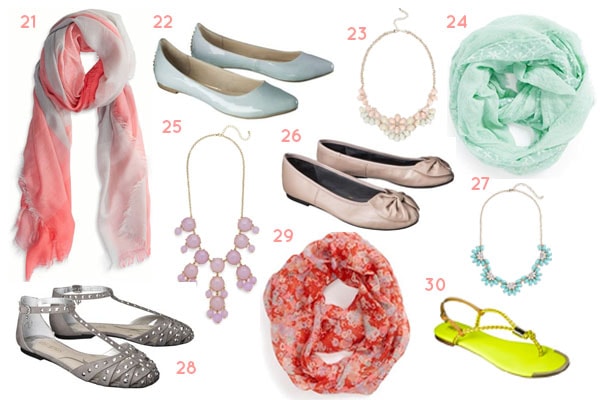 Product Information: 21. Pink and Gray Scarf 22. Mint Flats 23. Necklace 24. Mint Scarf 25. Necklace 26. Flats 27. Necklace 28. Sandals 29. Scarf 30. Neon Sandals
Tell me what you think!
What's on your wish list for spring? What do you think of these peices? Which ones are your favorites? Let me know by leaving a comment below.