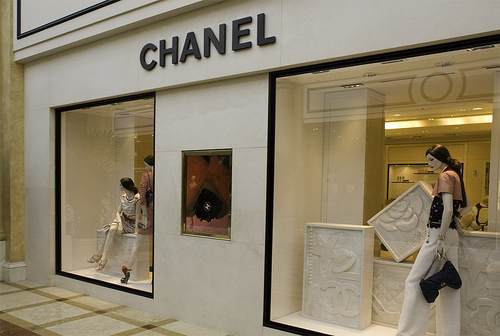 Let's be honest: for many college students, it just isn't realistic to drop hundreds of dollars on a Marc by Marc dress or a pair of Miu Miu shoes. So what's a label-loving girl to do? Sacrifice lattes and groceries in the name of style? …Maybe. But you don't have to!
Believe it or not, there are a few sneaky ways to get a taste of designer style on a college budget — i.e. less than $100. Intrigued? Read on!
1. Jewelry & Small Accessories
If you love Marc Jacobs' high-end designs, check out the accessories in his Marc by Marc line! Cute and quirky, his jewelry collection includes watches, rings, bracelets, necklaces and earrings. While some styles can be on the expensive side, the rings are pretty reasonably priced and totally adorable. Not into jewelry? Pick up a headband or umbrella! The best prices and pieces are available at his Marc by Marc Jacobs stores, so if you live near one, I highly recommend you pay it a visit!

Product Information: Pretty Nylon Mini Cosmetics Bag, Nordstrom. Heart Studs, Piperlime. Logo Band Ring, Zappos. Studded Pony Tail Holder, Bloomingdales.
2. Makeup and Perfume
Today, it seems as though it isn't enough for a designer to have a successful clothing line–they need to branch out into beauty products, too! Lucky for us, these products come at a fraction of the price of their usual wares, for example: Missoni Dress: $645. Missoni Acqua Perfume: $60. Designer fragrances are everywhere, made by everyone from Michael Kors to Dior. Just keep telling yourself that smelling like Chanel is as good as wearing it!

Product Information: Vera Wang Princess Perfume, Sephora. Diorshow Mascara, Amazon. Nouvelle Vague Nail Varnish, Chanel. Yves Saint Laurent Rouge Volupte Lipstick, Neiman Marcus.
3. Designer Collaborations
In the current economic climate, designer collaboration collections have become increasingly prevalent. H&M and Target should be your go-to stores for awesome parings. In the past, H&M has featured designs from Stella McCartney and Matthew Williamson, while Target has snagged Proenza Schouler, Alexander McQueen and current favorite, Zac Posen. Target and H&M aren't the only stores in on this action, though! Payless and Topshop have been known to carry designer diffusion lines from time to time. Because supply can be limited and demand is great, many pieces from collaboration lines are available in-store only. Want to keep up with the latest in collaborations? Bookmark Refinery 29's list.

Product Information: Safety Pin Print Bikini, Zac Posen for Target. Jazz Oxfords, Alice + Olivia for Payless. Bra, Sonia Rykiel for H&M. Poppy Print Rainboots, Liberty of London for Target.
What do you think?
How do you save money while still indulging in a little designer merchandise? What are your favorite designer collaboration lines? Tell me what you're thinking and leave a comment!