Fred Flare is pretty much the world's cutest online store. There, I said it. It has it all, whether you want a pretty dress or cute shoes or retro sunnies. Thankfully, all of their awesome products are available at the best-designed store on the internet. From bunny rings to iPod speakers to Pac-Man oven mitts, this store has everything you'll ever want, and then some.
Here are three tips to make shopping online at fredflare.com even better.
Buy your gifts!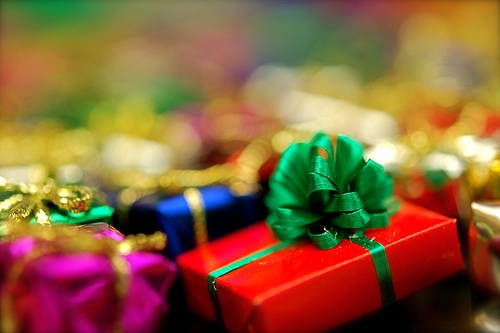 If some of you are new to Fred Flare, you're probably wondering what kind of people shop there, as the store seems stocked with random goodies. So what's the store good for?
In a word: gifts. From your BFF to your sorority sister to your mom to that-girl-in-your-English-class-that-you-don't-really-like-but-somehow-got-invited-to-her-birthday-party, you'll definitely find anything and everything you want. Best of all, most everything is relatively cheap, so you won't be breaking the bank when looking for that perfect gift. Bookmark this site and make this your first stop when looking for any kind of present!
Check on sizes

Because Fred Flare stocks a whole bunch of different brands, clothing and shoe sizing can be tricky. They do offer a rough sizing chart, but that isn't always helpful – unfortunately a lot of it is trial and error. However, FF will exchange clothes (for the price of shipping, natch) if they don't fit. They also offer a number customers can call (877-798-2807) for questions. Definitely pay attention to this when shopping at FF!
Wait for free shipping deals

Shipping fees are possibly the worst part of shopping online. While some stores have shipping deals that come with launches of new lines or around the holidays, Fred Flare has free shipping at seemingly random times.
For example, this past weekend, Fred Flare offered free shipping in honor of Tim Burton's Alice in Wonderland. Last year, they offered a similar deal for the premiere of Sliimy's Wake Up video. Find out about these deals by signing up for Fred Flare's mailing list or looking at Fred Flare's blog, Flickr or Twitter. Next time, you'll be able to buy your 36th pair of Risky Business sunglasses while avoiding the $7.95 charge.
Thoughts? Advice?
As I've said before, Fred Flare has one of the best online stores out there and it's definitely worth checking out. For those of you who have shopped there, what advice do you have for new Fred Flare shoppers? New shoppers, what do you think and live about Fred Flare? Tell me in the comments!