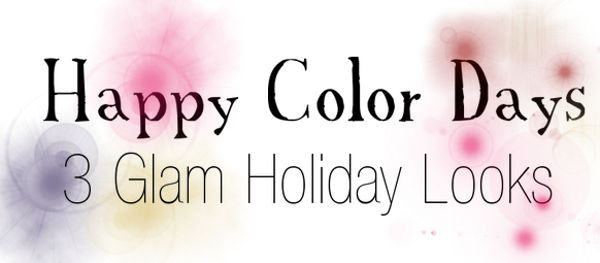 You're free from school, work, and long walks to class in the elements (for a few weeks, anyway), so experimenting with your look is a fun thing to do over the holidays. It reminds your family, yourself, and your ex from high school just how fab you are.
Color play is a great way to experiment with your look. For these party-ready outfits, I picked out unique pieces in the same color family, then accessorized with bags and jewelry in fun hues.
Flirty Fuchsia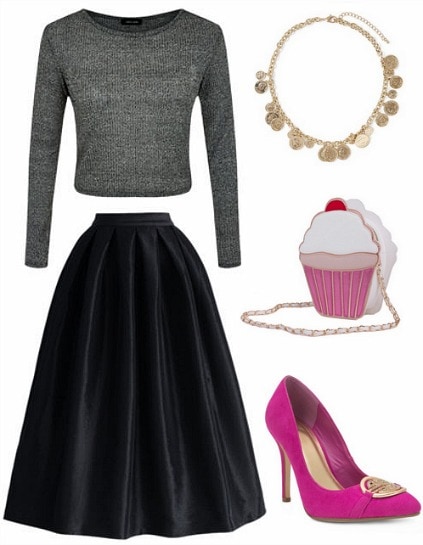 Product Info: Skirt, Top, Shoes, Bag, Necklace
The accessories in this outfit take it from safe (albeit very cute!) and neutral to bright and punchy. Those heels are all personality in bright fuchsia with glitzy gold detailing. A kitschy cupcake bag and coin necklace keep the look pulled together with matching colors, but show that you don't take yourself too seriously. And look hot doing it.
I love the silhouette of a full midi skirt and snug crop top. The waist is one of the most flattering parts of a woman's body, and I love to see girls rock it! Keep the skirt modest and high-waisted and avoid bearing cleavage, and this look works for even a family affair.
Midnight Champagne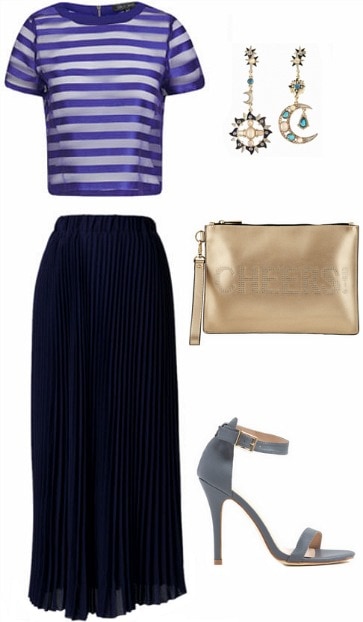 Product Info: Skirt, Top, Shoes, Earrings, Bag
Three words for you: pop, bubble, fizz. Red and green can have their day on holiday sweaters – my all time favorite color combo for the holidays is midnight blue and champagne. Barely there sandals, a sleek clutch, and long diamante earrings are über-sophisticated and stylish. An of-the-moment phrase clutch adds a peek of personality.
Embrace the midriff in a boxy top paired with a flowing pleated skirt for an appropriate but still party-ready ensemble. Want to add more bling? This would be the perfect outfit to try out a delicate gold body chain.
Silver and Red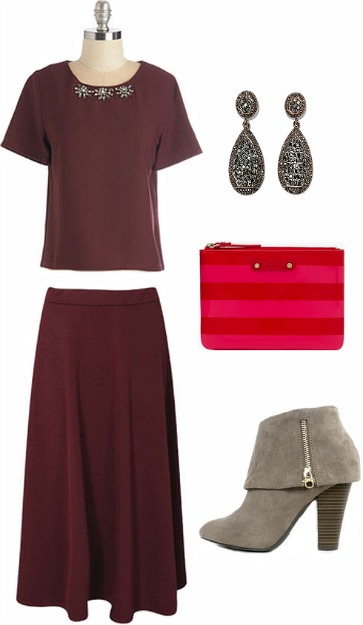 Product Info: Skirt, Top, Shoes, Bag, Earrings
This outfit is a bit more relaxed than the others, without sacrificing any of the "wow"-ing style factors. Cuffed ankle booties are a great transitional accessory, and bejeweled silver earrings are worth having for any special occasion. My favorite find for this look has to be this Kate Spade clutch (on sale, what what).
Burgundy and gray is a demure color scheme, but sparkly earrings, a jeweled top, and a bright, striped pop of pink and red are all so fun and unexpected. It really elevates the look to something you could wear to a friend gift-exchange or a dinner date. Not with your high school ex, but maybe Santa. Or… an elf. Do people date over the holidays? Wear this and let me know how it goes.
What do you think?
I love it when people dress up for the holidays – it makes me feel all warm and fuzzy inside. What do you wear when it's party time? Will you be trying out any of these color combinations or silhouettes? Let me know below, and happy shopping!