The best thing about this time of year? Buying presents for people I love, hands down. I absolutely love shopping (which is a big reason why I love writing for College Fashion!), and when I can do it for other people — not just myself — I go absolutely crazy.
But sometimes all that extra consuming makes me feel less-than-awesome about myself. Luckily, there are plenty of ways to show your affection without dropping tons of dollars on clothing, accessories or other gifts that can harm the environment. Eco-friendly gifts are a thoughtful way to show your loved ones — and Mother Earth — how much you care.
1. DIY – Do It Yourself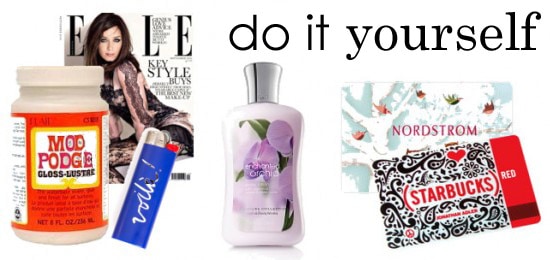 Product Information: Lighter, Mod Podge, Body Lotion (or grab an unused bottle from under your bathroom sink!), Nordstrom Virtual Gift Card
Obviously, going DIY is the ultimate way to be eco-friendly this holiday season. Some quick and easy DIY gift ideas? When I'm strapped for ideas (and cash), I like to mod podge whatever I can get my hands on. My fave item to mod podge? I love collaging lighters with magazine photos of my friend/family member's favorite things (band logos, food items, fashion accessories, etc.) Everybody has candles they could use a light for — and odds are you have some old lighters lying around (and we know you have fashion mags!)
Other DIY ideas include re-gifting an unused item (like that extra unopened bottle of lotion under your sink) or sending something virtual (i.e., an online photo montage, a virtual gift certificate or an e-card for the extra people in your life you can't afford to buy for, but don't want to leave out!) – that way, you're being kind to your friends AND the environment.
2. Eco tees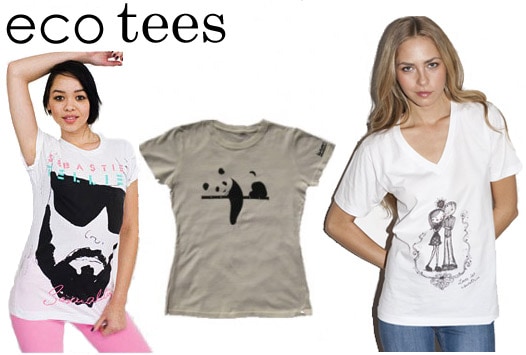 Product Information: American Apparel Tee, Bamboo U Tee, Wiloh Tee
Tees are any easy apparel item to buy for others, especially if you want to surprise them. (It's kinda obvious you're buying someone a pair of jeans or shoes when you ask for their size!) Plus, eco-friendly tees are relatively cheap — not to mention super comfortable if you find one made from bamboo or organic cotton. They also make great stocking stuffers – just roll them up nicely!
3. Bags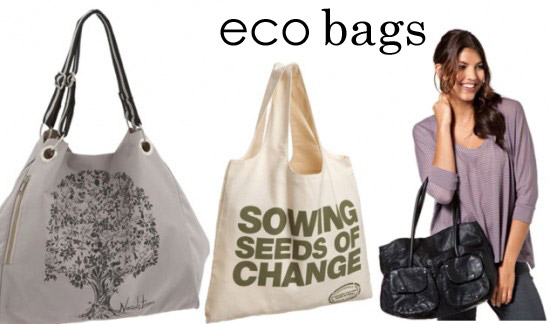 Product Information: Slouchy Eco Tote, Organic Cotton Tote, Vegan Bag
Cheap and useful, an eco-friendly shopping bag really is the gift that keeps on giving. I think lots of people are under the impression reusable shopping bags have to be ugly or cheap-looking. But really, you can use any bag to carry your groceries and new purchases in — a cute new purse could easily double as a grocery bag when need be!
Are you having an eco-friendly holiday this year?
It's super important to be conscious of your purchases this time of year. (After all, it's too easy to get out of hand — I know!) What do you think about going eco-friendly this holiday? Do you have any other environmentally conscious gift ideas? Let's talk in the comments!