"Hey! I love checking out your blog every week. I've been looking for a nice tote bag lately and can't see to find one. The Le Pliage bags are nice, but they're everywhere. Can you do a post on versatile, classy bags?" – Siyu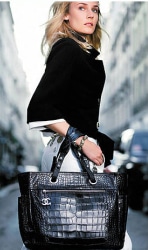 I've actually received quite a few emails about this recently. Ever since the article about Wardrobe Essentials For College Girls went live, I've been bombarded with messages from readers wanting to know where to find classic and stylish bags for class.
It's difficult to find a purse that is cute, classy, and will still hold all your stuff. And college girls for the most part carry around a LOT of stuff. For me that means at least all of the following: one textbook, a huge notebook, planner, keys, lip gloss, cell phone, pens, calculator, wallet, snacks, Nalgene bottle, etc!
My current school bag is this Marc Jacobs leather tote, which I love because it's really roomy and classic. Also, it goes with everything! I have the black version, but the Marc Jacobs tote bag also comes in white, royal blue and olive green. It's pretty much the best school bag EVER in my opinion.
In the off chance that you aren't a Marc fan or just want some more options, here are some more cute bags for college, sorted by price range:
Classy Bags Under $50
Here are some cool tote bags for school that won't break the bank in the least! All of these classy and classic bags are under 50 dollars, which is pretty insane if you ask me. An added bonus: these go with everything, so they'll last you all summer and into next year!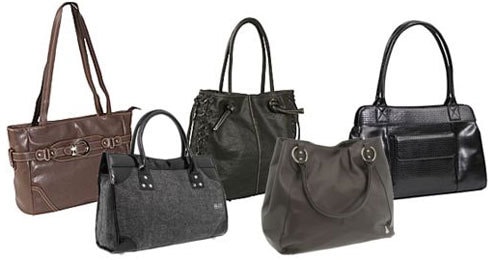 From Left: Aurielle Carryland "Brigdeport" Tote ($24), Split "Nicole" Bag ($45), Bagtique Braided Canvas "Whipstitch" Tote ($27.20), Roxy "Jenny" Bag ($42), LimeNRoses "Joey" Day-to-Evening Tote ($35.20)Classy Bags Under $100
Classy Bags Under $100
A little higher up in the price range, but still pretty affordable, these totes are all between 50 and 100 dollars. I'm loving the red bags for this season, and if you're not prone to spilling stuff, the white Franco Sarto tote is adorable!

From Left:Liz Claiborne "Ripley" Patent Tote ($69), Liz Claiborne "Rocklin" Ombre Tote ($74), Nine West "Ombre Factor" Medium Tote ($93), Fossil "Caprivi" Tote ($98), Liz Claiborne "Bloomfield" Patent Tote ($89), Franco Sarto "Fashion Avenue" Tote ($99)
Classy Bags For $100 to $150
Getting into the pricier stuff now… these bags are all between 100 and 150 dollars. Perfect if you're all about quality and want something that not everyone else on campus will have. I'm pretty much obsessed with the pink tote bag by Lacoste – it's so spring-y!

From Left: Ros Hommerson "Kimberly" Portofino Bag ($141), Nine West "Bow Dacious" Large Tote ($100), Nine West "Hip Hop" Large Tote ($100), Fossil "Executive" Center Zip Tote ($138), Lacoste "New Classic" Horizontal Shopping Bag ($144)
Classy Bags Under $200
The totes and satchels below are all priced between 150 and 200 dollars. For this price, you can get some serious designer-name merchandise, from houses like DKNY, Liz Claiborne and even Marc Jacobs!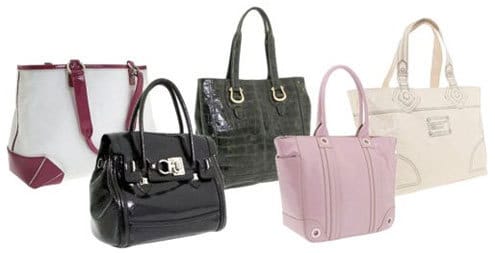 From Left: DKNY "Town And Country" Large Tote I ($183), Steven "Mosaic" Tote ($169.15), Liz Claiborne Columbus Leather "Croco" Tote ($179.20), Sigrid Olsen Handbags Crinkle Patent Tote ($174.10), Marc by Marc Jacobs "Faux Real" Tote ($152)
Classy Bags $200 and Up
If you've got some extra cash on hand and want a gorgeous bag that'll last you forever, look no further than the cute bags below! Also, if you can afford any of these no problem, just know that I'm super jealous of you, haha.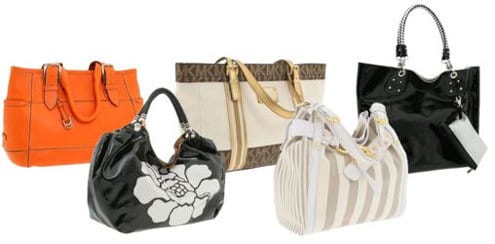 From Left:Cole Haan "Village" Medium Work Tote ($399), Stuart Weitzman "Bloom" Tote ($375), MICHAEL Michael Kors "Jet Set" Cotton Canvas Medium Tote ($252), Francesco Biasia "Perfect Harmony" ($242), Perlina Handbags Reversible Tote ($219)
So there you have it – over 25 versatile, cute and classic bags that are perfect for college girls running between classes, interviews, internships and jobs. Be sure to let me know what you think by clicking the comment link below and leaving your thoughts! Xoxo