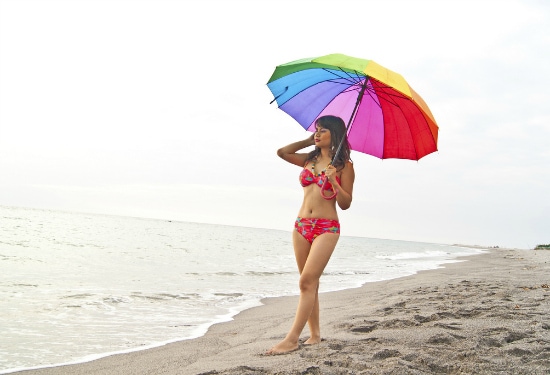 In case you haven't realized yet, today marks the beginning of July, (can you believe it?!) which means it's the peak of swimsuit season. If you're looking to buy a new swimsuit this summer or just want to know what the latest swimwear trends are, you've come to the right place.
Just scroll on down to check out the five hottest swimsuit trendsfor Summer 2012. The best part? Each suit costs less than $50, because we all know how important it is to be trendy and budget-friendly.
1. Neon
We're sure you know neon clothing and accessories are super-trendy this year, and this trend has carried over to swimwear. Whether you like hot pink, lime green or citron yellow, there are plenty of stylish neon suits available right now, just like the ones below. As an added bonus, wearing a neon swimsuit will instantly make your skin look bronzed — no spray tan needed.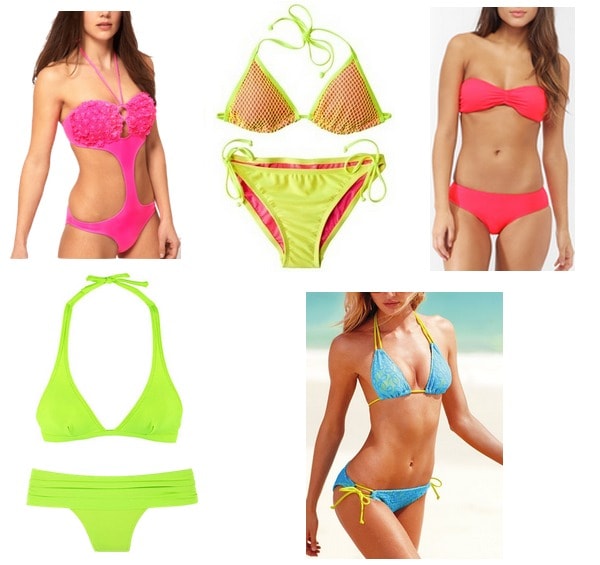 Top: Hot Pink Monokini- ASOS, Yellow & Pink Bikini- Target, Coral Bikini- Forever 21
Bottom: Lime Green Bikini- Delia's, Blue Bikini- Victoria's Secret
2. Retro-Inspired
Another trend that's translated into swimwear this season is the vintage pin-up girl look. In fact, not only are retro-inspired swimsuits stylish, but they're uber flattering to boot. Look for bathing suits that have high-waisted bottoms, ruching or molded cups for an authentic pin up-inspired vibe.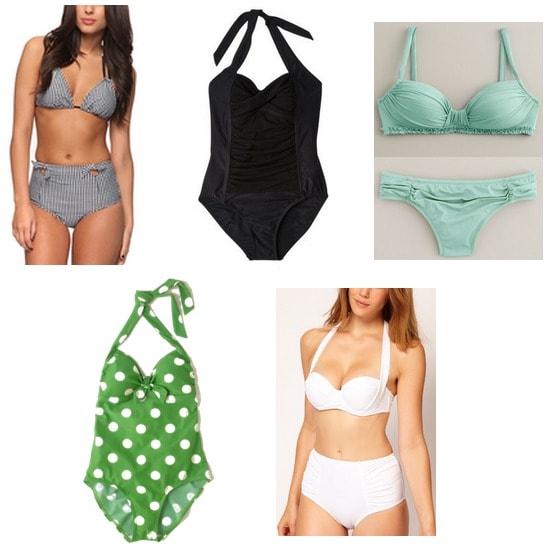 Top: Houndstooth Bikini- Forever 21, Black One-Piece- Target, Seafoam Bikini- J. Crew
Bottom: Polka Dot One-Piece- Boden, White Bikini- ASOS
3. Crochet
If you like delicate and feminine fashion, look no further than this season's popular crochet swimsuits. These aren't your typical open-weave crochet pieces — you can rest assured these suits are properly lined, making them a-okay for swimming and other summertime activities. White and neutral-colored crochet suits are a classic, but look for a colorful crocheted swimwear — like the purple and pink ones below — if you want to make a bold statement.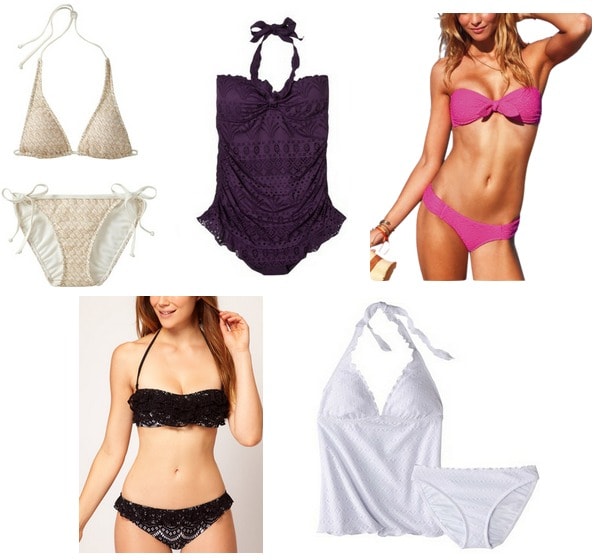 Top: Metallic Bikini- Old Navy, Purple One-Piece- Target, Pink Bikini- Victoria's Secret
Bottom: Black Bikini- ASOS, White Tankini- Target
4. One-Shouldered
Want something a little more fashion-forward? Then the one-shouldered swimsuit may be your perfect pick. These asymmetrical suits create a bold statement and are available in tons of styles and colors, whether you prefer a solid-colored bikini or a photo print one-piece. Just be sure to use extra sunscreen to ensure you won't have any awkward tan lines!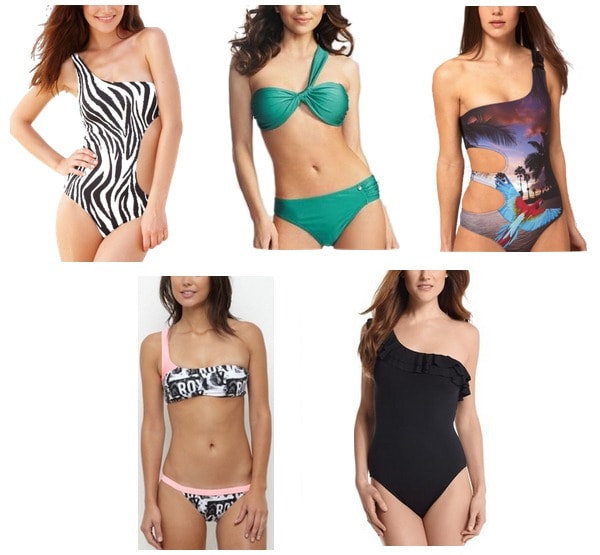 Top: Zebra Print- Alloy, Green Bikini- Figleaves, Photo Print- ASOS
Bottom: Pink Trim Bikini- Roxy, Black One-Piece- White House Black Market
5. Sporty
The sportswear trend that was popular this spring is still going strong, especially with this season's swimsuit offerings. However, rocking a sporty swimsuit doesn't mean you have to wear a basic black Speedo one-piece! Instead, be on the lookout for bathing suits that incorporate elements like racerbacks, mesh, zippers and bold contrast detailing, like the ones featured below.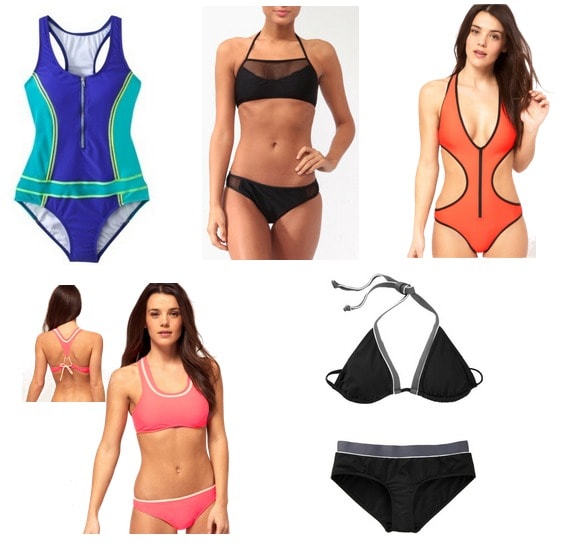 Top: Blue One-Piece- Target, Mesh Bikini- Forever 21, Orange Monokini- ASOS
Bottom: Pink Bikini- ASOS, Black Bikini- Old Navy
Your thoughts?
What do you think of these swimsuit trends? Which trend would you rock this summer? Which swimsuit is your favorite? Will you be buying a new bathing suit this season? How much do you typically spend on a suit? Remember to leave a comment below and let us know what you think!