This post may contain affiliate links, which means we may receive a commission if you purchase through our links. Please
read our full disclosure here
.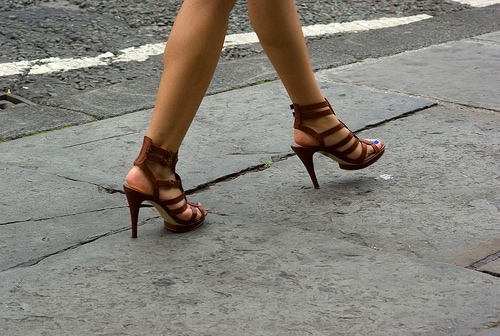 Is there any shoe more quintessentially "summer" than the sandal? It's the ultimate essential shoe for scorching hot days and balmy nights. Every girl needs at least one pair of sandals in her closet; no exceptions.
That's why I looked through hundreds of pairs to find 25 of the best sandals for summer. Even better, I found fashion-forward styles at all different price points. So put on your favorite shorts, treat yourself to a pedicure and check out these summer sandals to find the perfect pair for your style and your budget.
Under $25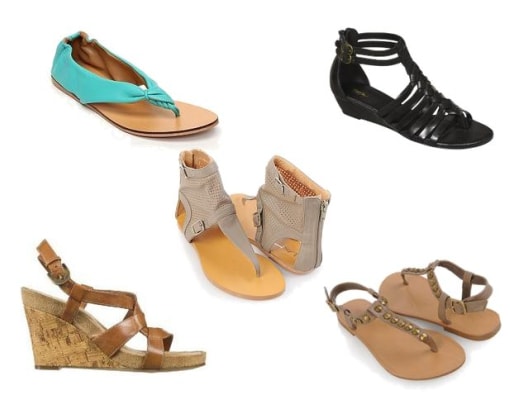 (Top: 1, 2 Middle: 3 Bottom: 4, 5)
For less than 25 dollars, you can find a great pair of sandals that looks much more expensive. This particular price point is a good one to stick with if you're looking to save money this summer or just won't wear your sandals often – you get what you pay for here, and sadly, most cheaper sandals don't last as long as their higher-priced counterparts.
Under $50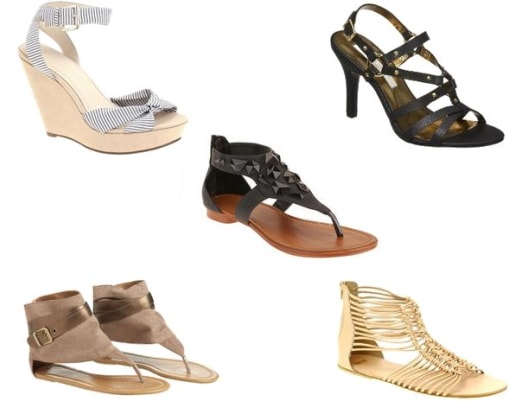 (Top: 1, 2 Middle: 3 Bottom: 4, 5)
All the sandals above cost between 25 and 50 dollars. This is a great price range to try out some trendy pieces (like these nautical wedges) or even score sandals from Cynthia Vincent's Target collection. Sandals in this price point are usually higher quality and tend to last longer than those priced under $25.
Under $100
(Top: 1, 2 Middle: 3 Bottom: 4, 5)
These sandals all cost between 50 and 100 dollars. Once you hit this price range, you can get high-quality materials and cutting edge styles from brands known for creating well-made shoes.
Under $150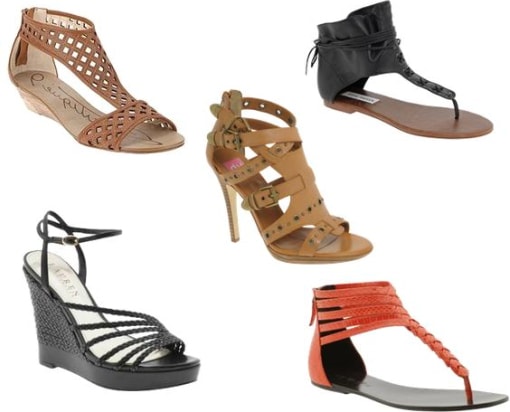 (Top: 1, 2 Middle: 3 Bottom: 4, 5)
If you have some extra cash to spend, why not try one of these pairs of adorable sandals? At $100 to $150 a pop, these sandals are a little bit pricier, but in this range, you can get a pair of sandals that is well-designed and durable with plenty of unique details – meaning you'll score a lasting pair in a unique style that you probably won't see on every other girl you know.
$150 and Up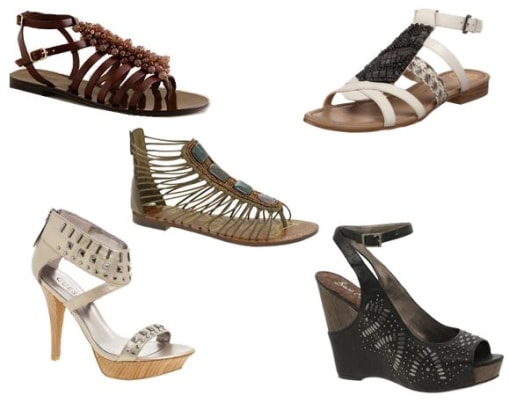 (Top: 1, 2 Middle: 3 Bottom: 4, 5)
These sandals are way over my personal budget, but if you can easily afford these I'm jealous! I tried not to go too out of hand price-wise– the most expensive is the $298 J. Crew sandal at the top left. At this price, you can get premium materials, excellent craftsmanship and even sandals from some celebrity lines like House of Harlow 1960.
What do you think?
Are you on the search for the perfect summer sandal? What do you think of these choices? What's your favorite type of sandal for summer? Who makes it? Leave a comment and let us know your thoughts!