This post may contain affiliate links, which means we may receive a commission if you purchase through our links. Please
read our full disclosure here
.
While I don't really want to think about heading back to school, I do LOVE starting the new year with new supplies. And in college, an ID case is just as important as a cute new backpack and mechanical pencils.
You use your student ID for everything, so it deserves its own case to keep you from having to constantly pull out your whole wallet. A brightly colored, textured, or patterned one will be easy to find in your bag when you need it. Plus, a fun case will put a smile on your face every time you use it.
That's why I've rounded up my fave ID cases for a stylish new school year, from snake to polka dots to animal motifs to plaid. Pick your fave and take it everywhere.
Our Top Picks: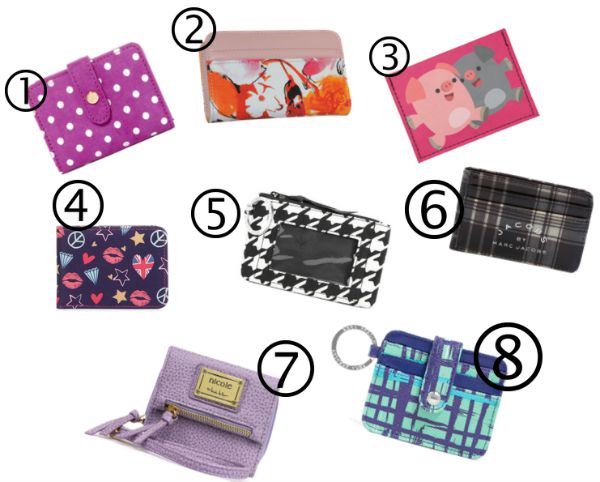 Product Info: 1. Nordstrom Rack, 2. Buxton, 3. Zazzle, 4. Accessorize, 5. Vera Bradley, 6. Marc Jacobs, 7. JCPenney, 8. Vera Bradley
1. I love the color and print of this Deux Lux case, and the little strap helps to prevent your card from slipping out. I totally recommend a case that has some kind of closure like this, so you can just toss it in your bag without worrying about the cards slipping out.
2. This cute floral cardholder has several slots for different cards, so it could even function as a mini wallet to throw in a tiny clutch. Plus, it snaps closed.
3. For whimsical ladies, I love these piggy friends. This case has slots for multiple cards and it's made of a super-durable material.
4. The diamonds, lips, and Union Jack hearts printed on this case are so cheeky! You'll get tons of compliments (and it's only $10).
5. This cool houndstooth case has a clear slot for your ID, plus a zip pouch for money, keys, more cards, whatever!
6. Go mad for plaid with this Marc Jacobs ID holder. I love the menswear vibe, and it's got lots of pockets.
7. I love how secure this Nicole by Nicole Miller pouch (which also comes in black and snake print!) is– it has two different zip pockets and several card slots. Also, there's an optional wrist strap, so it was just made for grabbing and heading to a party.
8. This Vera Bradley case features a cool color combo and is thin enough to fit just about anywhere. Plus, the attached key ring means you can keep all your essentials in one place.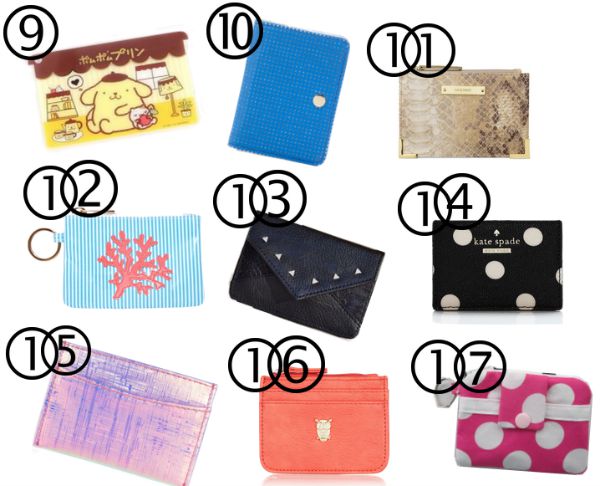 Product Info: 9. Sanrio, 10. Last Call, 11. Macy's, 12. Lolobag, 13. Urban Outfitters, 14. Kate Spade, 15. Accessorize, 16. Accessorize, 17. Etsy
9. This cute puppy case is thin and can be hooked onto a key ring. And did I mention it's only $3.25?
10. There'll be no losing this bright blue baby at the bottom of your bag. The perforated texture is fun, too.
11. You can't go wrong with snake print. This Nine West case is basically just a super-small zipper pouch, so you can be sure whatever you store in it will be secure. Plus, there's a key ring on the inside.
12. This coral-motif key ring pouch will keep you feeling like it's summer even when classes start. I love how it's so reminiscent of a beach bag.
13. I used the green version of this envelope card case for my first two years of college, and it served me well! The texture and studs are cute, and it has a clear pocket in the back for a driver's license.
14. Who doesn't love polka dots and Kate Spade? This case has multiple pockets and adds a little touch of luxe to your everyday style.
15. I'm obsessed with the pink metallic texture of this card holder. It's got three different pockets and is basically as fashion-forward as an ID case can be.
16. I love that this little coral case features a gold owl and has a zip pocket at the top. Very cute and very practical.
17. This pink polka dot case has a snap card slot, a zip pouch, and a key ring. Plus, it's handmade out of soft fabric.
What do you think?
How do you store your student ID? How do you prevent yourself from losing it? Which of these cute cases is your fave? Share in the comments!