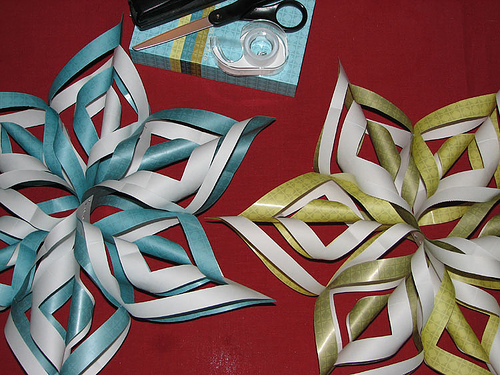 Winter is officially in full swing, and whether you're braving below-zero temperatures or soaking up sunshine, it's easy to celebrate the season with this classic winter color. The "no white after Labor Day" rule was abandoned long ago, so don't be afraid to add some wintry white to your look! Here are ten affordable picks to get you started:
Our Picks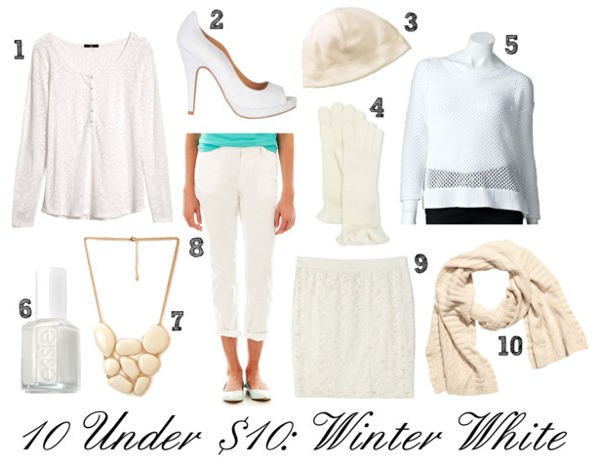 Product Info: 1. H&M, 2. Alloy, 3. Old Navy, 4. Amazon, 5. Kohl's, 6. Beauty.com, 7. Forever 21, 8. JCPenney, 9. Forever 21, 10. H&M
The Breakdown
1. This burnout henley top has a lace-like pattern – in white, it reminds me of snowflakes!
2. These white stilettos would look stunning with a glittery silver dress for a New Year's Eve party.
3. Stay warm and cozy this winter with a white fleece beanie, like this one.
4. These long white knit gloves would look elegant and sophisticated with a dressy coat.
5. This white open knit sweater is a great layering piece! Wear a bright tank underneath for a pop of color.
6. Paint your tips a wintry white with this nail polish, or use it to create a classic French manicure.
7. This lovely white stone statement necklace would look perfect over a crew neck sweater.
8. It's hard not to look chic and sophisticated in a pair of crisp white pants!
9. This white lace mini skirt would be easy to dress up with a blouse and heels or dressed down with graphic tee and utility jacket.
10. Don't let the winter chill get to you! Wrap up with this white knit scarf.
Thoughts?
Are you a fan of winter white? Which pick is your favorite? How are you wearing white this season? Let us know in the comments!