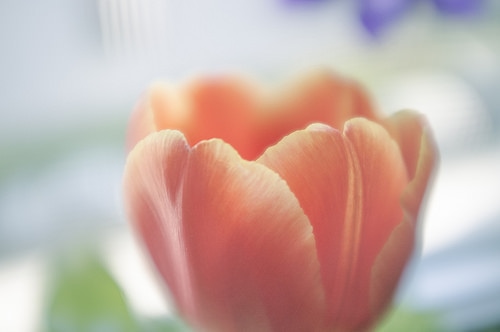 Hurrah, spring has officially arrived! With cherry blossoms blooming and Easter coming up, I've definitely got pastel colors on the brain: mint, lavender, peach, lilac… is there anything more spring-like? And of course, if you've been spring-cleaning your closet, you now have room for some new clothes!
However, don't worry, you won't have to ruin your budget to dress for the season – here are 10 pastel pieces under $10 that will help spring-ify your wardrobe without breaking the bank:
Our Picks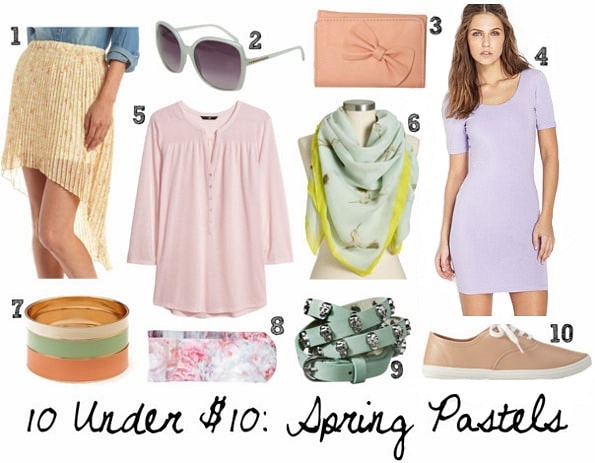 Product Info: 1. Charlotte Russe, 2. Wet Seal, 3. Wet Seal, 4. Forever 21, 5. H&M, 6. Old Navy, 7. Forever 21, 8. ASOS, 9. Target, 10. Forever 21
The Breakdown
1. This pretty floral high-low skirt in a pastel orange is the perfect piece to welcome spring. Wear it with a lacy white blouse and strappy heels for a garden party or Easter celebration.
2. These mint sunglasses are trendy and chic, and the perfect accessory for a celebrity-off-duty look.
3. Everyone needs a wallet that matches their style – if yours is flirty and feminine, this cute pink bow wallet is for you!
4. This lilac dress is not only strechy and comfortable, but also extremely versatile. Pair it with heels for a night out, or with sneakers and an open button-down shirt for a casual day look.
5. This pastel pink top is the perfect alternative to a basic tee – it's comfy, but can be easily dressed up with a statement necklace, printed skirt, and flats.
6. This lovely, lightweight mint scarf will instantly add a touch of spring to any outfit.
7. A set of bangles is an essential for any girl's closet, and this pastel set is a pretty, spring-appropriate choice.
8. These socks have a beautiful pastel watercolor print – they'd look perfect with the sneakers from #10, or for a more adventurous look, try them with a pair of heels.
9. If you like your pastels with a bit of edge, this mint skull-studded belt is the perfect accessory for you.
10. These neutral sneakers are cute and practical. They'll go with everything in your closet, from skirts to jeans to dresses.
Thoughts?
What's your favorite pastel color? What color screams "spring" to you? Which piece is your favorite? Let us know in the comments!