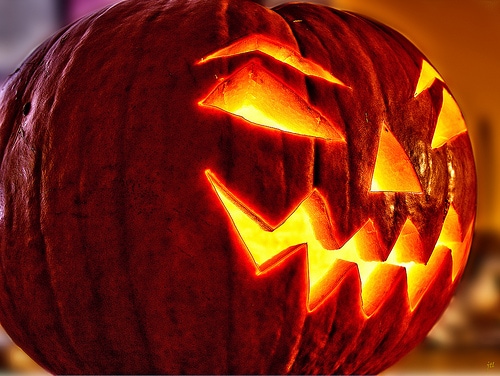 Need a little inspiration for your Halloween costume? Well, lucky for you, we're here with a 10 Under $10: Halloween Edition!
Each of the items below would make the perfect starting point (or finishing touch) for a different costume, so get on that Halloween prep and grab these deals while you can:
Our Picks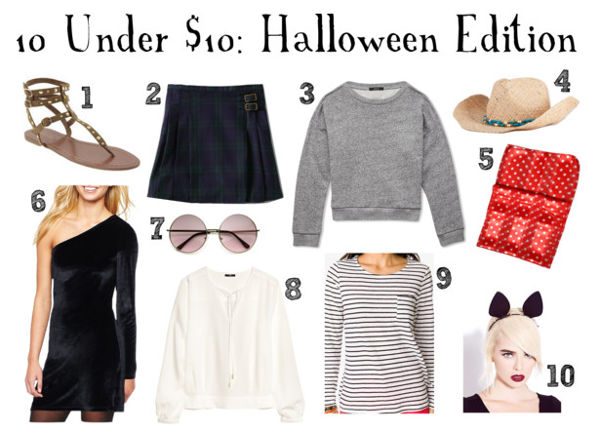 Product Info: 1. Old Navy, 2. Land's End, 3. Forever 21, 4.Tilly's, 5. Amazon, 6. JCPenney, 7. Amazon, 8. H&M, 9. Forever 21, 10. Forever 21
The Breakdown
1. These gladiator sandals would be perfect for a Cleopatra costume, or any costume involving a toga (you can always make your own out of a sheet!).
2. I think this plaid skirt would be excellent for a Cher from Cluelesscostume. Just pair it with a white button down, black blazer, and knee-high socks.
3. For the perfect '80s Flashdance costume, use scissors to widen the neckline of this simple sweatshirt so you can wear it off the shoulder. Pair it with a cami, leggings, and fuzzy leg warmers.
4. Pair this straw hat with a plaid shirt, rugged blue jeans, and western boots for a cute cowgirl ensemble.
5. For a Rosie the Riveter costume, tie this red scarf around your head. Wear it with a denim shirt (rolled up at the sleeves) and loose jeans or work pants.
6. This black dress could be used for a variety of costumes, but to me it screams "vampire." Wear it with a dark choker necklace, heels, lace tights, and blood-red lipstick.
7. These John Lennon-esque tinted glasses would be perfect for a hippie costume. All you have to do is break out your Coachella clothes–maxi skirts, peasant blouses, wide-legged jeans, and crochet vests are ideal.
8. Pair this loose, blousy white top with a vest and baggy trousers for the perfect pirate look. Don't forget your eye patch!
9. For a cute and chic French painter costume, wear this classic striped top with cropped black pants, flats, a beret, and a fake mustache. Complete the look with a paintbrush and palette.
10. These spiked cat ears would be an edgy edition to any feline costume. For a minimalist approach, pair them with black leggings, a black long-sleeved tee, black heels, and a pin-on tail.
Thoughts?
Which outfit piece is your favorite? Would you use these items in your Halloween costume? Let us know in the comments!