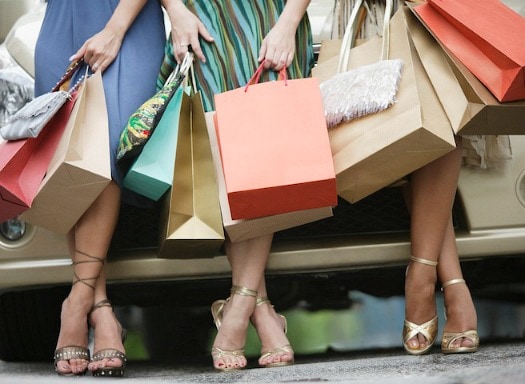 Photo: ELLE
I put together a 10 Under $10: Back to School Shopping post one year ago, and it was such a hit that I just had to do it again! I really believe that you don't have to spend a lot to look great and impress all your classmates, so here I am to prove it.
With just $100, you can perk up your back-to-school wardrobe with 10 new pieces that you can mix, match, and combine with your existing closet to create all kinds of stylish outfits. Scroll down to see my picks for fall 2014:
Our Picks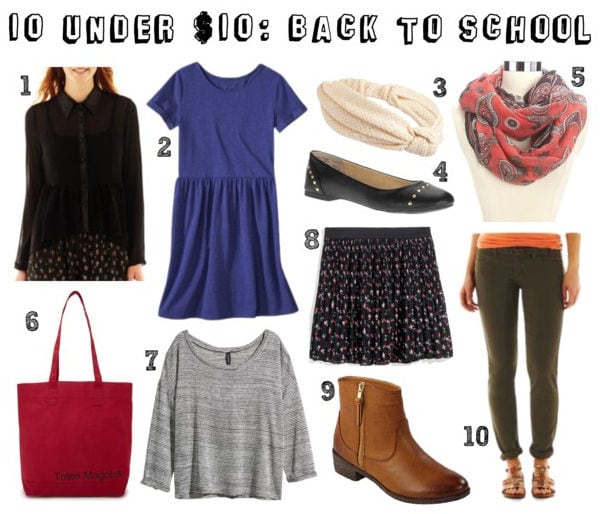 Product Info: 1. JCPenney, 2. Target, 3. Forever 21, 4. Walmart, 5. Charlotte Russe, 6. Forever 21, 7. H&M, 8. H&M, 9. Kmart, 10. JCPenney
The Breakdown
1. For a versatile and stylish closet, I think it's important to have both basic and statement pieces. This JCPenney blouse is a more interesting statement piece, since it has a contrasting collar and ruffled, peplum-style hem. However, it's also versatile – you could wear it in both casual and dressy situations.
2. Everyone should have a basic skater dress in their closet. This one from Target is super comfy and casual, and you can wear it as is during warm weather or layer it up in colder weather.
3. Thick, knotted headwraps are perfect for those messy hair days – just tie your hair up in a topknot and slip on this knit headband from Forever 21 for a super cute and trendy accessory.
4. These black flats from Walmart are basic enough to go with anything, but also have an edgy added detail: metallic studs.
5. Scarves are definitely my all-time favorite accessory, and I can't wait to pull them out of my closet for colder fall weather. This paisley scarf from Charlotte Russe will add color and print to any outfit and can perk up even the most basic jeans-and-tee combo.
6. This cute canvas tote from Forever 21 is big enough to carry your textbooks to class. Even though it may not last forever, it's super-easy on the wallet at under $6.
7. There are some days when all you want to do is throw on a comfy sweater, and this H&M one is the perfect choice. Want to make it a little more chic? Layer it over the black blouse from #1.
8. You could wear this versatile H&M printed skirt with both #1 and #7, and it can easily make the transition from warm to cold weather by adding tights.
9. Can you believe it?! A pair of classic, chic ankle boots for under $10 is an unbeatable deal, so snatch these ones up from Kmart before they're gone.
10. Break up your closet full of blue jeans with these slim, olive green jeans from JCPenney – they'll go with just about anything!
Thoughts?
Would you buy these pieces for your back-to-school wardrobe? Which is your favorite? How would you wear them? What other $10 Under $10 posts would you like to see? Let us know in the comments!