This post may contain affiliate links, which means we may receive a commission if you purchase through our links. Please
read our full disclosure here
.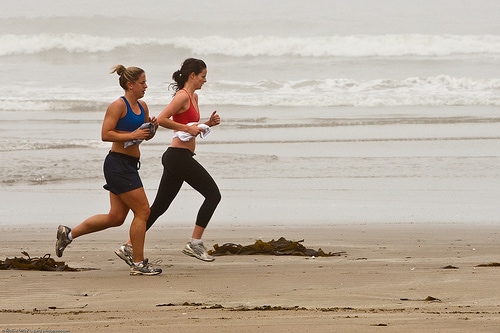 It might feel like a long time ago, but were you one of the many who made a New Year's resolution to get more exercise?
Well, if you've been devotedly hitting the gym, it may be time to reward yourself with some new workout clothes! And even if you've fallen off the wagon (or maybe you didn't get on it in the first place), some stylish new activewear could be just the thing to motivate you.
Of course, we don't want shopping for activewear to hurt your resolution to save more money, so here are ten gym essentials that won't break the bank:
Our Picks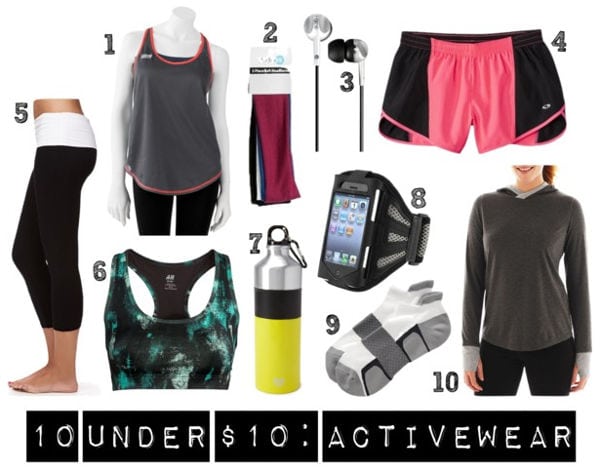 Product Info: 1. Kohl's, 2. Walgreens, 3. Target, 4. Target, 5. Forever 21, 6. H&M, 7. Forever 21, 8. Amazon, 9. Old Navy, 10. JCPenney
The Breakdown
1. This mesh tank top is the perfect thing to keep you cool and comfortable at the gym.
2. Nobody likes getting hair in their face while they're busy working out! Keep those flyaways in place with these elastic headbands.
3. Whether you like to watch TV at the gym or listen to music while you run, a pair of great earbuds are essential.
4. You can wear a pair of fun, colorful shorts year round – just add a pair of leggings underneath if it's cold outside.
5. If you're a fan of yoga, you know the importance of a pair of stretchy, comfortable yoga pants, and this pair works well for other types of exercise, too.
6. A good sports bra is essential, and one in a fun color or print gets bonus style points.
7. It's important to stay hydrated, so bring along this colorful water bottle whenever you hit the gym.
8. If you need to have your iPhone with you at all times, this arm band is the perfect thing to hold your phone while you're exercising.
9. Is there anything more annoying than having your socks slide down? You'll never have that problem with these athletic compression socks.
10. Prefer the outdoors to the gym? Stay warm with this comfy and stylish hoodie.
Thoughts?
Did you make a New Year's resolution to exercise more? How do you motivate yourself? What's your favorite thing to wear to the gym? Let us know what you think by leaving a comment below!