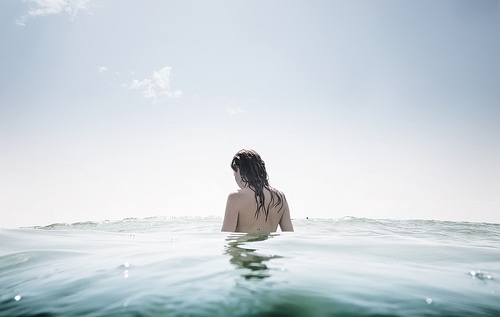 It's official: summer is here. And you know what that means – time to hit the beach! Whether it's at your family's lake cabin, the local park, or a tropical island, spending some time at the beach is a summer must. So grab a good book and a cool drink, then go soak up that vitamin D!
But if, like me, your wardrobe is still hanging on to colder weather, we've picked out some budget-friendly beach essentials. Here are 10 items under $10 that will keep you looking stylish (and comfortable) on the sand:
Our Picks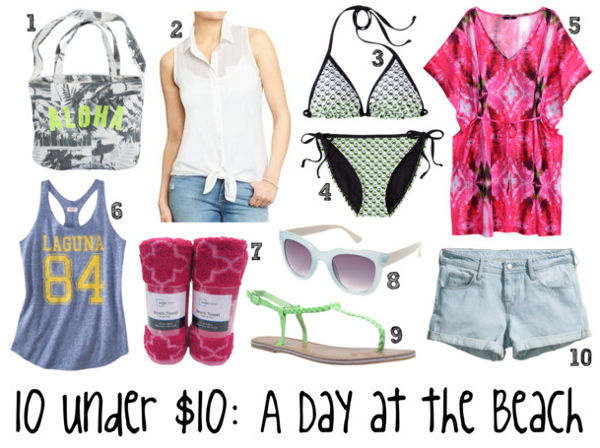 Product Info: 1. American Eagle, 2. Old Navy, 3. Target, 4. Target, 5. H&M, 6. Target, 7. Walmart, 8. Forever 21, 9. Wet Seal, 10. H&M
The Breakdown
1. This canvas bag is a steal for under $10 – it has a cute, beachy print, and a shoulder strap for easy carrying. Use it to tote your sunscreen, book, and towel to the beach.
2. Try this white sleeveless knotted blouse paired with high-waisted shorts for a chic, vintage-y take on a swimsuit cover-up.
3. This bikini top, from the Peter Pilotto for Target collection, is on super clearance. How can you resist an eye-catching designer swimsuit in a unique print for under $10?
4. Don't forget the matching bikini bottoms!
5. If you love bold colors, try this belted, flowy pink tunic as your beach cover-up (and check out these outfit ideas that use the same tunic).
6. For the sporty girls out there, throw on this relaxed tank top over your swimsuit.
7. It's a good idea to bring a fluffy beach towel anytime you'll be lying on the sand. With this awesome 2-pack for under $10, you can even bring one for a friend!
8. These pretty pastel sunglasses will add a feminine, vintage-inspired touch to your beach ensemble.
9. You can't go wrong with simple t-strap sandals in a bright color.
10. Denim shorts or cut-offs look good with just about any swimsuit. Slip them on if you need a quick and easy cover-up.
Thoughts?
Which piece is your favorite? What are your budget-friendly beach essentials? Would you like to see more posts like this? Let us know in the comments!