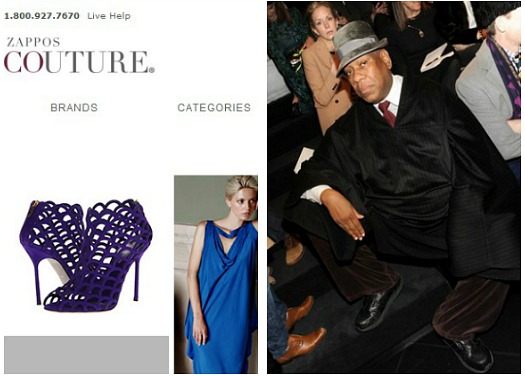 Photo Credits: 1. Screenshot, 2. WWD
WWD is reporting that online retailer Zappos has tapped André Leon Talley to be the artistic director of the company's Zappos Couture brand.
Talley, the former editor-at-large for Vogue, will be overseeing all editorial content for Zappos Couture, including fashion shoots, videos, and trend picks, starting January 22.
Talley spoke with WWD about the decision to work with Zappos:
"The digital universe is a new, exciting opportunity for me to reach a broad audience in terms of the global luxury market. [The goal is to] create something unique, in terms of a Web magazine within the Zappos Couture Web site, that conveys the immediacy and excitement of luxury retail products, season by season."
Currently, Zappos Couture carries items from high-end brands like Gucci, Lanvin, and Dolce & Gabbana, with a large focus on shoes, handbags, and accessories. According to WWD, the company would like to expand into a wider range of merchandise, particularly with apparel.
Jennifer Sidary, head of couture at Zappos Couture, told WWD:
"We're really looking to become the destination in online luxury shopping. For us, we still have a lot of brands we're looking to acquire for the site and we hope that with André's partnership it will help us develop relationships with these brands."
Your thoughts?
What do you think of this partnership? Are you a fan of André Leon Talley? Do you shop at Zappos Couture? Let us know what your thoughts by leaving a comment below!