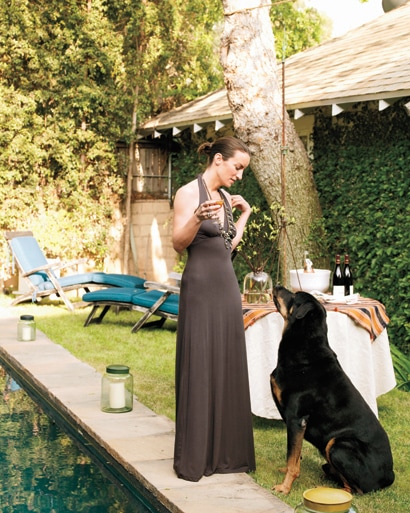 Susie Crippen at home with her rottweiler, Brahma | Elle
Here at CF, it's no secret we love all things denim – from jean jackets to stylish skinnies, we can't get enough. And for good reason: this basic fabric can be worn a hundred different ways, in a hundred different colors. You can dress it down for day, or up for night. It's the ultimate wardrobe essential for the modern woman.
And no one knows denim better than the former creative director of J Brand Jeans, Susie Crippen. Susie spent 2004 to 2005 co-founding J Brand, and since then, the denim line has since shot straight to the top of every celebrity's list. And although she's not at the helm of the company anymore, Crippen is still on the radar as a designer – and denim queen – to watch.
Want to learn more about Susie and J Brand? Keep reading to learn 10 fun facts about Susie Crippen and to see an outfit inspired by J Brand jeans!
(In case you missed them, check out the previous three designers in our "Who's That Designer?" series – Jenna Lyons for J. Crew, Doub Hanshaw for Free People, and Simon Kneen for Banana Republic!)
10 Fun Facts About J Brand Jeans Co-Founder Susie Crippen: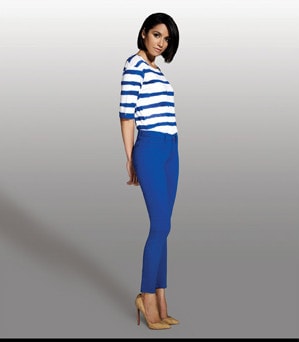 A pair of J Brand's "Bright Royal" skinny jeans
Susie had many different jobs before co-creating J Brand with Jeff Rudes – she worked as a celebrity stylist, antiques dealer, and even a cabaret singer!
Raised on the east coast in the 1970s, she spent her childhood in the small town of Weston, Connecticut.
Her first fashion icon was her kindergarden teacher, Cindy Brown, who Crippen said was "5'11 and always tan!"
Susie's favorite color combo is black paired with navy blue, and she prefers jeans and heels to skirts and flats.
After stepping down as J Brand's Creative Director in 2009, Susie began working on other projects – and recently revealed she is starting her own clothing line, named RKC. The line is being kept under wraps, but Crippen did reveal she's working out of her garage with four employees!
Speaking of other lines, Susie also designs for Riller and Fount, a contemporary collection sold online and in boutiques around the world.
Although Crippen could comfortably retire from her work at J Brand, she's not ready to leave the fashion world just yet. She explained, "I want to be in a continued conversation with contemporary society. And this company is my voice, this is how I communicate."
Crippen say's her first "cool" outfit consisted of "dark purple flare cords with a bright macramé belt that tied with red patent strings and a lilac shirt … I was 7…very Hendrix."
One of her favorite sources of inspiration is fine art photography. "I love it, it's my favorite medium," she's said, referring to the work of photographer Todd Hido.
Some of the other things that inspire her, "no matter what"? – Cupcakes, fabric, U2, dogs, and dancing.
Outfit Inspired by Susie Crippen and J Brand: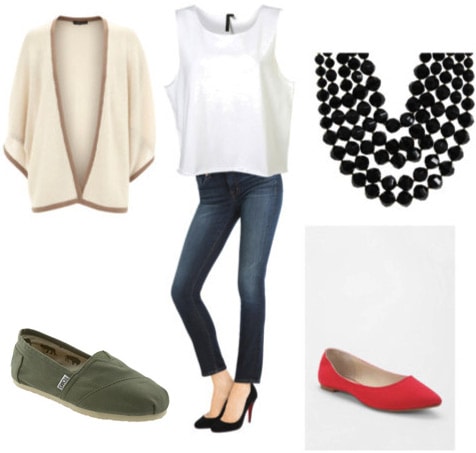 Sweater – Warehouse, Top – Topshop, Necklace – Kate Spade, Red Flats – Urban Outfitters, Jeans – J Brand, Green Flats – TOMS
Susie has described herself as the queen of "easy-breezy" style, and what better way to emulate that than with a J Brand staple – the skinny jean? Create the perfect everyday outfit (ideal for classes or running errands!) with dark skinnies, a simple top, a luxe sweater, and a pair of TOMS. Need a little more polish for a meeting or an impromptu happy hour meetup? Throw a pair of cute flats and a necklace into your bag and ditch the sweater for a more polished look.
What Do You Think of Susie Crippen and J Brand?
Have you been a J Brand fan from the beginning? Are you still loving the direction they're going in after Susie Crippen's exit? Let us know what you think! Are there other designers you're still dying to hear about? Leave us a comment telling us what designer you'd like to hear about next!