This post may contain affiliate links, which means we may receive a commission if you purchase through our links. Please
read our full disclosure here
.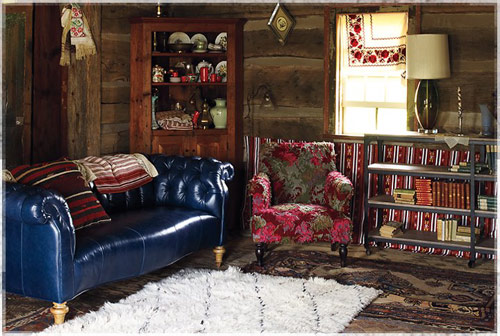 An Anthropologie room design inspiration | Photo Credit
Whether I'm on a buying spree or just window shopping, I always make a point to stop at the nearest Anthropologie – and not just for the beautiful clothes. Each artful store display makes me wish my apartment looked exactly the same – mannequins and all!
And who would have thought this marriage of store design and clothing design is all thanks to another – more literal – type of marriage? Executive Creative Director Kristin Norris and her husband, Creative Director Trevor Lunn, are the creative minds responsible for Anthropologie's store AND clothing designs – pretty impressive, right? Keep reading to learn more about this innovative pair and see an outfit inspired by Anthropologie!
(Missed a part of the series? Don't worry, we have you covered – brush up on some trivia about J.Crew, Free People, H&M, J. Brand Jeans, Coach, Nike, Madewell, TOMS, Lacoste and Banana Republic.)
10 Fun Facts About Executive Creative Director Kristin Norris & Creative Director Trevor Lunn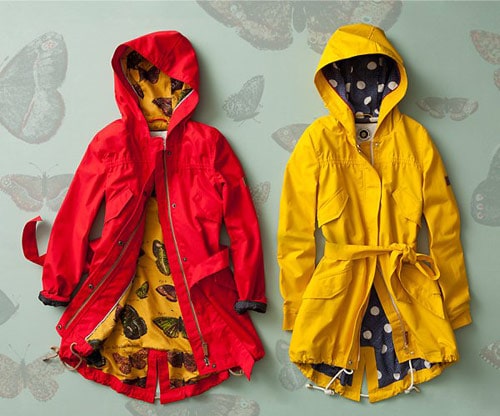 A rainy-day Anthropologie Look | Photo Credit
Kristin began working at Anthropologie when the company opened their first store in Wayne, Pennsylvania in October of 1992. She found the job from a want ad in the newspaper!
Speaking of a different time… Kristin said that when the first Anthropologie store opened, it had a cafe inside, and women often spent hours there shopping and socializing with friends. "…that was a time before there were Starbucks on every corner. Shopping wasn't considered entertainment then. People still found jobs through want ads in the newspaper. People didn't have cell phones…it was a totally different world," she said.
Her husband, Scotland-born Trevor Lunn, began working for the company in 2005 – he's responsible for the brand's overall look.
Trevor describes Anthropologie's customer as "an individual. She loves fashion but she isn't a slave to it. She won't wear something just because everyone else is; she adapts it to suit her unique look."
Trevor and his team are constantly searching for pieces that give the store its unique, global and vintage-inspired aesthetic. "I don't think anyone pays as much attention to detail as our designers, right down to the choice of buttons and the label inside the garment," said Trevor.
Kristin pays just as much attention to the store's layout and design as Trevor does to the brand's aesthetic. "We want the customer to come into the store and exhale, to come in and be comfortable in the space."
Each store is arranged into "vignettes" that put all of the products into a "homey context". Each section is arranged so the customer can "decompress, as you do in your own home," said Norris.
That cool apartment feel you get from the store? It can be hard to achieve in such a large space! Norris said that some stores can be upwards of 10,00 square feet, others even bigger. She tries to stick with spaces closer to 6,000 or 7,000 square feet to offer a sense of intimacy.
Kristin and Trevor have two children together, Magnus and Imogen, and live on a ranch in a village on the edge of Philadelphia that has been used multiple times for Anthropologie photo shoots. "Because we live and work together, we are always talking about work. It's great because we're on the same page, but when you do a job you love, you have to consciously switch off and make sure you give enough time to your family," said Lunn.
Have you checked out Anthropologist yet? Lunn's strictly creative endeavor allows customers to experience the "branding of the company" and shows both new and existing customers the brand's essence. (Check it out here!)
A Look Inspired by Kristin Norris, Trevor Lunn and Anthropologie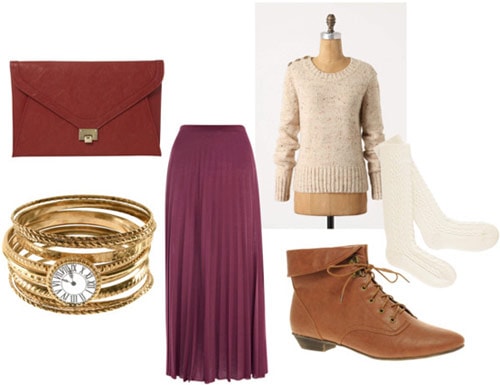 Clutch, Sweater, Socks, Boots, Skirt, Bracelets
When you grow up anywhere in the northern states, dressing cute in chilly weather is a yearly challenge. Instead of rocking the same jeans/sweatshirt/furry boots combo this fall, why not try something different? This maxi-skirt and sweater outfit is just as comfy cozy as your old basics, and paired with a pair of thick cable knit socks (and tights underneath), it's just as warm! Throw on a jacket, pair of cute boots, some bangles and a clutch and you've got a cold weather outfit sure to last through winter.
What Do You Think of Anthropologie?
Is Anthropologie's vintage-bohemme vibe for you? Do you love the store's design and layout as much as we do? Tell us about it! Is there another store you're dying to hear about? Leave us a comment and we'll cover it!