This post may contain affiliate links, which means we may receive a commission if you purchase through our links. Please
read our full disclosure here
.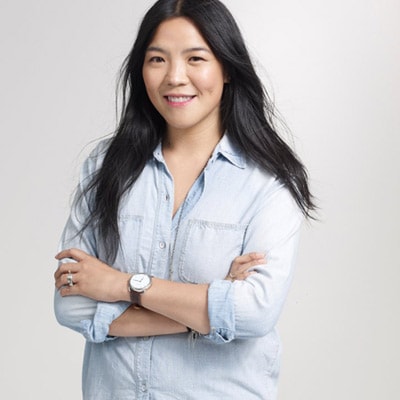 Kin Ying Lee for Madewell | Photo Credit
Back in July, we told you guys all about Jenna Lyons, creative director of J.Crew. (Remember July? Seems far away, right?) Today, we're going to meet the woman behind J. Crew's hip sister brand Madewell, creative director Kin Ying Lee. Lee is responsible for Madewell's edgier, more vintage-inspired designs that so many women are going nuts over.
Want to learn more about Kin Ying Lee and Madewell? Keep reading for ten fun facts and an outfit inspired by Madewell!
(Missed any part of our "Who's that Designer?" series? Impress your friends by reading up on the brains behind J.Crew, Banana Republic, Free People, H&M, J Brand, Nike and TOMS.)
10 Fun Facts About Kin Ying Lee and Madewell: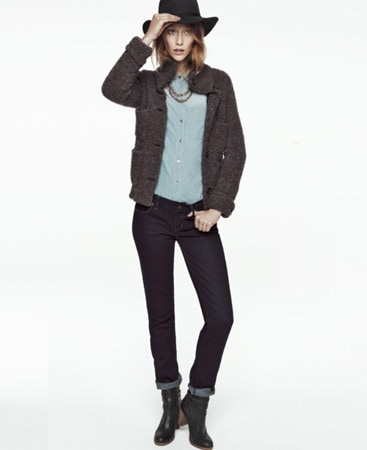 A Madewell Look | Photo Credit
Kin Ying Lee has been working as Madewell's creative director since 2005, when the company officially re-launched. (It started out as a work-wear company in 1937.)
Kin got started in fashion after she attended Kingston University in London, but has said she's been sketching girls' clothes since she was 4 or 5.
When she began to design the first line, Kin said she wanted to lay a strong foundation for the company's products. Thus, their iconic Almanac boots, v-neck tees, and leather jackets were created.
CEO Mickey Drexler said that J.Crew and Madewell are all about telling people how to dress. "I think that people don't want to think too hard about how to make an item of clothing work in their wardrobe. It's important to inspire our customers when they walk into a store or shop online," said Ying Lee.
Never say never! Kin won't rule out any style or trend in a Madewell line, only noting that "whatever we put in the store we all stand by 100-percent."
Madewell's first catalog came out in late August, receiving rave reviews for its similarity to J.Crew's notorious catalogs. Printed on oversized, textured paper, it reads like a magazine!
Kin's unlikely inspiration? Her children! Ying Lee has two young children and has said the comfort she gets from them contributes to her happiness. She's even saving vintage denim pieces for them to use when they're older!
But her ultimate inspiration? New York street style. As she told New York Magazine, "I'm always inspired by how people actually wear clothes and how they put things together, and how they pair something that's really expensive with a pair of beaten up jeans."
Speaking of jeans, Kin thinks a pair that fits well and flatters is the one thing every woman should have in her closet. We couldn't agree more!
She strives to make Madewell a place where you can "kind of work and live in your clothes, and it doesn't feel so proper, like you have to be a certain way to wear them."
Outfit Inspired by Kin Ying Lee and Madewell: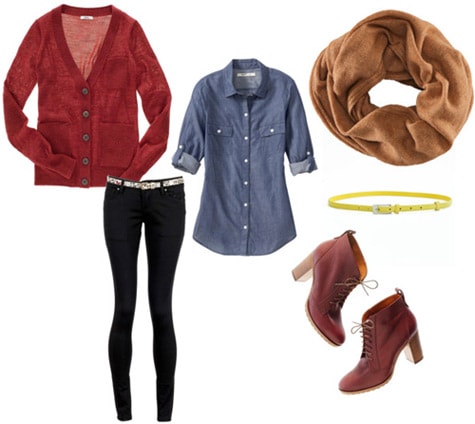 Cardigan, Shirt, Scarf, Belt, Boots, Jeans
I always thought that there was no way I could pull off Madewell clothes – they seemed way too cool for me! But after spending a few minutes on their website, I found that by picking a few edgier items and mixing them with everyday basics, I could create an outfit with a chic, downtown vibe. I picked a pair of their classic boots and mixed them with a chambray shirt and basics you probably already have in your closet – a colorful cardigan, jeans, and a cozy scarf.
What do you think of Madewell?
Do you love Madewell's unique aesthetic? Or are you more of a J.Crew devotee? Tell us about it, we love your comments! And are we still missing a brand you love? Tell us, and we may cover them next!